Prominent politicians and public figures from Barack Obama to Mitt Romney extended their congratulations to Democratic presidential candidate Joe Biden and his runnning mate Kamala Harris on social media, after their projected win Saturday in the hotly contested presidential race.
"Congratulations to my friends,@JoeBiden and @KamalaHarris — our next President and Vice President of the United States," former President Barack Obama tweeted.
Obama included a written statement that stated he "could not be prouder" to congratulate the Democratic candidates and their families, calling the victory "historic and decisive." He emphasized that he and his wife, Michelle, who also tweeted her support, will support the Biden and Harris in any way possible "for this democracy to endure," as Biden faces a devastating pandemic and other challenges upon entering the White House in January.
Senator Bernie Sanders, who joined Biden's campaign for the presidency following his own run in the presidential primaries, congratulated voting rights organizations and grassroots activists for working hard to vote for Biden—while condemning "greed and bigotry" from the Trump administration.
"I want to congratulate all those who worked so hard to make this historic day possible" Sanders tweeted. "Now, through our continued grassroots organizing, let us create a government that works for ALL and not the few. Let us create a nation built on justice, not greed and bigotry."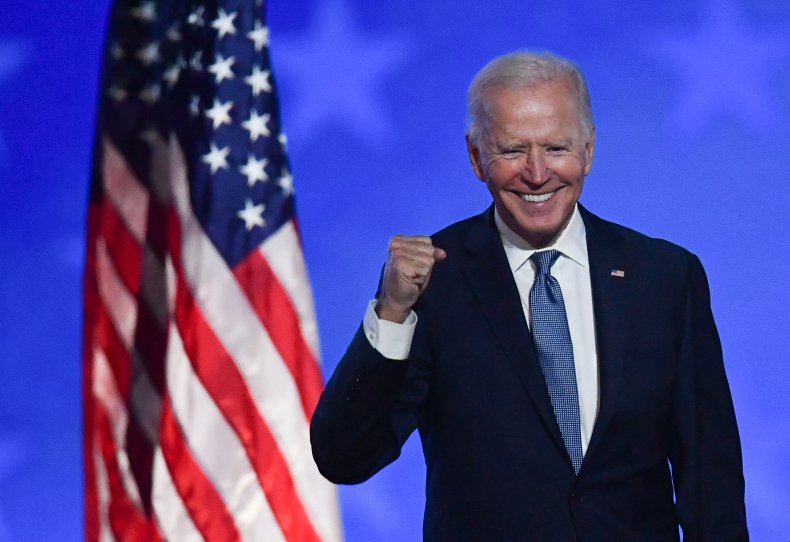 Sanders followed up a tweet wishing Biden and Harris well.
Democratic Senator Dianne Feinstein and Republican Senator Mitt Romney also extended their congratulations, while Representatives Alexandria Ocasio-Cortez of New York and Ilhan Omar of Minnesota posted joyful tributes to Biden and Harris.
"Ann and I extend our congratulations to President-elect Joe Biden and Vice President-elect Kamala Harris." tweeted Romney. "We know both of them as people of good will and admirable character. We pray that God may bless them in the days and years ahead."
Speaker of the House Nancy Pelosi also posted her support.
Several U.S. allies and world leaders congratulated the Democratic contenders, including Canadian Prime Minister Justin Trudeau, French President Emmanuel Macron, Indian Prime Minister Narendra Modi, and British Prime Minister Boris Johnson.
"Congratulations, @JoeBiden and @KamalaHarris. Our two countries are close friends, partners, and allies," wrote Trudeau. "We share a relationship that's unique on the world stage. I'm really looking forward to working together and building on that with you both."
"Congratulations to @JoeBiden, the new President-elect of the United States. Europe and the United States share a system of values - values that we stand up for together," tweeted Chancellor of Austria Sebastian Kurz. "Looking forward to our future cooperation!"
Harris posted a video of her phone call to Biden after the race had been called, saying: "We did it, Joe. You're going to be the next president of the United States."
The election was called for Biden by the AP and the television networks on Saturday after he won Pennsylvania's 20 Electoral College votes, bringing him over the necessary 270 to win.
Shortly afterward, Nevada was also called for Biden, leaving just Georgia, North Carolina and Arizona to be called, where Biden is currently leading against Donald Trump. Georgia's secretary of state confirmed on Friday that the state will go to a recount, and the Trump campaign says it expects to start the recount process in Wisconsin next week.