A Poll Involving Black People Has Set the Internet on Fire 
Dilbert comic strip creator Scott Adams on Monday continued to experience repercussions for comments he made recently that many have deemed to be racist.
Adams made the remarks during a YouTube video while discussing a poll conducted by Rasmussen Reports. The poll itself has also garnered attention due to a controversial question that led to Adams' response.
"If nearly half of all Blacks are not okay with white people...that's a hate group," Adams, who is white, said in the February 22 video while talking about the poll. "I don't want to have anything to do with them. And I would say, based on the current way things are going, the best advice I would give to White people is to get the hell away from Black people...because there is no fixing this."
The poll question that elicited Adams' reaction was "It's OK to be white." The phrase has a history of use by white supremacists, which is why Rasmussen Reports included the question in the poll.
"As you know, our motto at Rasmussen Reports is 'If it's in the news, it's in our polls,'" Mark Mitchell, head pollster at Rasmussen, told Newsweek. "The phrase 'it's okay to be white' has been in the news many times."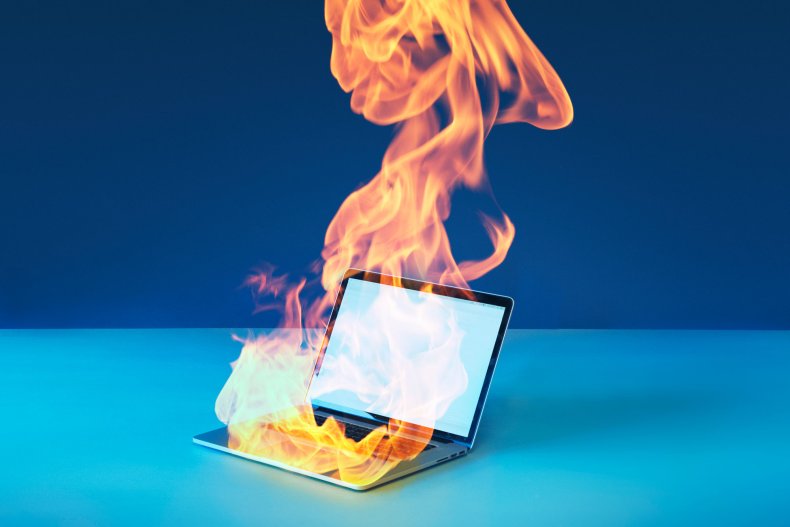 Mitchell noted that the Anti-Defamation League (ADL) has labeled "it's okay to be white" as a hate slogan, and the organization traced the phrase's origins to a trolling campaign on the discussion forum 4chan.
"Whether the original trollers were white supremacist or not, actual white supremacists quickly began to promote the campaign—often adding Internet links to white supremacist websites to the fliers or combining the phrase with white supremacist language or imagery," the ADL wrote.
Mitchell said that despite the phrase's adoption by hate groups, "the vast majority of Americans agree with it, including a majority of Black Americans."
Rasmussen Reports asked respondents to the survey if they agreed with the phrase, and the pollsters broke the responses down into different demographics. Among Black respondents, 53 percent said they agreed with the statement that "it's OK to be white."
Adams, however, seemingly misinterpreted the results when he said "nearly half of all Blacks are not okay with white people." That's because 47 percent did not respond by saying they disagreed with the statement—only 26 percent responded that they "disagree," while an additional 21 percent replied by answering "not sure."
Another important consideration with the Rasmussen Reports poll is that it asked people if they "agree or disagree with this statement: 'It's OK to be white.'" The question wasn't posed to Black people if they thought it was okay to be white. As such, some respondents could have been aware of the controversial baggage associated with the statement that's been used by some white supremacists.
The poll itself has generated a fair share of criticism on social media. Writer Jeff Charles wrote on Twitter that since Rasmussen surveyed 1,000 people and only 13 percent were Black, the amount of Black respondents who said they were "not sure" of that statement would be about 61 people.
"Here's the question: Why does it make sense to assume that 61 black folks somehow represent the 40 million black people that live in the United States?" Charles tweeted.
One Twitter user responded to Charles by writing "[t]hat's how polls work. Otherwise we would need to question everyone, which isn't possible."
Some also questioned whether Rasmussen polls have a conservative bias. Rasmussen says it is nonpartisan and that its questions are unbiased. The poll was conducted on February 13-15 and had a margin of error of +/- 3 percentage points.
Mitchell told Newsweek that the percentage of Black respondents in the poll correspond with the Black population in the United States, which is around 13 percent.
"We target and weight our polls on purpose to reflect U.S. demographics," he said.
For his part, Adams—who has a history of controversial remarks—was met with swift backlash. His racially insensitive comments resulted in syndicators dropping the Dilbert strip from newspapers, and Penguin Random House scrapped plans to release a scheduled book from Adams.
Mitchell told Newsweek that Rasmussen would rather not wade into the fallout regarding the Dilbert creator.
"We'll let Scott speak for himself, but we stand by the results of the poll," he said.
When reached for comment, Adams told Newsweek in an email that his comments "did not rely on the poll alone."
"In the context of CRT [Critical Race Theory] and ESG [Environmental, Social and Governance ] and DEI [Diversity, Equity and Inclusion], there is a common variable of demonizing white people. (Much of it legitimate.) And that can only have one outcome eventually."
Update, 2/28/23, 6:40 a.m. ET: The headline on this article was updated for clarity.