Dilbert Creator Slammed for His Solution to 'Dangerous Young Man Problem'
Dilbert creator Scott Adams has sparked outrage after suggesting that families could be forced to "kill" young men unless society adopts his "solution" to the "danger" they pose to themselves or others.
Adams argued that "society" forced parents to choose between murdering their own "broken" teenage sons or risking additional deaths in a series of tweets on Wednesday. The veteran cartoonist, also known as an outspoken supporter of former President Donald Trump, said that this week's deadly mass shooting in Highland Park, Illinois, and fentanyl overdoses among young men were "teaching us the same lesson." Adams said that he was "qualified" to weigh in on the matter due to his 18-year-old stepson dying of a fentanyl overdose in 2018.
"When a young male (let's say 14 to 19) is a danger to himself and others, society gives the supporting family two options: 1. Watch people die. 2. Kill your own son," Adams tweeted. "Those are your only options. I chose #1 and watched my stepson die. I was relieved he took no one else with him."
"If you think there is a third choice, in which your wisdom and tough love, along with government services, 'fixes' that broken young man, you are living in a delusion," he continued. "There are no other options. You have to either murder your own son or watch him die and maybe kill others."
Adams' assertion that families currently had no other ways of dealing with potential violence from young men was met with almost immediate backlash on Twitter.
"This is absolutely not true and ridiculously dangerous," tweeted disability activist and reporter Kristen Parisi. "Boys who suffer through those times can come out the other side and be ok. I'm so sorry about your experience, but there's more than these 'options.'"
"Self-declared persuasion expert Scott Adams thinks, if your son is a danger to himself and others, killing your own son is the only option to watching him kill other people," journalist Morten Øverbye tweeted. "This is what passes for deep thoughts in magalandia."
"Man, Scott Adams crazy was always there, we just didn't see the signs," writer and actor Benjamin Siemon tweeted alongside a doctored cartoon strip showing the character Dilbert saying he "had to murder" his own son "for the greater good."
Sports commentator and former MSNBC host Keith Olbermann tweeted, "Here's the sh**ty cartoon guy and fascist deep thinker Scott Adams advocating for (checks note) infanticide," prompting Adams to respond that his "mascot has weighed in."
"Men in America are wild," The Independent columnist Holly Baxter tweeted. "Supreme Court: No abortions from the day of conception. Scott Adams: Raise the abortion limit to 19 years."
"You never wake up and think that today's the day when the creator of Dilbert tells parents they just might have to murder their own sons," tweeted writer Jennifer de Guzman.
"I'm enjoying everyone's Scott Adams jokes, but I also really want ppl to recognize that he's essentially arguing in favor of killing disabled family members—an argument way more common than ppl realize," health care advocate Kendall Brown tweeted. "These tweets—while bonkers—are also a very dangerous wink-wink at eugenics."
"Hey Scott Adams: As someone who was himself a violent teenager addicted to drugs & entered recovery with the help & love of his family, as well as someone who has seen dozens of other young men stay sober & become fruitful members of society, these are not the only two options," tweeted filmmaker James Gunn.
Adams did offer families one alternative solution to committing murder or risking the possibility of their sons killing others. He proposed banishing the "dangerous young men" from society, although no practical details of the plan were offered.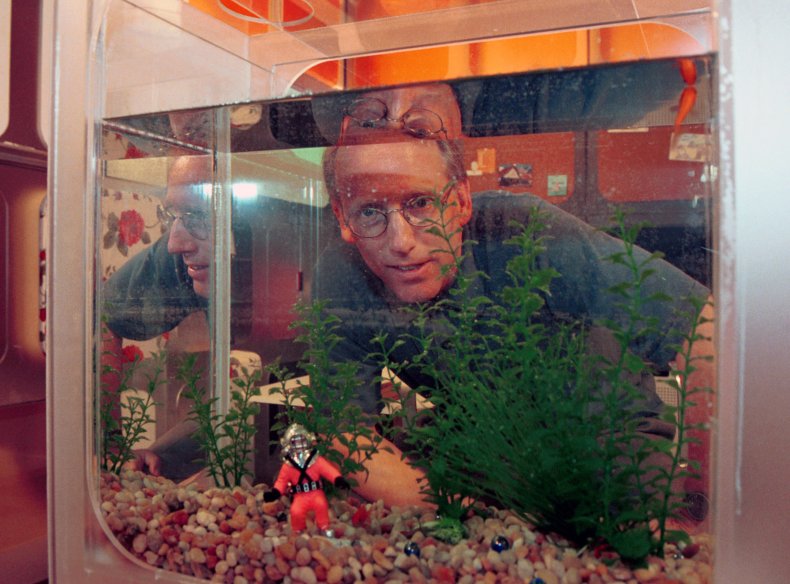 "If I were to invent a solution to the dangerous young man problem, I think it would involve putting them all in one place so they could only hurt each other, not necessarily in jail, just away from society," Adams tweeted. "Once they are separated from society (and drugs) maybe help is possible."
"It isn't legal to take a young man's bodily autonomy just because he 'seems dangerous' but that has to be considered at this point," he added. "Otherwise parents have two options. And you get more of what we are getting."
Multiple Twitter users responded to the proposal by comparing it to the 1954 William Golding novel Lord of the Flies, which depicts a group of British boys turning against and murdering one another after becoming stranded on a remote island.
Newsweek reached out to Adams for comment.