More People Think Donald Trump Will Win 2020 Election Over Democratic Nominee, Poll Shows
Despite the ongoing impeachment inquiry against President Donald Trump, more voters think he would win the 2020 general election over an unnamed Democratic nominee.
A new poll from Suffolk University/USA Today found Trump to be narrowly ahead of the Democratic candidate in a head-to-head matchup. Forty-one percent of voters said they'd back the president compared with 39 percent who would vote for whoever ends up being the Democratic Party's nominee. Ten percent of voters said they would support a third-party candidate.
The survey also showed that support for Trump in the 2020 election had actually increased from a similar poll conducted in August. In the earlier poll, the unnamed Democrat was leading Trump by 2 percentage points.
Republicans were extremely confident about Trump's ability to be re-elected as 86 percent of those polled predicted the president would win. Democrats' confidence in their nominee was slightly less but still high, with 75 percent saying their unnamed nominee would win. Respondents who identified as independent expect Trump to triumph by a double-digit margin.
Among the crowded Democratic primary field, most voters are backing four candidates: former Vice President Joe Biden, Massachusetts Senator Elizabeth Warren, Vermont Senator Bernie Sanders and South Bend, Indiana, Mayor Pete Buttigieg.
Biden led the pack with 26 percent support, followed by Warren (17 percent) and Sanders (13 percent). Buttigieg, the youngest candidate in the race, was in fourth place with 10 percent support.
The poll surveyed 1,000 registered voters across the country from October 23 to October 26 and has a margin of error of 3 percentage points. The findings of the poll were released on Wednesday, October 30.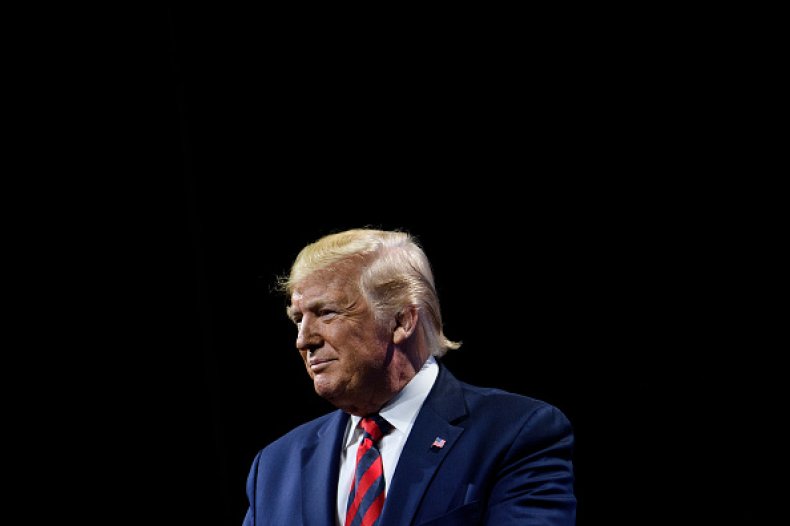 House Democrats have been moving ahead with their impeachment investigation since launching the inquiry at the end of September. The inquiry began amid reports that Trump tried to pressure Ukrainian President Volodymyr Zelensky to investigate Biden and his son Hunter.
On Thursday, the House is expected to hold a vote on a resolution that would move the inquiry against Trump forward. The resolution details procedures for making impeachment proceedings public so that the American people can hear directly from witnesses.
Trump has repeatedly claimed that the probe is nothing more than a "Democratic witch hunt" and Republicans in Congress have criticized the impeachment process as "unfair." But polling shows that support for his impeachment is growing. A Quinnipiac University poll released on October 23 showed that 55 percent of registered voters approved of the inquiry, up 4 percentage points from the week before. In fact, public support for his removal is happening at a much faster rate than President Richard Nixon's impeachment.