Polling Group Apologizes to Top GOP Candidate Left Out of California Recall Poll
An Atlanta-based polling group issued an apology to one of the Republican candidates running in the California gubernatorial recall election after polling results the group released earlier this week did not include him.
The Trafalgar Group said it was "a mistake" to not include California State Assemblyman Kevin Kiley on its list of recall candidates for poll respondents to pick from, the polling group said in a Friday statement. The recall candidates included as options for poll respondents was created a few weeks before the poll, the group said, and "it was a mistake on our part not to update it based on the current state of the race."
The Trafalgar Group said individuals who believed it was purposeful to leave Kiley's name off the list were either "confused, being misled, or trying to mislead others."
"We sincerely apologize to Kevin Kiley," the group's statement said. "Rest assured our polls in the coming weeks will include Kiley."
Robert Cahaly, a Trafalgar Group pollster who predicted former President Donald Trump's win in the 2016 election, retweeted the polling group's statement Friday afternoon.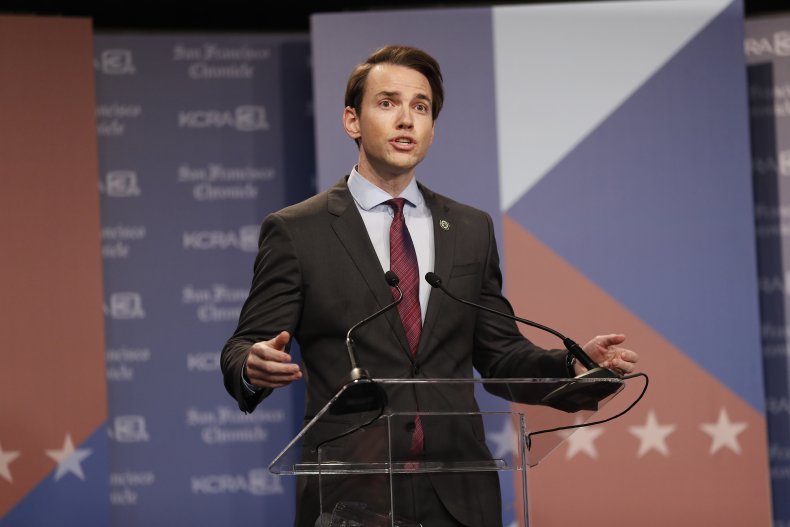 The Trafalgar Group shared the results of its late-August poll on Wednesday, less than two weeks out from the September 14 special election. While Trafalgar pollsters said a majority of respondents wanted to keep sitting Governor Gavin Newsom, a Democrat, in office instead of recalling him, they found conservative radio host Larry Elder leading among the replacement candidates whom respondents were offered to choose from if Newsom were to be ousted.
The other recall candidates listed in the poll's results were Democrat Kevin Paffrath and Republicans Kevin Faulconer, John Cox, Caitlyn Jenner and Doug Ose. The poll found more than 30 percent of respondents said they were undecided regarding which of the recall candidates they would pick, while 9.1 percent said they would pick another candidate.
"It is likely that some of the people who identified themselves as supporting someone else could very well be Kiley voters," the Trafalgar Group's statement said.
Elder has polled ahead of his fellow Republican candidates since launching his gubernatorial campaign in July. Though many polls have found Elder leading by double digits, there are a few Republicans polling right behind him, but ahead of dozens of other recall candidates. Kiley has emerged within that group since launching his own gubernatorial campaign in early July.
Kiley often polls close to Faulconer and Cox, both of whom Kiley shared recall debate stages with last month. A poll conducted in late August by the Public Policy Institute of California found about 3 percent of likely voters said they would support Kiley in the recall—more than 20 points shy of Elder's polling numbers, but just behind Faulconer's 5 percent and in line with Cox's 3 percent. A SurveyUSA poll released earlier this week found Kiley and Faulconer both polling at 5 percent, just one point behind Cox, while Elder led at 27 percent. Recent polls by Change Research, Emerson College and YouGov also found Kiley polling at between 3 and 5 percent among likely voters.
As Kiley gained a foothold in the polls, he also received the endorsement of Ose, the former congressman who ended his own gubernatorial campaign in mid-August after suffering a heart attack.
Kiley said he was appreciative of the polling group's Friday comments in a statement his campaign shared with Newsweek.
"I appreciate Trafalgar Group's apology. It's appropriate in light of recent polling showing our campaign rising to second among Republican candidates in the six weeks since I announced," Kiley said. "Our momentum continues to grow and we expect to do well in the poll that ultimately matters - Election Day."
Updated 9/03 at 7:28 p.m. ET: This article has been updated to include an updated comment from Kevin Kiley's campaign.