Pollster Who Predicted Trump's 2016 Win Says Newsom Has 'Significant' Lead in Recall
A pollster who predicted former President Donald Trump's win in the 2016 election said Wednesday voters in California who want to keep Governor Gavin Newsom in office have a "significant lead" over those who want him removed through the recall vote on September 14.
Newsom, a Democrat serving his first term as California's governor, could see that term end early if more than 50 percent of voters choose to remove him from office. But Robert Cahaly, a pollster with Atlanta-based polling company the Trafalgar Group who believed Trump would win in 2016 while most other pollsters predicted a Hillary Clinton victory, suggested that likely voters in California may be leaning in Newsom's favor.
Cahaly addressed the recall election on Twitter following the release of a new Trafalgar Group poll, which surveyed 1,088 likely voters between August 26 and 29, with a 2.98 percent margin of error. Fifty-two percent of likely voters said they want Newsom to remain in office, while 44.4 percent said they want him recalled. An additional 3.7 percent of respondents told pollsters they were undecided.
About 48 percent of the respondents were Democrats, nearly 26 percent were Republicans, and the rest were either third-party voters or had no party affiliation, according to the poll's results. Those numbers are close to the percentages of registered Democratic and Republican voters in California, where there are nearly two times as many registered Democrats as there are registered Republicans.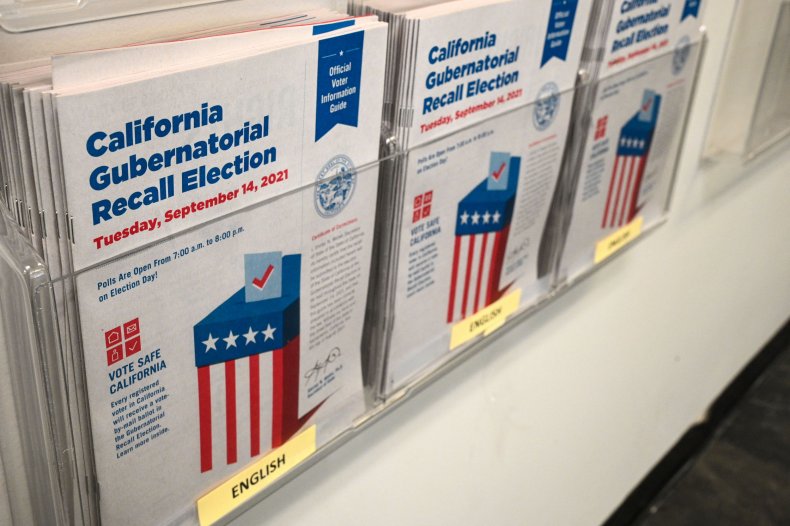 "#CARecall - @GavinNewsom remaining Gov. has significant lead," Cahaly wrote in a Wednesday morning tweet about the poll's results.
Cahaly's tweet went on to identify conservative radio host Larry Elder as the leading recall candidate in the Trafalgar Group poll. Elder, a Republican who announced his campaign in July, has led in most polls conducted since state election officials released their certified list of 46 candidates who qualified for the recall ballot.
In the Trafalgar Group poll, Elder polled at 29.2 percent when likely voters were asked which recall candidate they would pick to replace Newsom if the governor is recalled. The candidate who polled in second place was Kevin Paffrath, a Democrat known by his YouTube username "Meet Kevin." Listed on the recall ballot as a financial educator and analyst, Paffrath is one of nine Democrats who appear on the ballot.
Aside from Elder, 23 other Republicans are listed on the ballot. Of those conservative candidates, former San Diego Mayor Kevin Faulconer and businessman John Cox tied in the Trafalgar Group poll, with each candidate polling at 4.1 percent among likely voters. Caitlyn Jenner, a television personality who is also running as a Republican, polled just above former Republican congressman Doug Ose, at 1.1 percent. Though Ose appears on the ballot, he stopped campaigning last month after suffering a heart attack and has since endorsed state Assemblyman Kevin Kiley, who did not appear in the Trafalgar Group poll.
Though Elder was in the lead among the Trafalgar Group's listed recall candidates, pollsters said nearly 40 percent of respondents either preferred a different candidate to replace Newsom or were undecided.
While earlier polls conducted in July and August said voters appeared split on recalling Newsom, the late-August Trafalgar Group poll and a survey released earlier this week by SurveyUSA returned results that favored Newsom. Another recent poll, conducted by Change Research, found that 57 percent of voters wanted to keep Newsom in office.
Addressing the Change Research poll last week, a spokesperson for Newsom's campaign told Newsweek that Democratic voters "shouldn't take a shred of comfort" from the results.
"There is no precedent for this election, and no one has a crystal ball," said Nathan Click, the communications director for Newsom's campaign.
Newsweek reached out to Newsom's campaign for comment and will update this story with any response.