Who is Kevin Paffrath? Democrat Emerges as One of Gavin Newsom's Top Recall Challengers
With four weeks remaining until California's gubernatorial recall election, a Democrat has emerged in recent polls as one of Governor Gavin Newsom's top challengers.
Kevin Paffrath, known by his YouTube username "Meet Kevin," announced he was running to replace Newsom in May. He is one of 46 candidates on the recall election ballot currently being distributed to California voters. Paffrath is listed on the ballot as a financial educator and analyst and is running as a Democrat.
The California recall election is scheduled to take place on September 14 and is only the second gubernatorial recall election in the state's history. The previous gubernatorial recall election in 2003 resulted in the ouster of Democrat Gray Davis, who was replaced by Republican Arnold Schwarzenegger.
If more than half of California voters cast their ballots in favor of removing Newsom from office, the candidate who receives the greatest number of votes will be the one to replace him for the remainder of Newsom's term, which ends after next year's midterm elections.
On the day Paffrath announced his gubernatorial campaign, he released a 20-point plan that explores his proposed strategies for tackling homelessness, crime, housing affordability, and more, over the next one to five years. Paffrath notes on his campaign website that if voters choose him to replace Newsom, he will only be in office for about a year, with an opportunity to run in 2022.
"Giving Meet Kevin Paffrath a chance means you have the power to evaluate his performance again next year," according to his campaign.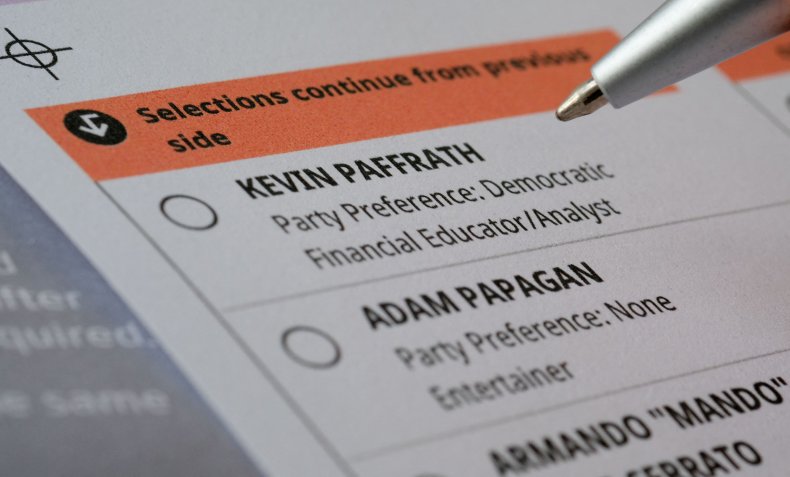 A biography provided on Paffrath's campaign website says the Democrat spent thousands of hours volunteering for law enforcement while he was in high school. He moved to California at 17 years old with $1000 to his name and, after working briefly in the restaurant industry, became a homeowner and a real estate agent two years later. Paffrath later became a real estate broker with his own company and launched his YouTube channel, which currently has an estimated 1.69 million subscribers, in 2018.
Paffrath says on his website that his life and work experiences "help Kevin provide context for solutions related to community police, eliminating racism, de-escalation, and providing community service."
"Kevin's economic and wealth-building background in real estate also helps provide context for solving our State's housing crisis," his campaign website says. "California needs a leader who will solve the massive problems confronting our state. That leader is Kevin Paffrath."
Though Paffrath announced his campaign three months ago, he only recently began gaining attention in the media for his recall campaign after a couple of polls indicated he was among Newsom's top challengers. After California election officials released the final list of qualifying candidates who will participate in next month's election recall election, Republican conservative radio host Larry Elder emerged as Newsom's top challenger, a position Elder has mostly retained over the last month.
A CBS News/YouGov poll conducted between August 6 and August 12 found Elder polling at 23 percent among likely California voters, putting him at the front of the recall field. But Paffrath placed second at 13 percent, 10 points ahead of Republican candidates Kevin Faulconer, John Cox and Kevin Kiley.
A SurveyUSA poll conducted in early August found Paffrath leading among all recall candidates, including Elder. The poll, which first eliminated the 11 percent of voters who said they did not intend to select a replacement candidate, said 27 percent of likely voters supported Paffrath, while 23 percent supported Elder.
Following Paffrath's performance in those two recent polls, CalMatters published an interview with Paffrath exploring his campaign strategy and outlets like CNBC, Business Insider, New York Magazine and others identified him as a candidate who could become the state's next leader.
California Democrats are divided on if they will pick a replacement candidate regardless of whether they support Newsom. All voters are allowed to vote for a recall candidate even if they want Newsom to stay in office, but the California Democratic Party and Newsom's campaign have discouraged Democrats from doing so in recent days.
The state Democratic Party said in an August 15 tweet that blocking the recall effort is its "#1 priority." The party has encouraged Democrats to vote against the recall and "leave the second question blank." Only two questions appear on the recall ballot. The first asks voters if they want Newsom recalled from office, and the second asks them to pick a replacement candidate in the event he is removed.
Meanwhile, Paffrath encourages voters to pick him for the second question regardless of how they vote on the first question.
"Whether you're Yes OR No on Recall: Vote YES on Meet Kevin Paffrath on part 2," Paffrath's campaign website says.
In an emailed statement shared with Newsweek, Paffrath said Newsom was "being selfish" by discouraging voters from selecting a replacement candidate.
"He's basically telling Californians, if you can't have Newsom, get stuck with a republican. It's a stupid strategy; it's like a child who says: 'If I can't have candy for lunch, I'll starve myself!' The governor is gambling with the lives of Californians for his own personal gain by not endorsing a backup candidate. It's very stupid and borderline sabatogue [sic]," Paffrath's statement read.
Paffrath said that he questions the state party's motives in only backing Newsom.
"I personally wonder if the CA democratic party wants a republican in, because they know a Republican would only get in for one year, have virtually 0 power thanks to the 72-75 [percent] super majority of democrats in the legislature, then get thrown out in '22 with an easy democratic campaign saying, 'Look what a republican got you for a year,'" Paffrath said. "The CA democratic party either has a stupid backup strategy or its sabatogue [sic]; Californians don't deserve either."
Newsweek reached out to the California Democratic Party for comment but did not hear back in time for publication.
Updated 8/17 at 2:38 p.m. ET: This article has been updated to include a statement from Kevin Paffrath.