Larry Elder Holds Lead in the Polls 2 Weeks Out From California Recall
With two weeks remaining until the California gubernatorial recall election, conservative radio host Larry Elder is leading in the polls as voters' top Republican choice to replace Governor Gavin Newsom if the Democrat is removed from office.
Elder quickly emerged as a frontrunner in the race after launching his campaign in July. He is one of 46 candidates who appear on the September 14 recall election ballot. Of those candidates, 24 are Republicans, nine are Democrats and the rest are either third-party candidates or chose to declare no party preference on the ballot.
Elder announced his decision to run in the recall on July 12. Though Elder was initially left off the state's preliminary list of candidates who qualified to run in the special election, a judge ordered state election officials to add his name to their certified list of candidates, which was released—with Elder's name included—on July 21.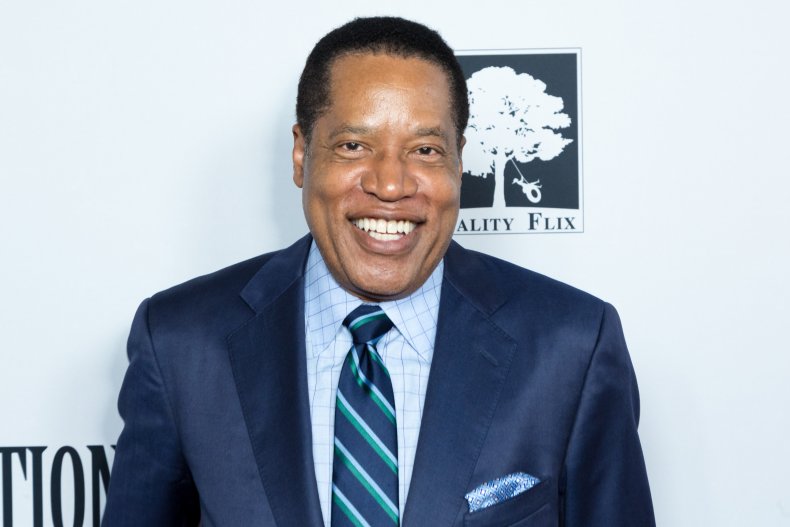 The results of a poll conducted by Emerson College for Inside California Politics that were released the same day as the state's certified list of recall candidates said Elder was already leading his fellow Republicans by 10 points or more. While conservatives like 2018 gubernatorial candidate John Cox, former San Diego Mayor Kevin Faulconer and television personality Caitlyn Jenner campaigned for months before Elder entered the race, Elder quickly surpassed them in the polls and has retained a top polling position.
A University of California Berkeley Institute of Governmental Studies poll released in late July said Elder was leading Faulconer and Cox by 8 percent among likely voters, with Jenner further behind at 2 percent and Republican state lawmaker Kevin Kiley polling at 3 percent. A second Emerson College poll found Elder leading his Republican competitors by 16 points or more, and polls conducted throughout August by SurveyUSA, YouGov and Change Research showed Elder retaining a double-digit lead among likely voters over other Republican candidates.
While Newsom's campaign and the California Democratic Party have discouraged Democratic voters from picking amongst the replacement candidates, Kevin Paffrath has emerged in recent polls as a Democrat some voters said they might support. Paffrath, who is known by his YouTube username "Meet Kevin," polled higher than Elder by four points in the SurveyUSA poll conducted in early August and has polled higher than all Republican candidates except Elder in the subsequent polls conducted by YouGov and Change Research.
Though Elder has taken the lead in most polls conducted since election officials began sending voters their mail-in ballots, controversy has surrounded his campaign due to comments Elder made in the past about women and allegations by his ex-fiancée that Elder once brandished a gun in her presence. Elder has argued Democrats "distorted" comments he made about women voters in a Capitalism Magazine article published in 2000 and denied what he said were "salacious allegations" by his former fiancée. BothFaulconer and Jenner called for Elder to drop out of the race earlier this month.
Meanwhile, polling results published throughout August indicated voters were split on whether they wanted Newsom recalled. If a majority of voters decide they do want to remove Newsom from office, the recall candidate who replaces him will complete the term Newsom is currently serving, which is set to end after next year's midterm elections. A gubernatorial election will be held in California regardless of the outcome of the September 14 recall election.
Newsweek reached out to Elder's campaign for comment. This article will be updated with any response.