Pompeo Refuses to Say Whether Trump Is Using Caravans to 'Energize' His Base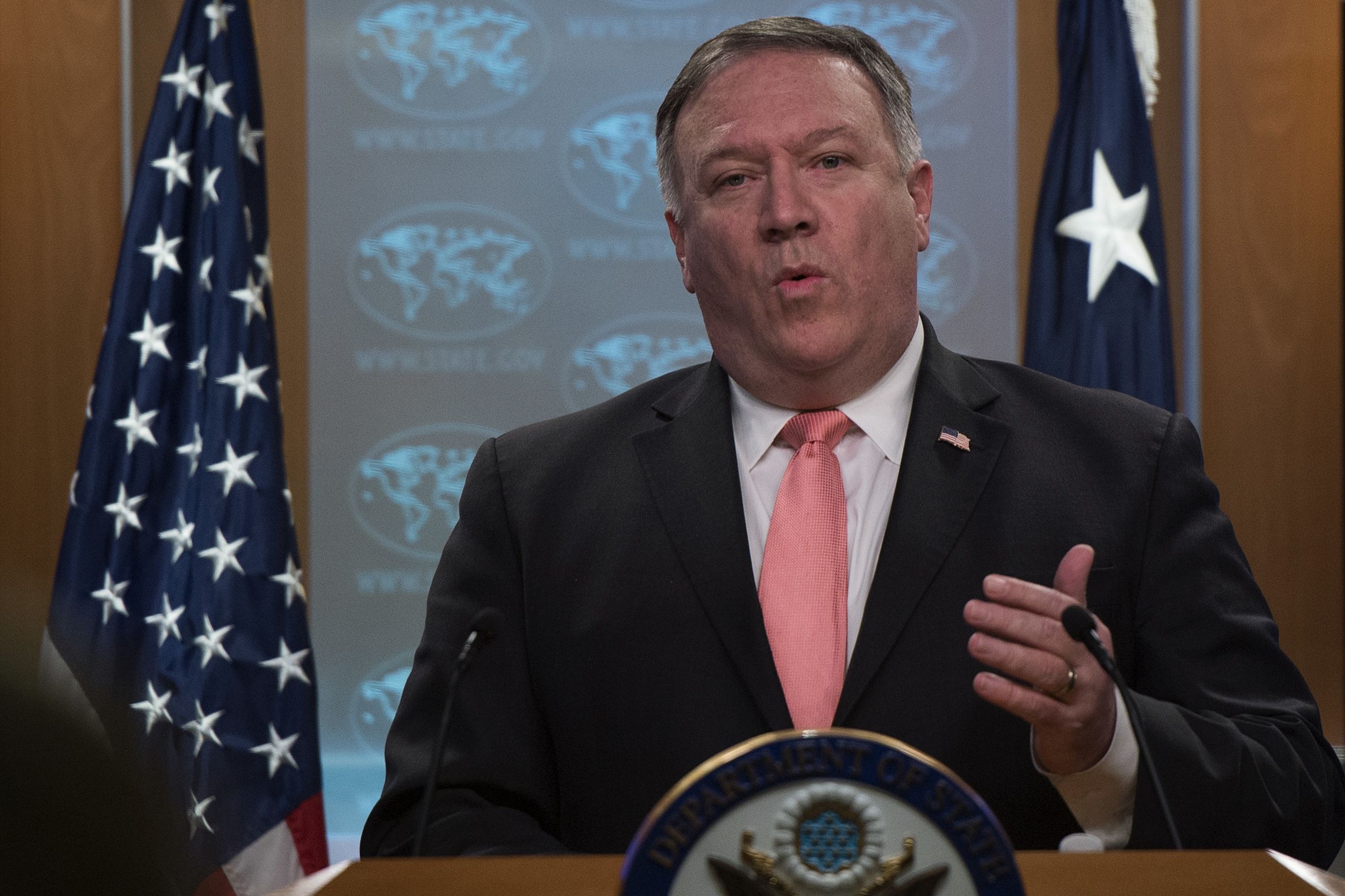 U.S. Secretary of State Mike Pompeo appeared to skirt a question on the migrant caravan in an interview on Sunday. He was asked whether he believed President Donald Trump might be exploiting the plight of thousands of Central Americans heading toward the U.S. to seek asylum as a way to "energize" his base before Tuesday's midterm elections.
Speaking with John Dickerson of CBS's Face the Nation, Pompeo defended the Trump administration's decision to order the deployment of thousands of troops to the southern border in anticipation of the arrival of several caravans of Central American migrants seeking asylum. But he would not say whether he believed the president was capitalizing on the situation, saying he wanted to talk about "American national security" instead.
"This is a problem that's gone on too long," Pompeo said, after Dickerson asked him to respond to comments made by former U.S. National Security Adviser Colin Powell, who said he saw "no threat" at the southern border requiring the deployment of up to 15,000 troops ordered by the Trump administration.
"President Trump is determined to ensure that we have sovereignty of America at our southern border, and that we protect our American border," Pompeo said.
The secretary of state said that he had been "very involved" in working with the governments of Honduras, El Salvador and Guatemala, where the majority of migrants traveling with the caravans are from, as well as with the government of Mexico to "make clear to them that they need to undertake every effort that they can to stop this illegal migration from entering the United States."
"If they want to come here legally, if they want to come here lawfully, that's the American tradition. It's the American way," Pompeo continued, speaking over Dickerson. "We continue to be the most generous nation in the world with respect to immigration. But illegal immigration will not be permitted."
Asked by Dickerson to address the "charge" that Trump was "thinking about" the situation at the border "in political terms" and about how it "might benefit the Republicans," Pompeo said that he had been involved in "scores of conversations about stopping illegal immigration from Mexico and never once had there been a discussion of the political impact in U.S. domestic politics.
"It has always been about securing the safety of the American people and securing our southern border," he said.
"If that's never happened," Dickerson countered, "why then did the president, in a rally, [say], speaking about the caravan, 'Did they energize our base or what?'"
"The president has been trying diligently to get our foolish immigration laws changed since he took office," Pompeo said. "He talked about this in his campaign.
"Many of the challenges we face today with illegal immigration are because we have a set of rules, a set of laws, that don't allow us to fully secure that southern border," Pompeo said. "The president is working through the proper process, the Constitution and political process, to make those changes to the laws, and he is very hopeful...that when Congress returns in January there will be a Congress prepared to support his efforts to secure our southern border."
Asked again if he would "agree" that the president viewed the immigration issue as "a benefit for his base, which he says has been energized by this caravan," Pompeo appeared to dodge the question, saying, "as the secretary of state, I want to talk about American national security."
"We are determined to secure our southern border," he added.
Read more: Trump Tells Georgia Rally 'There Have Never Been Crowds Like This...in the History of Politics'
"OK. I'll take that lack of a response as a yes," Dickerson said, before moving on to the ongoing investigation into the death of journalist Jamal Khashoggi.
The Trump administration has faced widespread criticism over its decision to deploy thousands of troops to the U.S. border before the arrival of at least four caravans making their way to the U.S.
The first caravan, which started its trek in San Pedro Sula, Honduras on October 13, reached Mexico City over the weekend.