'Pop Off': Woman's Viral Video Captures Reactions to Her Lifting 425 Pounds
A woman's TikTok video showing the reactions of her fellow male gym-goers to her deadlifting 425 pounds went viral and was viewed nearly 12 million times.
In Sherein Abdelhady's video, which was posted to her TikTok account @shereinabdelhady, reactions from several bystanders were captured. In addition to comments congratulating Abdelhady on setting a new personal record, other viewers chimed in on the reactions from the men who watched her.
Deadlifting is a popular workout among people who lift weights, but it requires proper form to ensure the right muscles are being worked. Amy Eisinger, a certified personal trainer, wrote a piece for SELF Magazine in which she broke down the movements for a deadlift, as well as the benefits of the exercise.
"There's alot of emotions in this video," Abdelhady's video caption read.
She steadily lifts the bar stacked with weights until she is standing upright with a satisfied smile on her face.
"Deadlifting 425 pounds is cool ..." the text overlay on the video read. "But seeing everyone's reaction is cooler."
The following clip showed men gathered nearby watching Abdelhady set a new personal record.
Some shared looks with one another, one moved to get a better look and another watched as his jaw dropped.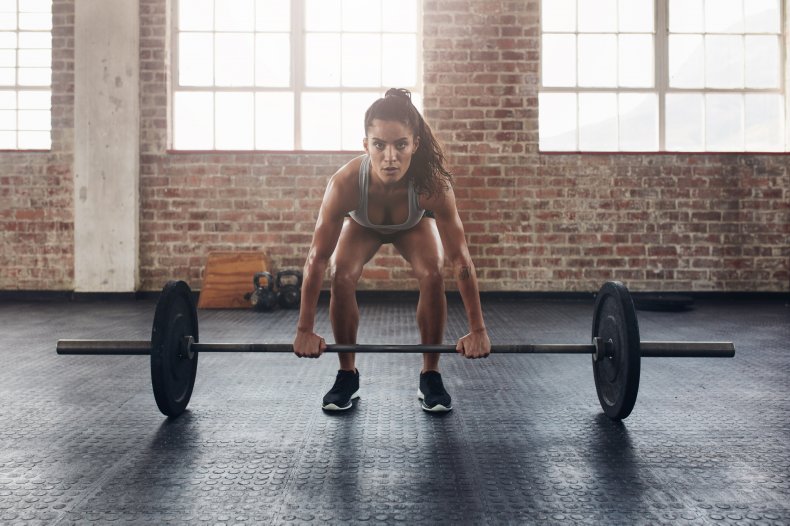 Eisinger wrote that deadlifts can work multiple muscle groups at once, and that there are several variations of the deadlift, which can also help build balance.
"Deadlifts are great for building strength in your glutes, hamstrings, core and back," she wrote. "They're also one of three powerlifting exercises (alongside squats and chest presses), meaning they're perfect if you're interested in lifting heavy."
Individuals can also utilize different gym equipment to achieve a variation of the deadlift, like resistance bands, barbells and kettlebells.
Abdelhady told Newsweek in an email she has been lifting for seven years and hit many personal records throughout her fitness journey, but this was her favorite for several reasons.
She planned to have a lighter workout after a long day but quickly forgot how tired she felt when she was warmed up.
"My friends pushed me to load the bar to 425 and I just went for it after reminding myself that if I stay committed and consistent on the roughest of days, on the days when I'm tired and have no motivation, then I'll have no excuses on my best days," she said.
She said the best part of the lift was seeing her friends smile and cheer her on when she successfully completed it.
"They all stopped their workouts and ran over to watch me and I'm so grateful for them and their endless support no matter what I'm doing," Abdelhady said.
Since she started lifting, she said she's had fun pushing the limits and learning what she's capable of achieving.
"When people ask [me] what my goal is with working out, this is it," TikTok viewer nance wrote.
"Pop off," commented claire stone.
"I love when people are lifting insane weights at the gym I get so excited," alex wrote.
Some commented on the looks Abdelhady received from the men who watched her complete her exercise.
"The men were too stunned to speak," wrote Ari Ferrari.
"The room is split 50/50 some impressed and some hating lol but this is insane," user5988700906449 commented.
Abdelhady said she was focused during the lift and did not realize anyone other than her friends was watching. As she looks back on the video that her friend took from a different angle, she said they thought it was "funny."
"We tried to guess what was going on through their heads through the different facial expressions we saw but I truly don't think any of them had bad intentions at all," she said. "It's just not as common to see a female lifting that much weight every day at a commercial gym."
Abdelhady shared that she had her fair share of positive and negative experiences while lifting.
Though some people were skeptical of how much she lifted, she also had many people tell her that they were impressed.
"I used to let the negative opinions get to me a lot more until I realized that what I do makes me SO happy," Abdelhady said. "It keeps me healthy both mentally and physically."
When the video went viral, she said she was worried they might be upset, but many of them told her they loved it.
Knowing that the video reached millions of people was also exciting.
She explained that between balancing school, work as a physical therapist and posting social media content, things can be stressful. However, it's worth it if her content can help even just one person.
Abdelhady said she was also happy to see the comments from women who said they want to start lifting.
"If I were to offer any advice, I would say ignore all the voices warning you to not get 'too big,' 'too strong,' 'too muscular,'" she said. "Exist loudly, be bold and watch how unstoppable you become when you stop doubting yourself or entertaining the people who doubt you."
TikTok is a popular platform for many women to share their experiences at the gym. While some share videos of workouts, others have voiced their frustrations regarding unpleasant experiences.
Newsweek previously reported that Anna Archer, a fitness influencer, shared a video that shows her confronting a man who she said was walking close to the area in which she was exercising, though, she noted, the gym was empty.
In her video, Archer asks the man to not walk behind the platform while she is squatting, to which he responded that she should move forward.
When she told him that was the area in which she wanted to squat, he told her he wanted to walk in that part of the gym. Archer said she left the gym soon afterward.
Updated 02/17/2022, 6:12 p.m. ET: This story has been updated with comments from Sherein Abdelhady.