Pope Benedict XVI Blames 'Editing Oversight' For False Statement in Sex Abuse Investigation
After originally denying any knowledge of sex abuse allegations from his former archdiocese, former Pope Benedict XVI has admitted to attending a meeting where the allegations were discussed.
The statement from the former Pope's secretary, which was sent to the German Catholic news outlet Die Tagespost, attributes the new statement to an editing error. The meeting in question took place in 1980 and revolved around a priest at the Munich archdiocese who was accused of sexually abusing children.
This case is the focal point of an extensive report by the archdiocese and law firm Westpfahl Spilker Wastl. When the report was released last week, Benedict denied all knowledge of this case and others similar to it. According to Secretary Archbishop Georg Gänswein, the former Pope insists that his statement retraction was not done to try and rid himself of guilt.
"He would like to emphasize that this was not done out of bad faith, but was the result of an error in the editing of his statement," wrote Gänswein in the statement.
Nevertheless, Benedict still apologized for the statement, despite its alleged misinterpretation.
"He is very sorry for this mistake and he apologizes for this mistake," said the statement.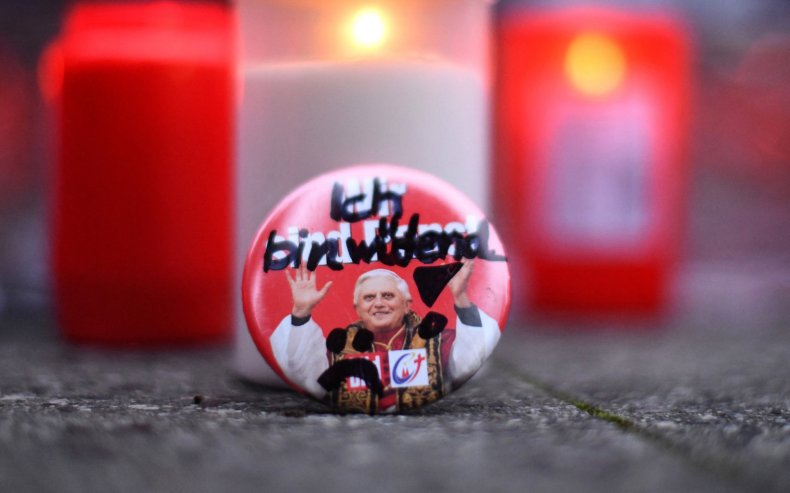 A further statement is expected to be released in the coming days. However, its expected arrival is still unclear. Gänswein wrote that Benedict is still reviewing the 1,900-page report.
"He is currently reading carefully the statements contained there, which fill him with shame and pain at the suffering inflicted on the victims," the secretary said. "Even if he tries to read it quickly, he asks for your understanding that due to his age and health, but also due to the large size, it will take time to read it completely. There will be a comment on the report."
The statement also included a statement of condolence for the victims listed in the report.
"Benedict XVI is close to his former archdiocese and home diocese these days and is very connected to it in its efforts to clarify," said the statement. "He thinks especially of the victims who have experienced sexual abuse and indifference."
Meanwhile, the Vatican has yet to release a full statement on the report. Newsweek previously reported that the Catholic Church said that they will comment on the findings listed in the report once it has been published and when they will be able to review the entire document.
"The Holy See considers that appropriate attention should be paid to the document, whose contents are presently unknown," stated the Vatican last week. "​​In coming days ... the Holy See will be able to give it a careful and detailed examination."