Pope Francis Urges North Korea Talks, Says Nuclear Weapons 'Must Be Banned' Amid Trump and Kim Tensions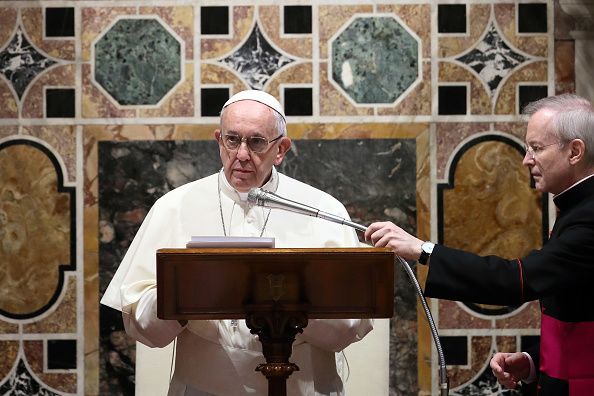 Pope Francis on Monday called on all countries to work for a legally binding ban on nuclear weapons and to help ease tensions on the Korean Peninsula, as the battle between President Donald Trump and North Korean leader Kim Jong Un enters its second year.
"It is of paramount importance to support every effort at dialogue on the Korean Peninsula, in order to find new ways of overcoming the current disputes, increasing mutual trust and ensuring a peaceful future for the Korean people and the entire world," Francis said in his "State of the World" address, an annual speech he gives to diplomats in Vatican City.
The Pope added that Vatican City was among 122 countries that supported a United Nations treaty last year to ban nuclear weapons, and said "nuclear weapons must be banned."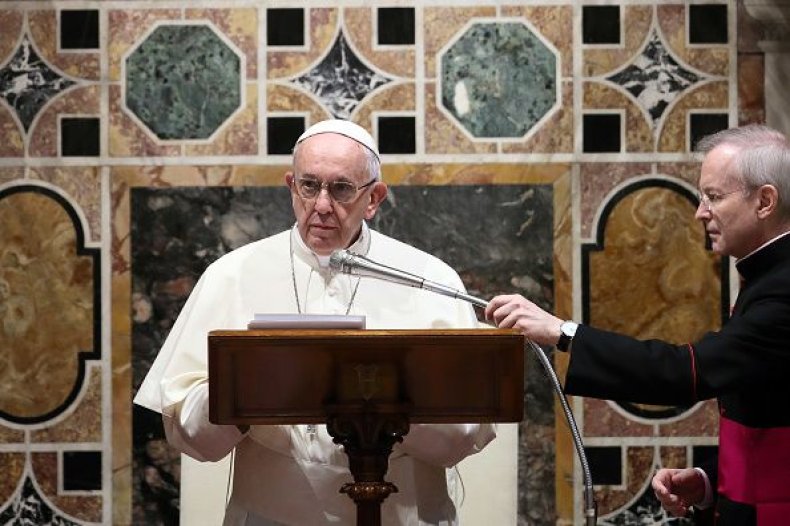 His comments came less than a week after Trump announced on Twitter that he has a "nuclear button," one that is bigger and more powerful than Kim's, on his desk "at all times." The bellicose rhetoric between Trump and Kim has concerned officials on both sides who believe Trump's statements could unwittingly precipitate nuclear war.
The Pope repeated that concern Monday, saying "the conflagration could be started by some chance and unforeseen circumstance."
He also appeared to take aim at a number of Trump's foreign policy decisions without explicitly mentioning the president. Francis repeated his call for the "status quo" to remain in Jerusalem, which Trump recently recognized as the capital of Israel, breaking from decades of U.S. policy. Trump also signaled that the U.S. would move its Israeli embassy from Tel Aviv to Jerusalem.
Palestinians view East Jerusalem as the future capital of a Palestinian state if a two-state solution is reached with Israel. Countries including Turkey and Jordan criticized Trump's decision, and a large majority of U.N. members voted in favor of a resolution condeming the change.
The Pope called on countries worldwide to take climate change seriously and support the 2015 Paris accord in which countries committed to reducing carbon emissions. Trump said that the U.S. will withdraw entirely from the commitment despite the fact that all emission reductions are voluntary.
The Pope has repeatedly spoken about climate change and the moral responsibility Christians have to protect Earth. He is a vocal advocate for nuclear nonproliferation and has called for a two-state solution for Israelis and Palestinians.
Last month, the Pope said nuclear weapons hold international relations hostage and stifle peaceful coexistence.