Pope Francis Sets Off For First Africa Tour Amid Security Concerns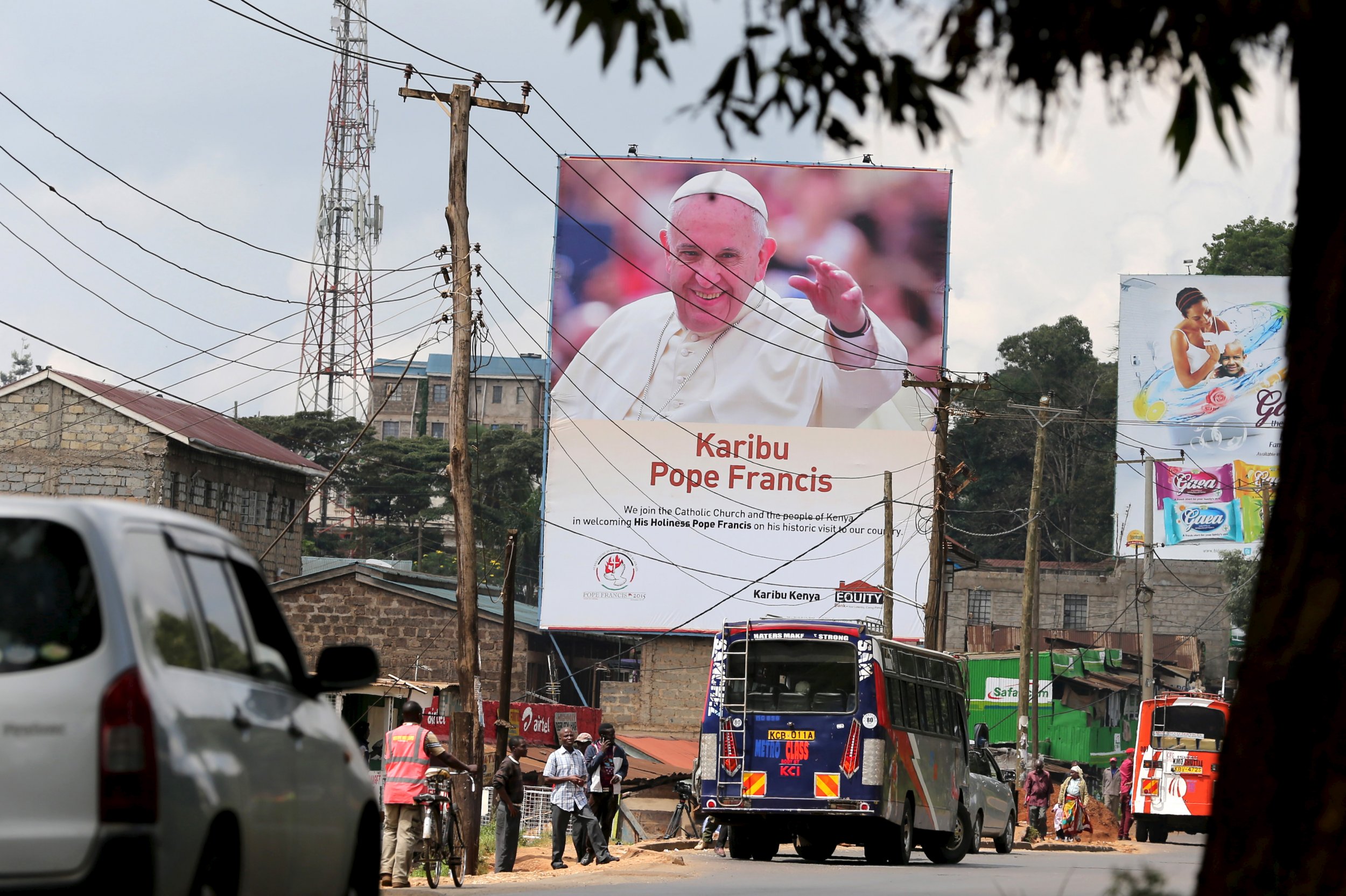 Pope Francis will arrive in Kenya on Wednesday for the start of his first papal visit to Africa, in a trip that is expected to encompass the key themes of his papacy but is also fraught with security concerns.
The pontiff will arrive in Nairobi to be welcomed by Kenyan President Uhuru Kenyatta. His visit will include stays in Kenya, Uganda and the Central African Republic (CAR), and will see him address the United Nations (U.N.), visit a refugee camp and speak to Muslims in CAR, a country divided by Christian-Muslim strife.
Francis, who described man-made climate change as an "urgent and compelling" problem in a major document he authored in June, is expected to discuss environmental issues when he visits the Nairobi headquarters of the U.N.'s Environment Program, according to Kenyan newspaper the Daily Nation.
The 78-year-old pope will express his solidarity with the poor during a visit to a refugee camp in CAR, where ongoing violence has led to almost 400,000 people seeking refuge in camps. He will also visit a mosque in a Muslim neighborhood of Bangui, the CAR capital.
However, security concerns around the trip are high. French defense ministry officials have previously warned that the trip is "risky" considering ongoing violence between mostly Christian anti-Balaka forces and largely Muslim Seleka rebels. Religious leaders in CAR made a radio broadcast on Tuesday calling for a ceasefire during the pope's visit.
Reuters reported that some 10,000 officers would be deployed in Kenya to facilitate the trip, according to local media. In Uganda, 12,000 officers will be on hand to ensure the safety of the pope and the crowds of pilgrims who will attend the events. More than two million people are expected to be at a Mass held by the pope on November 28 at a shrine to 22 Ugandan Catholic martyrs near the capital Kampala.
Francis will stay in Kenya between November 25-27, before moving on to Uganda from November 27-29, and concluding the trip with a two-day visit to CAR from November 29-30.