Pope Francis Should Resign Amid Church Abuse Scandals, 1 in 4 American Say: Poll
About one-quarter of Americans think Pope Francis should resign amid questions about how he handled sexual abuse scandals in the Catholic Church, according to a new poll released Wednesday from YouGov/The Economist.
Archbishop Carlo Maria Vigano has called on Francis to resign, alleging that he told the pope about abuse carried out by former Cardinal Theodore McCarrick, who resigned this summer.
"In this extremely dramatic moment for the universal Church, he must acknowledge his mistakes and, in keeping with the proclaimed principle of zero tolerance, Pope Francis must be the first to set a good example to Cardinals and Bishops who covered up McCarrick's abuses and resign along with all of them," Vigano wrote in a statement, via CBS.
YouGov/The Economist asked in its poll: "Do you think Pope Francis should or should not resign over the way the Catholic Church has handled cases of sexual of abuse of children by its priests?"
Twenty-six percent responded yes. Thirty-five percent said he should not resign, while 39 percent were not sure.
The poll did not provide data for the religion of respondents. It did give data on political leanings, however. Forty-one percent of folks who voted for President Donald Trump thought Francis should resign compared to just 13 percent of those who voted for Democratic nominee Hillary Clinton. Interestingly enough, Trump received more of the Catholic vote—52 percent—than Clinton, who received 45 percent, according to exit polls.
The YouGov/The Economist survey polled 1,500 U.S. adults from September 2 through September 4. It had a margin of error of plus or minus 3 percentage points.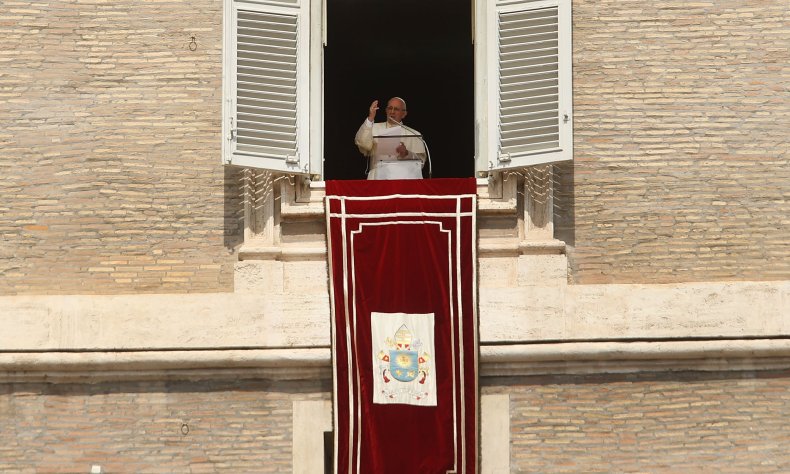 Francis has been relatively quiet on the scandal.
"I will not say a word on this," Francis told reporters late last month, via CNN. "I read the statement this morning, and I must tell you sincerely...read the statement carefully and make your own judgment."
McCarrick, the former Archbishop of Washington, resigned in July after numerous allegations that he abused men who wanted to become priests. At the time, Francis accepted the resignation and ordered McCarrick to a "life of prayer and penance."