Pope Francis Prays for World Without Nuclear Weapons Amid Trump and Kim Tensions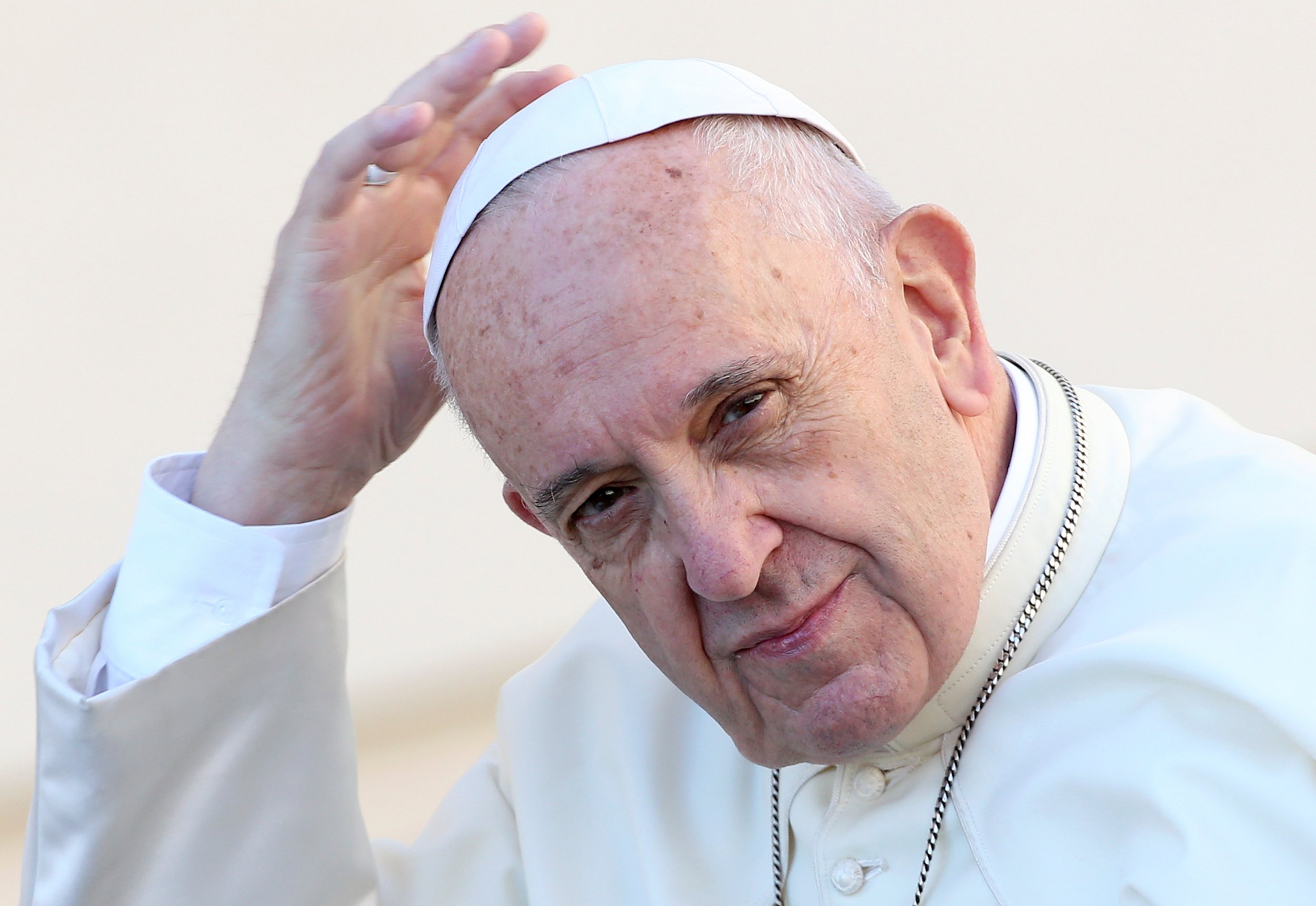 The Pope is praying for a world without nuclear arms.
Pope Francis on Sunday offered a prayer for world leaders to collaborate on nuclear disarmament, calling it an essential step for expanding human rights. His comments come after President Donald Trump and North Korean leader Kim Jong Un have spent much of the year threatening each other with hints of a nuclear conflict.
Speaking in St. Peter's Square in Vatican City, the Pope told a crowd of worshippers that there is a "strong link between human rights and nuclear disarmament." He said "working with determination to build a world without nuclear arms" would help protect the weakest and most disadvantaged citizens of the world, and that leaders should focus their energies and technology at the "service of peace and true progress."
Francis also returned to his common theme of environmental advocacy, saying that he hoped people would come to see the "need to adopt truly efficient decisions to fight climate change."
His remarks came the same day that members of the International Campaign to Abolish Nuclear Weapons (ICAN), which won this year's Nobel Peace Prize, used their speech to push for an end to nuclear tensions.
"We have a choice, the end of nuclear weapons or the end of us," ICAN executive director Beatrice Fihn said while accepting the award at a ceremony in Oslo. She added that the risk of a nuclear attack is "greater today than during the Cold War," and that "the deaths of millions may be one tiny tantrum away."
Trump and Kim have been trading threats of nuclear war for months, with neither showing any signs of backing down. The latest provocation came in late November, when North Korea held its first weapons test in two months, launching a missile that defense experts said could be capable of hitting anywhere in the United States mainland. Trump and several of his cabinet members responded with warnings that a war might be closer than ever. National security adviser H.R. McMaster said this month that the chances of war with North Korea are "increasing every day."
Pope Francis has often offered shaded commentary and criticism of Trump's actions in office, speaking out against efforts to roll back climate change programs and build walls like the one Trump has proposed for the Mexican border. When Trump met Francis at the Vatican in May, the Pope pushed him to consider non-violent conflict resolution and a devotion to combating climate change.
The Pope's words seemed to have little impact on Trump, who only days later would pull the United States out of the Paris climate accords. Soon afterward, Trump and Kim started intensifying their war of words over the summer, with Trump at one point saying North Korea should expect "fire and fury" if it provokes the U.S.