Pope's Iraq Trip Must Highlight Precarious Situation of Assyrian Christians | Opinion
On Monday, Pope Francis ended his trip to Iraq where he preached a message of peace and religious tolerance over a four-day period.
In this first-ever visit by a pope to the country, the pontiff sought to bring global attention to Iraq's ancient and battered Christian community. Pope Francis' message of hope provided much-needed comfort to Assyrian Christian survivors of the genocidal campaign by ISIS.
While widely viewed as inspiring, Pope Francis' historic visit to Iraq must serve as an opportunity to end the ongoing ethnic cleansing and persecution of Assyrian Christians and other minorities in their ancestral homeland.
With a history spanning over 6,700 years, the Assyrians are indigenous to the region of Mesopotamia, which is modern day Iraq, northwest Iran, Syria and southeast Turkey. The Assyrians of today are descendants of the ancient Assyrian Empire, which ended in 612 B.C. In the first century C.E., the Assyrians became one of the first groups of people to convert to Christianity and the Assyrian Church once held an estimated 80 million adherents prior to the Islamic conquest of the region. Today, the worldwide population of Assyrians has been reduced to 3-4 million.
Assyrian Christians in Iraq (who are also known by their church denominations: Chaldean Catholic, Syriac Orthodox and Syriac Catholic) live under constant threat of extinction. Prior to the U.S invasion of Iraq in 2003, Christians in the country numbered around 1.5 million. That number now has been reduced to 100-200,000.
The genocidal campaign conducted by ISIS was the latest string of radical Islamist attempts to erase Assyrian Christians from existence. Under ISIS occupation, hundreds of churches and holy sites were destroyed, while Assyrian Christians were being murdered and tortured for their faith. Tens of thousands of Assyrians were forced to flee persecution. The U.S. government deemed this a genocide, affecting Assyrians and ethnic Yazidis alike.
ISIS did not simply seek to wipe out Christians from the Middle East, but also purge any historical evidence that Assyrian and Mesopotamian civilizations even existed. Some of the most egregious examples took place in March 2015, when ISIS bulldozed the 3,000 year-old Assyrian city of Nimrud and destroyed the tombs of the biblical prophets Jonah and Daniel in Mosul.
This genocide conducted by ISIS against Assyrian Christians is a crime against humanity, but further attempts since then to erase Assyrian ties from their ancestral homeland have proven to be more insidious.
After being invited to participate in the celebrations for Pope Francis' arrival to Bakhdida, northern Iraq, the Hammurabi Assyrian Scout Association was asked to remove the Assyrian flag from their uniforms. When they refused, the scouts were prevented from performing for the pontifex. Amidst a sea of Iraqi, Vatican and Kurdish flags, it was remarked that Assyrian flags were difficult to locate throughout the proceedings.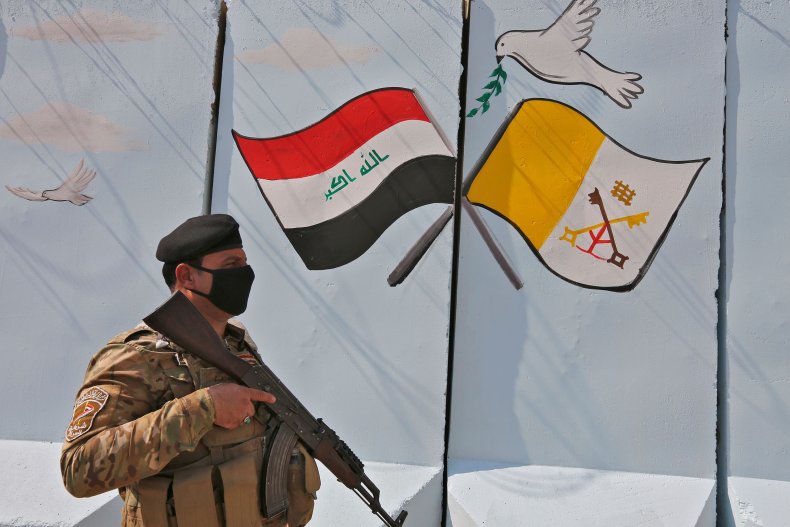 Disingenuous individuals have already sought to take advantage of the situation to boost their image. One such example is of Rayan al-Kildani, who was photographed alongside Pope Francis. Kildani is viewed by many Assyrians as a "Christian fig leaf" for Iran and has been sanctioned by the U.S. government on charges of corruption and human rights abuses. Fighters for the Popular Mobilization Forces, an Iranian proxy group, were tasked with protecting Pope Francis during his visit, as were the Nineveh Plain Protection Units.
As previously observed, these propaganda tactics will prove to have significant political ramifications. Pope Francis went as far as thanking former Kurdistan Region of Iraq President Masoud Barzani for having "protected" Christians when ISIS attacked.
In reality, the peshmerga has been accused by native Assyrian and Yazidi inhabitants of forcefully disarming them weeks before the ISIS advance into the Nineveh Plains. In 2014, when ISIS invaded northern Iraq, the peshmerga abandoned their posts in these areas without notifying locals.
Even in the United States, President Joe Biden's short statement on the pope's visit made no mention of Assyrians, Chaldeans or Syriacs.
This erasure seems all too familiar with Iraqi Jews.
Once numbering 150,000 people, the country hosted a thriving Jewish community for centuries. The region became home to some of the world's most prominent Jewish scholars who produced the Babylonian Talmud between 500 and 700 C.E.
In 1917, one-third of the population of Baghdad was Jewish and the country's first finance minister, Sassoon Eskell, helped found modern Iraq. He was a Jew. Following the end of the British Mandate, state-sanctioned antisemitism was ensured. Today, hardly any Jews live in Iraq.
Unlike the trees and flowers that were immediately removed following the pope's visit to Mosul, state authorities could not make a pretense of peaceful coexistence when it concerned the Jewish people. The Iraqi government barred a Jewish delegation from traveling into the country. Jews were not permitted to participate in the pope's interfaith service at Ur, the ancient birthplace of biblical patriarch Abraham.
Rather than highlight the plight of Assyrians and other Christian groups in the Middle East, Pope Francis' visit may end up worsening their situation. If this ongoing ethnic cleansing of Assyrians and other minorities from Iraq continues under a veneer of respectability, this will ultimately lead to their complete erasure from their ancestral homeland, as was the case with the Jews of Iraq.
Bradley Martin is the executive director for the Near East Center for Strategic Studies.
The views expressed in this article are the writer's own.