Popular Google Doodle Games: Play Mexican Card Game Lotería With Friends in Today's Game
Today's popular Google Doodle game is a throwback to December 2019 with the Mexican card game Lotería. The latest in the Stay and Play at Home series is Google's second-ever multiplayer game, allowing users to play in a private match with friends or with strangers from around the world.
First posted on December 9, 2019, the Lotería Google Doodle celebrates 106 years since the game was copyrighted. However, the game is much older, originating in Italy in the 15th century, and moving to Spain before reaching Mexico in 1769. Today, Lotería is a card game popular across Mexico and Latinx communities and is played as both a Spanish teaching tool and as part of family game nights.
In Lotería, players are faced with 16 cards, in four rows of four, each marking fun designs of images and words like "el mundo" or "el corazón". Someone will deal out cards one by one, and if a player has the matching card, they have to mark it with a token. The first player to match four cards in a specific alignment, either a row across, a row down, or four in a corner, for example, will win the game, after shouting "Lotería!"
The 54 illustrated cards in the Google Doodle were designed by five artists: Mexico-based Chabaski, Mexico-born Cecilia, Hermosillo-born Luis Pinto, Los Angeles-based Loris Lora, and Mexico City-based Vals.
Each artist has a personal connection to Lotería and remembers playing it growing up. Chabaski told Google: "I think playing Lotería is in every Mexican's memory, and age doesn't matter—everyone will enjoy playing it. In my case, it's been one of the family faves since I was a kid. "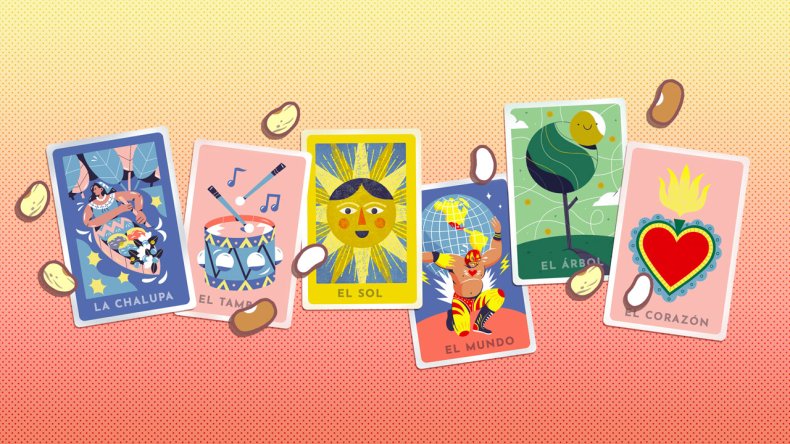 And Luis recalled: "Lotería is a game that is closely related to Mexican culture, my childhood memories, and my family.
"The characters, objects, colors, and dynamics of the game are also details that I feel very attracted to, along with the sense of identity La Lotería gives to Mexico and the Latinx / Latinamerican community."
To play Lotería against friends, when presented with the "select match type" option, select "play with friends" and you will be given a link to use to invite your friends to a private game. Alternatively, select "random match" to join a group of four strangers.
Today, the Lotería Google Doodle is shown on homepages in the U.S. across Central America, some countries in South America, as well as some countries across Europe, Africa, and Asia.
The Google Doodle is captioned today: "As COVID-19 continues to impact communities around the world, people and families everywhere are spending more time at home. In light of this, we're launching a throwback Doodle series looking back at some of our popular interactive Google Doodle games!
"Stay and play at home with today's featured throwback: Our 2019 Doodle game celebrating Lotería!"