Pork shortages are likely within days following the closures of processing facilities due to coronavirus-related worker illness. High pork prices are likely in the coming weeks.
By some estimates, around a quarter of U.S. pork production has gone offline following a number of hammer blows to the industry. On April 12, the world's biggest pork producer, Smithfield Foods, announced the closure of its plant in Sioux Falls, South Dakota.
Meanwhile, Tyson Foods said it was shutting down its pork processing plant in Waterloo, Iowa, which has been linked to more than 180 COVID-19 infections. It has also suspended operations at another processing facility in Logansport, Indiana, which along with the closure of JBS in Worthington, Minnesota, are compounding problems for producers and consumers.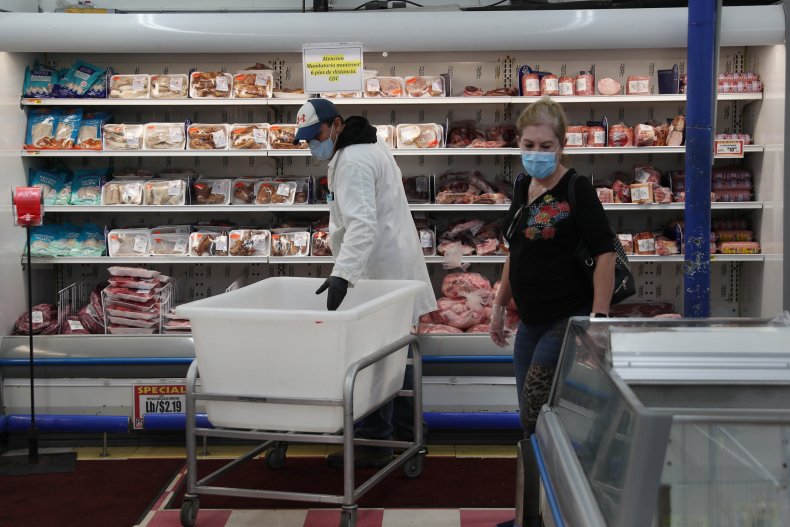 More than 6,000 workers across the industry are off, either with the virus or avoiding contact.
The closures of slaughterhouses have caused huge problems for pig farmers. With hogs needing to be kept in buildings to be fattened up for slaughter, incoming piglets have nowhere to go, forcing some farmers, already reeling from an upended supply chain after the closures of restaurants, to cull the hogs and piglets or even give pregnant sows injections, causing them to abort their baby pigs.
"There is no playbook for this one, this is a whole new ball game," said Dennis Smith, a specialist in grain and livestock trading and a senior account executive at Archer Financial Services.
He said the last time there was such a discrepancy in the number of market hogs available for slaughter and the capacity to kill them was back in 1998.
"The difference today is we have a situation where we are not running the plants at even close to capacity, so the hogs are being backed up," he told Newsweek.
"The pipeline of pork is drying up quickly and that is going to create the shortage," he said, "[which] is going to show up real quick, I think at the retail outlets, probably at the end of the week."
There had been a flurry of demand for pork during March when people were panic retail buying after orders to shelter in place, emptying out supermarket meat cases for about two weeks. But as Smith said, "this is different, this is not going to be resupplied quickly like it was March."
Shoring up the shortfall of lost production are the hundreds of millions of pounds of frozen meat kept in warehouses. However, in March, these pork inventories dropped by 4.2. percent month-on-month, well before the slaughterhouse shutdowns.
In any case, these stocks are only a "short term" solution, according to David Ortega, associate professor and food economist at Michigan State University.
"The extent of the effect on availability and consequently meat prices at the supermarket depends on how long these processing plants remain closed and how many more are affected."
"With the situation being so fluid, we simply don't have data at the moment to know how prices are behaving at the supermarket, but there is a real likelihood that they will increase," he told Newsweek.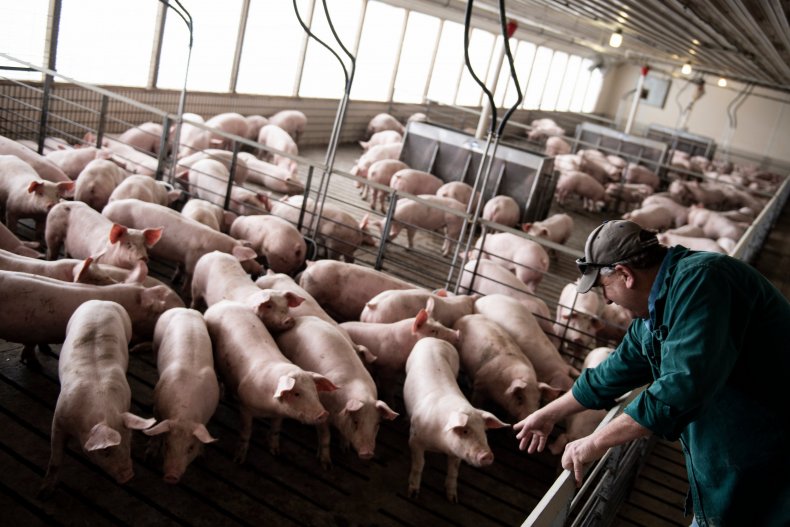 "If these processing plants remain closed and others start to reduce capacity or close themselves, then the likelihood of a meat shortage and product stock outs at the supermarket will increase, especially for those meat products that are in high demand by consumers."
Meanwhile, Jayson Lusk, professor of agricultural economics at Purdue University, in West Lafayette, Indiana, said he expected prices to rise "in the coming week, reflecting increased scarcity."
"The consequence of additional closures would be higher prices for consumers and reduced product availability. It also means lower livestock prices and economic harm for farmers," he told Newsweek.
Before the coronavirus crisis, hog farmers were expecting a profitable 12 months, but across the U.S. they now face potential losses of around $5 billion for the remainder of the year, according to the National Pork Producers Council (NPPC).
It has called on for the Department of Agriculture (USDA) to address the financial losses by producers, many of whom will go bankrupt.
"COVID-19 has decimated the U.S. pork industry, all pork producers are hurting and immediate action is imperative," NPPC assistant vice president of communications Jim Monroe said in a statement.
"This is a crisis on our farms and currently there aren't any supply issues. We have plenty of hogs. While short term we don't anticipate supply issues, there could be issues over the long term if we don't resolve plant disruptions."
Newsweek has contacted the USDA for comment. In a statement on April 25, the USDA said it would help support producers whose animals cannot move to market and help "identify potential alternative markets if a producer is unable to move animals, and if necessary, advise and assist on depopulation and disposal methods."
The infographic below, provided by Statista, shows the number of cases of COVID-19 throughout the U.S. as of April 28.