A doctor in Portland, Oregon is doing her part to help local residents get their COVID-19 vaccines by teaming up with bars to offer an on-site shot paired with a free drink.
Dr. Maureen Mays set up a vaccination station at Ecliptic Brewing in Portland on Wednesday, where there was a line out the door of people waiting to get their vaccine and subsequently a voucher for a free drink or food item. Portland is the latest in a string of cities, including Washington D.C. and Baton Rouge, where healthcare professionals and bars are teaming up to offer "shots for shots."
In an email to Newsweek, Dr. Mays says she's been trying to remove barriers for people getting their vaccines, like "lack of access to a computer, poverty, lack of transportation, jobs that don't allow time off, language barriers, etc." Dr. Mays said one of her goals at bars is to target younger people who haven't yet made getting their vaccines a priority. If vaccines are available at a "convenient and relaxed" place, she said, then getting the shot feels "welcome[ing] to a lot of people."
Mays explained that when the coronavirus vaccines first became available to the public there was a huge push of people who very actively wanted to get them. But now that most of that population has received their doses, there's the rest of the population that still needs a nudge.
"There's a huge group I think we haven't tapped that want to get vaccinated and just haven't made the time, so yes, I think this is the place to do that," she said Wednesday.
Matt Michael was among those in the crowd to get his "shot for a shot" Wednesday, and said "not really having a whole bunch of history seeing what was going on with people having the shot after a certain amount of time," was what had made him wait this long to get one.
"Now that it's been six months or so, I'm feeling a little bit more comfortable," he told Fox.
Another attendee, Ryan Estrada, said he'd "just been traveling for work and stuff, so ha[d]n't been able to." And that getting his vaccine at the bar on Wednesday was "a win-win... probably the safest thing I've ever done for a free beer."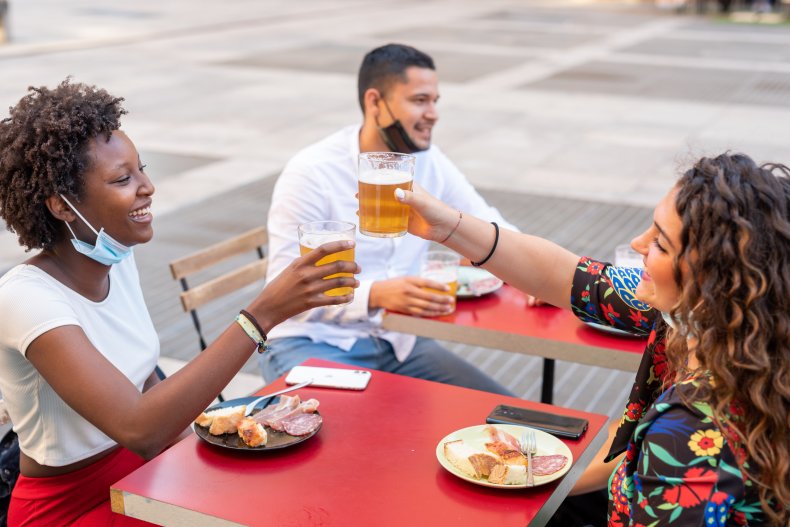 In Baton Rouge, Louisiana, where vaccination numbers are low, a telehealth company called Relief offers a Shots for Shots program in city bars.
One Baton Rouge bartender got to have his first shot at work through the program, telling CBS News "convenience is what spoke to me most today, the fact that it's literally 5 feet away from me. I work late nights. I've either just never found the time or have just been too exhausted to go out."
Earlier in May, a Washington D.C. vaccination event at the Kennedy Center offered free beer to anyone over the age of 21 to get a vaccination that day.
"Come get vaccinated and grab a beer, on us, to enjoy what looks to be a beautiful Thursday!" Mayor Muriel Bowser said in a tweet.
More and more cities are following the shot for shot trend, as well as offering other creative vaccination incentives.
"We're taking the kitchen sink approach here," said Dr. Joseph Kanter, the Louisiana State Health Officer. "No idea is bad. Every idea is worth considering."
Newsweek reached out to Dr. Mays for comment.