Portland Federal Agents Accused of War Crimes for Destroying Medical Supplies
Federal authorities have been accused of violating the Geneva Convention after apparently destroying medical equipment during protests in Portland.
Reporter Sergio Olmos shared a video on Twitter Tuesday night showing medical supplies and protective gear covered in an orange liquid.
"It appears that federal officers, during dispersal, pepper sprayed the medical supplies in the tents," Olmos wrote.
The video prompted Dr. Eric Feigl-Ding, an epidemiologist and senior fellow at the Federation of American Scientists, to tweet that it was "Fubar"—a military acronym for "f***ed up beyond all recognition."
"This is Fubar. The Geneva Convention states that destroying medical equipment is a war crime violation. Yet, here we are in Portland," Feigl-Ding wrote.
In another tweet, he added: "Attacking medical units violates half a dozen conventions and international statutes, not only Geneva Convention but also International Criminal Court statutes. But hey, Chad Wolf, Bill Barr, and Trump say it's okay!"
Feigl-Ding added: "Folks arguing "but but but Geneva Convention only for armed conflict between uniformed armies"... ha, if that is the only defense of their actions, then one is entirely missing the moral emptiness & heartless callousness of the actions. Also Geneva protects non combatants too."
He added: "Many are missing the point - even if there is no active war - the fact that what is happening would be considered a war crime under GC if there was one — reveals the utter lack of morals and disrespect of human rights of Trump DHS federal forces. That is the point."
"Fixed establishments and mobile medical units of the Medical Service may in no circumstances be attacked, but shall at all times be respected and protected by the Parties to the conflict," Article 19 of the 1949 Geneva Convention states.
Feigl-Ding also noted that the "sheer volume" of spray on the supplies shows that it had been a deliberate effort to destroy medical equipment.
"The claim that, 'oh its an errant spray' doesn't explain the sheer volume of CS used on all of them," he wrote. "This was a point blank concentrated spraying to contaminant and destroy medical equipment. Slashing protestor water bottle stations in DC was one thing, but this is next level."
An article in the 1998 International Criminal Court Statute says "[i]ntentionally directing attacks against ... hospitals and places where the sick and the wounded are collected, provided they are not military objectives" constitutes a war crime in both international and non-international armed conflicts.
Feigl-Ding and the Department of Homeland Security (DHS) have been contacted for comment.
It comes after the American Civil Liberties Union (ACLU) on Wednesday filed a lawsuit against the DHS, U.S. Marshals Service and the city of Portland on behalf of volunteer medics who have been attending to injured protesters.
The lawsuit alleges that federal agents have "brutally attacked" volunteer medics with rubber bullets, tear gas, pepper spray, flash bangs and batons in violation of their First and Fourth Amendment rights.
"Volunteer medics should be celebrated, not attacked or arrested," Jann Carson, the interim executive director of the ACLU of Oregon, said in a statement. "Our clients are volunteering day and night to provide aid to the injured and to create a safer environment for protesters and bystanders. These attacks are unconscionable as well as unconstitutional. This lawlessness must end."
On Thursday, a judge will hear arguments in another lawsuit filed by the ACLU on behalf of journalists and legal observers. The ACLU has been contacted for additional comment.
Earlier on Wednesday, the Portland City Council banned local police from cooperating with federal agents or arresting reporters and legal observers.
Later in the night, Portland Mayor Ted Wheeler was teargassed by federal agents after joining a crowd of protesters by a fence guarding the Mark O. Hatfield United States Courthouse.
President Donald Trump deployed federal authorities to quell unrest in the city, which has seen nightly protests since the death of George Floyd in Minneapolis police custody in May. But their presence and actions has flared tensions, with local and state officials calling for them to leave the city.
Federal authorities have defended their response, saying local officials have been unwilling to work with them to stop the federal courthouse from being vandalized and violence against federal officers.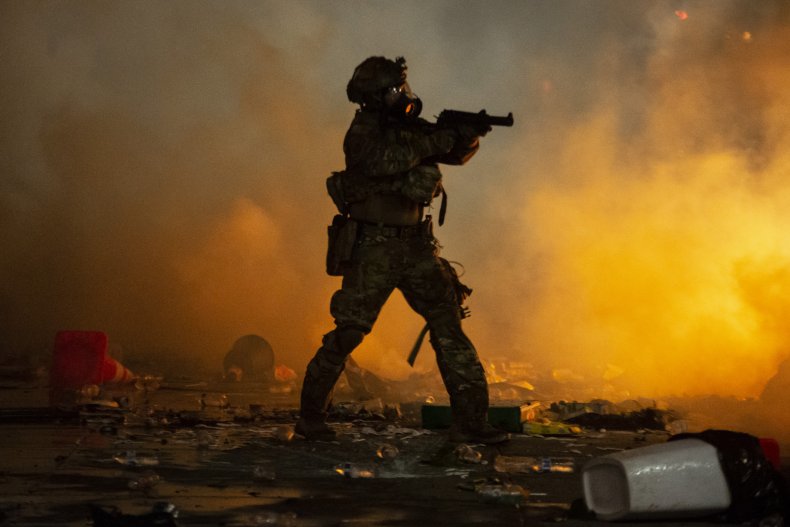 Correction 7/24/20, 10:15 a.m. ET: This article was updated with Eric Feigl-Ding's current job title and to correct a misspelling.