Portland Federal Agents Still Attacking Journalists, Legal Observers Despite Court Order
Federal agents in Portland are violating a court order barring attacks on journalists and legal observers documenting protests in the city, the American Civil Liberties Union (ACLU) of Oregon said.
Last week, U.S. District Judge Michael Simon ordered agents to stop targeting legal observers and journalists at protests in Portland in response to a class-action lawsuit filed by the ACLU.
The lawsuit said federal agents have fired tear gas, pepper spray, rubber bullets and thrown flash bangs directly at both journalists and legal observers documenting the ongoing protests against police brutality and racism in Oregon's largest city.
On Tuesday, the ACLU asked a federal court to sanction and hold in contempt federal agents with the Department of Homeland Security (DHS) and the U.S. Marshals Service for continuing such attacks in defiance of the court order.
According to a motion filed in the court, federal agents began violating the order within hours of it being issued on July 23 and "have continued to do so every night since."
In the early hours of July 24, a federal agent shot Oregon Public Broadcasting (OPB) reporter Jonathan Levinson with a less-lethal munition as he was photographing federal officers, the ACLU said.
"One agent was standing on a platform near the north side of SW 3rd Avenue," Levinson said in a declaration to the court.
"I was trying to take a photograph, but I had trouble focusing through my fence. As I looked from him to my lens and back at him, I saw him raise his weapon, deliberately point it at me, and fire several rounds. My camera and lens were splattered with paint."
Levinson said he was wearing his press badge and a helmet that says "PRESS" in large letters at the time.
"Levinson was clearly marked as press and no protesters were near him when he was shot," the ACLU said in a news release.
That same night, federal agents also fired less-lethal munitions at another OPB reporter, Rebecca Ellis.
Kathryn Elsesser, a freelance photographer on assignment for news agency Agence France-Presse, said she was attacked while standing alone near the edge of the park where protests had been taking place in the early hours of July 25. She was wearing a press pass and a helmet with "PRESS" written on it.
"I was clearly marked as a member of the press and was standing by myself," Elsesser said. "Suddenly, without warning or reason, I felt a hard, searing, burning pain in the back of my arm.
"A federal agent had shot me from across the street with some type of bullet. I met multiple other photojournalists that night who were similarly attacked despite being clearly labeled as press."
Federal agents also deliberately sprayed mace into the faces of multiple clearly-marked legal observers at point-blank range, the ACLU said.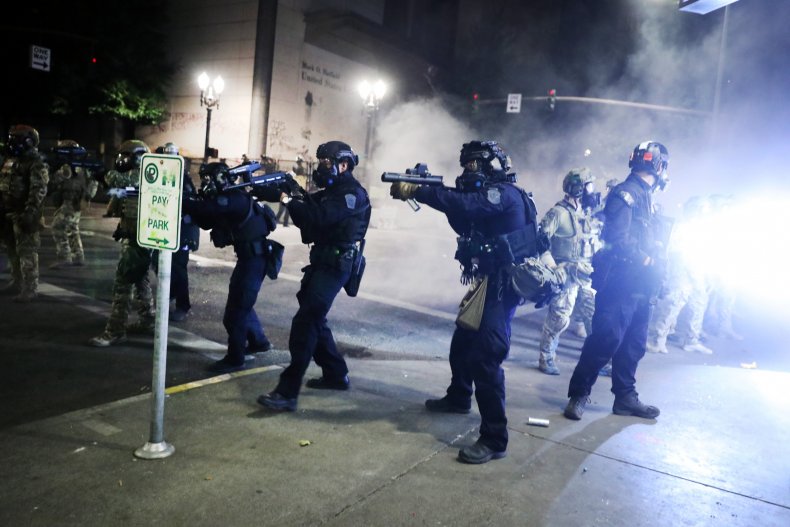 They also shot a legal observer directly in her chest with a rubber bullet from four feet away—an incident that was captured on video. The footage shows that "she was not threatening federal property, interfering with law enforcement, or even talking to the agent who shot her," the motion said.
The ACLU also urged the court to have each federal agent who violated the court order to be identified, personally appear, and be banned from engaging in armed operations in Portland.
Acting Homeland Security Secretary Chad Wolf and Acting Deputy Secretary Ken Cuccinelli should also be ordered to personally appear before the court to "show cause why they should not be sanctioned for failure to comply" with the order, the motion added.
"This administration claims to be defending the federal courthouse, but won't obey the orders coming out of it," Kelly Simon, the interim legal director of the ACLU of Oregon, said. "What purpose are these agents actually serving then?"