Portland Hit by Over 1,000 Shootings So Far This Year, Up From 388 in All of 2019: Police
Portland, Oregon's police chief announced Saturday that the city had "passed a grim milestone," noting that the department has documented more than 1,000 shootings in 2021 so far.
"Too many have prematurely ended lives and caused injury. But all shootings cause trauma to our community," Police Chief Chuck Lovell wrote on Twitter.
"I'm happy to work with our partners addressing this terrible problem and do our part. The Enhanced Community Safety Team is working hard to investigate these cases, and I call on the community to share information with them so we can arrest those committing gun crimes," Lovell added.
In recent years, Portland has seen a spike in gun violence. In 2019, throughout the entire year, the city documented 388 shooting incidents, according to police statistics. The number of shootings jumped sharply in 2020, up to 891.
The city is also on the verge of breaking its record for the highest number of homicides in one year: 70. According to the Oregonian, that record was set in 1987. There have been 69 homicides in the city this year, the newspaper notes.
The Oregonian says the reasons for Portland's rise in shootings are "varied and complicated" and include the COVID-19 pandemic, and the shuttering of the police bureau's Gun Violence Reduction Team.
Kieran Ramsey, special agent in charge of the FBI field office in Portland, told news station KGW in June that the pandemic and access to guns are likely factors of the spike in gun violence.
"It's not just a public safety problem, it's also a public health crisis and you have another public health crisis that's laying on top of all of this. That's caused a lot of trauma to our entire society at this point. But you add to that the availability of guns and the willingness of people to use these guns in the most horrific and tragic way," Ramsey said.
Ramsey also noted that a staffing shortage among Portland police was making it harder to respond to shootings. At the time, KGW reported that Portland had lost nearly 130 sworn members since July 2020.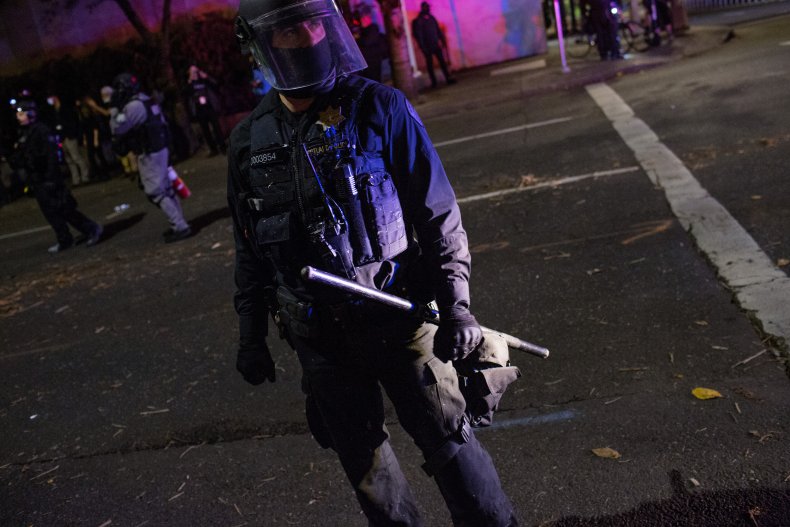 One man who spoke with news station KATU in an interview this month said he's called 911 about shootings within blocks of his apartment at least eight times in the last three months.
He also said that in one incident, he was almost struck by a bullet that came in through his window and "within two inches of killing me."
"I've lived in Portland 35 years now, and I have never experienced the kind of gun violence that we're seeing right now," the man, who declined to be identified, told the station.
On Tuesday, crowds in downtown Portland caused $500,000 in damage after they smashed windows, and lit dumpsters on fire, the Associated Press reported. But police didn't directly intervene, citing new legislation that restricts their ability to conduct crowd control.
In a separate incident in August, when a skirmish broke out between far-right Proud Boys and far-left anti-fascists, Lovell said he decided to keep police away from the scene, adding he had considered the "legal restrictions." In June, 50 police officers resigned, after one of their fellow officers was indicted for using his baton on a protester in 2020.
In the summer of 2020, protesters attempted to create autonomous zones, and participated in demonstrations that include property damage and setting fires.
In January, Portland Mayor Ted Wheeler said he wanted to to enforce stricter penalties on repeat offenders who commit violent acts and vandalize property, following riots which he attributed to "violent antifa and anarchists."
A poll in May found that 75 percent of Portland-area residents said they don't want to see a decrease in policing, despite frequent protests against law enforcement officers.