Portland Mayor Says Rioters Are 'Prop' for Trump's Reelection Campaign
Portland, Oregon Mayor Ted Wheeler said on Friday that protesters who engage in violence were inadvertently assisting President Donald Trump in his bid for reelection.
Demonstrations against racism in Portland have resulted in incidents of violence with protesters at times clashing with law enforcement officers. Trump has referred to the protesters as "rioters, looters and anarchists" organized and led by "antifa and other violent left-wing groups." President Trump sent agents from the Department of Homeland Security into the city in order to protect federal property despite insistence from state and local leadership that the agents were not necessary. Wheeler said in July that the federal agents were inspiring more violence and vandalism. On Friday, Wheeler encouraged people contemplating joining in weekend protests to stay home.
"Don't think for a moment that if you are participating in this activity that you are not being a prop for the reelection campaign of Donald Trump, because you absolutely are," Wheeler said during a Friday news briefing. "You are creating the B-roll film that will be used in ads nationally to help Donald Trump during his campaign. You don't want to be part of that? Then don't show up."
Newsweek reached out to the Trump campaign for comment.
In an interview with Fox News, Trump said Wheeler "made a fool out of himself" for attending the protest where he was tear-gassed. "He wanted to be among the people so he went into the crowd," Trump said in July. "And so they knocked the hell out of him, so that was the end of him."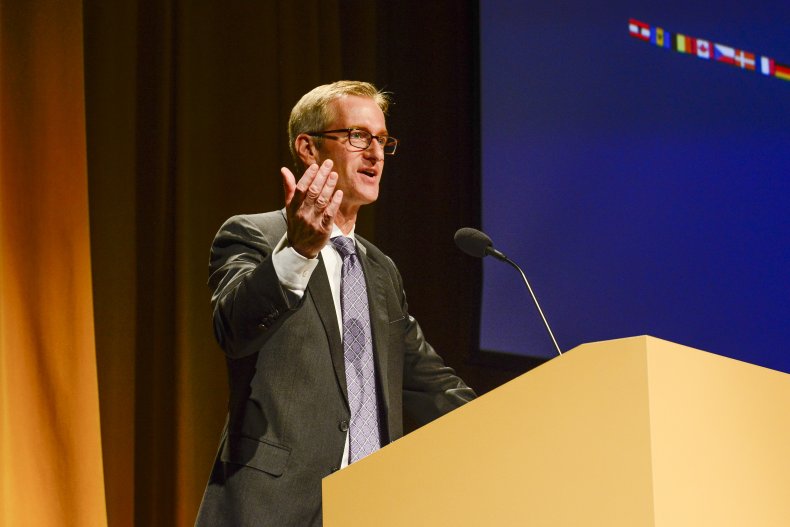 Portland has undergone nearly 70 consecutive nights of protests against systemic racism and police brutality. Tear gas has been used multiple times against the demonstrators. Wheeler himself was tear-gassed in July by federal agents as he stood with protesters outside the Mark O. Hatfield U.S. Courthouse.
In July, Oregon Governor Kate Brown announced that federal agents would depart Portland in a "phased withdrawal."
"These federal officers have acted as an occupying force, refused accountability, and brought violence and strife to our community," Brown said in a statement.
Many of the protests have been organized by Black Lives Matter, an advocacy group that lists defunding the police as part of its agenda. Trump's campaign has attempted to tie presumptive Democratic presidential nominee Joe Biden to the police defunding movement, something Trump has said his administration will not allow.
"There won't be defunding, there won't be dismantling of our police and there is not going to be any disbanding of our police," Trump said in June.
Trump's campaign has released political advertisements portraying the U.S. as crime-riddled if Trump does not receive a second term.
One such commercial depicted a home invasion in which the victim received no answer at the police department after calling for help. "You won't be safe in Joe Biden's America," the ad said.
Biden has denied supporting defunding the police, saying during a Wednesday fundraiser that he was in favor of giving police "more money in order to deal with the things they badly need."