Portland Mayor Ted Wheeler Says Residents Are 'Sick and Tired' of Destruction Occurring During Protests
Portland Mayor Ted Wheeler said Monday that the city's residents are frustrated with the ongoing destruction that's happening during protests in the area.
"The community is sick and tired of people engaging in criminal destruction and violence and doing it under the guise of some noble cause," Wheeler, a Democrat, said during a Monday night news conference with other local leaders.
Portland became a center for civil unrest last summer amid demonstrations protesting the death of George Floyd, an unarmed Black man in Minneapolis who was killed in police custody. Demonstrations against racial injustice occurred in cities nationwide and were mostly peaceful. Portland, however, saw some demonstrations end in arson, looting and assaults.
The Mark O. Hatfield Federal Courthouse, where federal officers have been stationed, has been a mark for many rioters in the city. On several occasions, rioters sprayed the courthouse with graffiti, set fires and destroyed nearby storefronts.
Fencing around the Mark O. Hatfield Federal Courthouse was removed recently, but it was actually reinstalled on Sunday, in the wake of several protests and instances of vandalism.
U.S. Attorney Billy Williams told local Portland newspaper the OregonLive in February that the cost of cleaning up the city amounted to $2.3 million. It included repairs to the Mark O. Hatfield Federal Courthouse, as well as the Edith Green-Wendell Wyatt Federal Building, the Gus J. Solomon U.S. Courthouse, the Pioneer Courthouse and the U.S. Immigration and Customs Enforcement building.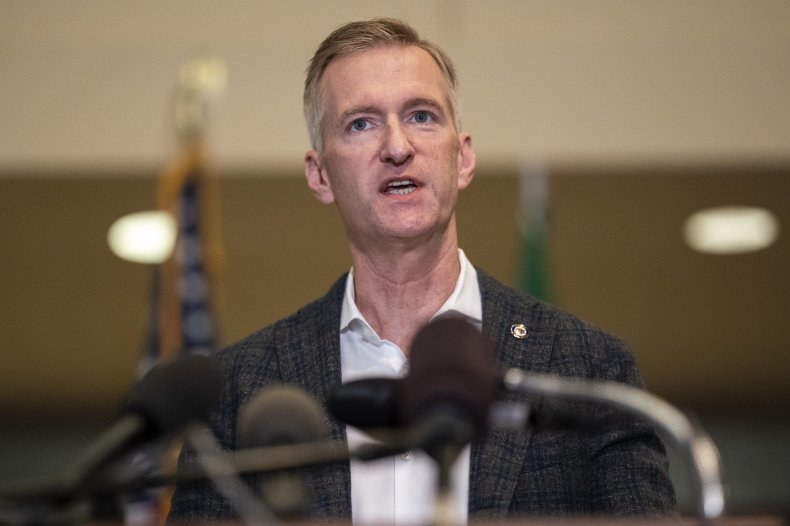 "The people who work here support the voices of racial and social justice and will not be intimidated from doing our jobs by the ugly graffiti or broken windows," Scott Erik Asphaug, a U.S. attorney for the District of Oregon, said during the Monday news conference.
"We do not confuse the voices of the many with the shouts of the few who hope to hold our city hostage by petty crime and violence," Asphaug continued.
About 100 people marched through Portland's Pearl District on Friday. They broke windows and moved chairs and tables from outdoor dining areas into the street. To address the situation, police formed a perimeter and detained people within a single city block—a controversial move that's called "kettling."
Wheeler said he "absolutely" supported the tactic in circumstances where it is legally permitted.
Police have said that the event Friday was carried out by members of an organization that has had repeated run-ins with local authorities; they characterized the group as the "self-described anarchist left."
"I want to be clear that this was not a protest group," Chris Davis, Portland's assistant police chief, said. "This was a group of people who have come to believe that they are entitled to damage other people's property, threaten community members and assault police officers."
Newsweek reached out to Wheeler's office, but didn't hear back in time for publication.