A Portland mom says she was struck in the face while protesting with the Wall of Moms group at the weekend.
Kristen Jessie-Uyanik detailed what she says happened in a post on Facebook, but she prefaced it by saying that Black Lives Matter "should remain at the center of every conversation" about police brutality and the deployment of federal forces to Portland.
Jessie-Uyanik, 41, said she joined the Wall of Moms for a march on Saturday that ended at the Multnomah County Justice Center in downtown Portland.
The Wall of Moms started as a small group of mothers, many dressed in yellow, shielding protesters from federal agents in Portland, but quickly became a much larger presence at demonstrations and has also since spread to other cities.
In recent days, federal agents have repeatedly clashed with crowds outside a federal courthouse they have been stationed in, firing tear gas and impact weapons to disperse crowds.
"As a 41-year-old white woman with immense privilege and mother of 3 young children, I was inspired to use not only my voice, but also my body, to defend our First Amendment right to protest and send a clear message that Black lives are worth fighting for," Jessie-Uyanik wrote alongside a picture of herself at the protest and another of her head injury.
At around 10.50 p.m. on Saturday, she said she had pulled out her phone and took pictures of the federal agents standing opposite her.
"I put my phone back in my pocket, pulled my safety goggles down from where they sat on my helmet to cover my eyes, inserted a pair of ear plugs, and locked arms with the women next to me," she wrote.
"I remember some confetti had been launched on the far right side of us. I could hear a marching band playing in the intersection to our left. I didn't notice anything in particular happening around me or in front of me in those moments. I was looking around, looking forward, and taking it in.
"Just before 11 pm, I heard a BOOM and felt something hit my face."
It wasn't immediately clear what struck Jessie-Uyanik.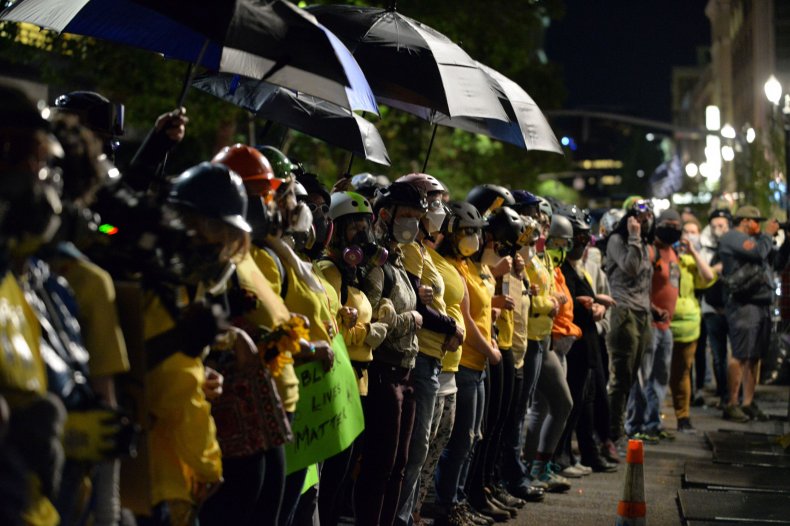 "I fell backwards into the other moms, who must have caught me because I don't remember hitting the ground," she added.
Jessie-Uyanik recalled being picked up by someone who carried her through the crowd, yelling at others to get out of the way.
"I never saw this person because there was blood gushing down my face, but I am forever grateful for them for swiftly and selflessly carrying me to safety," she added. "I was laid down in the back of a medic vehicle and a number of kind, brave, and caring medical professionals helped me."
She recalls then being transported to a second vehicle on a gurney "through a sea of tear gas."
"After they stopped the bleeding, they called an ambulance and transported me to a second vehicle on a gurney through a sea of tear gas," she wrote. "I covered my face and listened as medics and protesters yelled "MAKE WAY" to carry me through."
But the ambulance she was waiting for never arrived, she said, so the driver of the medic vehicle offered to take her to hospital himself.
"I am in awe of the care and compassion shown to me by these volunteer medics and protesters alike. I felt safe in their presence," she added.
At the hospital, a CAT scan showed no brain damage or injury to her skull, but did reveal a "foreign substance" in her forehead and in one of her eyes, Jessie-Uyanik added.
She says she ended up receiving seven stitches, some pain medication and advice to follow up with an eye doctor before being released from hospital.
Jessie-Uyanik ended her post by urging people to find ways to support the Black Lives Matter movement.
"I am lucky to be surrounded by family, friends, and neighbors who want to help and care for me. I will ask for help if needed, I promise," she wrote.
"If you really want to help, I would ask that you find ways to participate in or support the BLM movement. Donate to volunteer medical services, or organizations supporting protesters. Sign petitions, speak out.
"Support Black-owned businesses and support Black moms and dads, who have been part of the Wall of Moms for generations and continue to fight. And VOTE. Vote like you could get shot in the face for stepping out and speaking up."
Portland has seen nightly protests since the death of George Floyd, a Black man, in Minneapolis police custody in May.
Earlier in July, the Trump administration sent agents from several law enforcement agencies to Portland to quell the unrest, but local and state officials have said their presence is only exacerbating the situation.
Jessie-Uyanik, the Wall of Moms and the Department of Homeland Security have been contacted for comment.
Correction: The headline of this article has been updated to more accurately reflect the story.