The 'Wall of Moms' Protecting Protestors Are Spreading Beyond Portland
People in at least 22 cities and states across the U.S. have organized their own Wall of Moms (WOM) chapters in the wake of the movement's success in Portland, Oregon.
WOM, a network of "womxn and non-binary mother-identifying folx dedicated to supporting the current civil rights movement," began in Portland on July 19 as a response to the heavy presence of federal police in the city.
A post on the WOM Twitter account called for "all moms" to walk together to the city's Justice Center, the site of many clashes between protesters and law enforcement since the nightly demonstrations began in early June.
Just four days have passed since the WOM movement began, but it has gained significant traction across the U.S. as many American citizens and political figures have voiced their disagreement with President Donald Trump's decision to send armed federal agents to Portland.
"I predict the Wall of Moms in Portland may become a far more enduring representation of the future of America than the 'wall' along the Mexican border," wrote journalist Dan Rather in a Tweet Wednesday night, which since has received over 110,000 likes.
WOM Twitter and Facebook accounts have popped up for at least 22 other cities and states, suggesting the power of the Portland-based movement's ability to inspire grass-roots organizing.
One Twitter user commented, "Holy crap! Splinter cells are popping up everywhere. This truly is becoming Fight Club: Mom edition."
Newsweek contacted WOM's Portland chapter for comment but did not hear back in time for publication.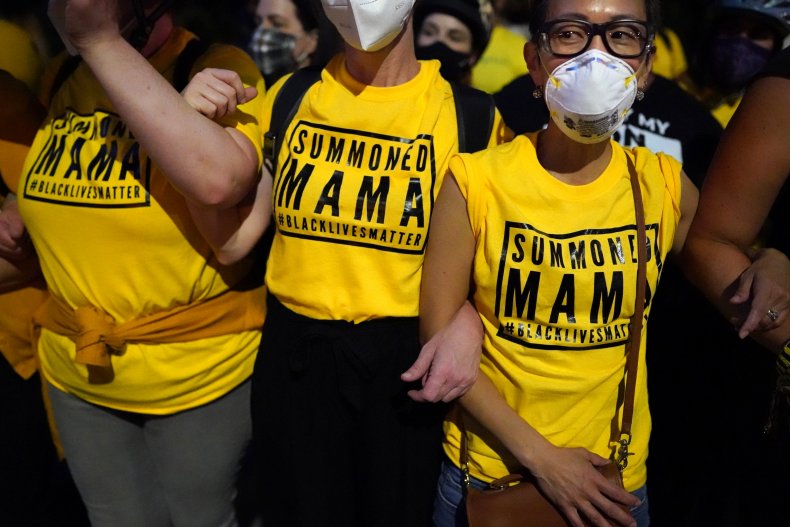 WOM Portland created its own PDF tool kit for new chapters, providing details about the movement's purpose, how to be a good ally to people of color and how to get organized.
"We want chapters in EVERY CITY!" said a post on the WOM Twitter account.
The group's call to action appeared to work, as a Wednesday post on its Twitter account directed anyone wanting to know about other chapters to the WOM Facebook page.
"We are decentralized and will link out to groups on the site soon, but until then, we don't have the mompower to get you organized," the post said.
In addition to Portland, social media accounts for WOM chapters have been created for Albuquerque, New Mexico; New York City; St. Louis; Chicago; Denver; Washington, D.C.; Philadelphia; Baltimore; Detroit; Seattle; Austin, Texas; Houston; San Francisco; Seattle; Oakland, California; and Los Angeles. Also, the San Francisco Bay Area, North Carolina, Michigan, Maine, New Hampshire and Rhode Island.
The group has even received international recognition, with one Twitter user writing, "Full support all the way from Scotland #wallofmums."
While many of the newly organized WOM chapters are busy preparing to support the Black Lives Matter movement by whatever means necessary, moms in Albuquerque and Chicago may soon be called to function in a similar way to Portland's WOM chapter. Trump announced Wednesday that he would be expanding "Operation Legend," the Justice Department initiative that has sent federal agents to Portland, to those two cities.
These officers are whom Portland moms stand in front of each night as they link arms and chant, "Moms are here. Feds stay clear." The women effectively created a human barricade between protesters and the federal agents dispatched to the city.
Gia Gilk, a mother in Albuquerque who organized her city's chapter just yesterday, said members would be available whenever the local Black Lives Matter group tells them it's gathering.
"The whole point of the Wall of Moms is to be of service to the Black Lives Matter group, and so we don't plan," she told Newsweek.
Gilk has been involved in social justice efforts for most of her adult life, but began reflecting on her own work in anti-racism after learning about the May 25 death of George Floyd, a Black man who died in Minneapolis police custody a few blocks from where Gilk grew up, she said.
Gilk created an Albuquerque WOM Facebook page early Wednesday morning after reading about the group's effect in Portland, and the page has since garnered around 3,000 members, she said.
As the step-mother of two Black teenagers and mother to a white six-year-old, Gilk told Newsweek she sees herself as a "tool for this movement."
"All of this is going on, and I'm working through, 'How do I talk to them about this, how do I work with them on this?'" Gilk said of her children.
Newsweek contacted the WOM Chicago chapter for comment but did not hear back in time for publication.
Videos circulating on social media show dozens of women, dressed in yellow and wearing bike helmets, being confronted by federal officers carrying assault rifles and batons and deploying tear gas.
But despite facing threats of violence and jail time, the mothers have not been deterred.
"A lot of us haven't put our bodies in harm's way like this," according to the WOM website. "It's really scary and awful. But it's what's been happening to Black and Brown bodies for years."
Gilk said that WOM isn't meant to be a group with its own mission beyond supporting the Black Lives Matter movement. WOM members aren't protesting, she stressed.
"Our whole purpose is to be witness to the Black Lives Matter protesters and the work that they are doing and the treatment that they receive," Gilk said. "We use our bodies as a barrier and we amplify their voices, we do what they ask of us."
The mothers were initially motivated to come together following Floyd's death, who had asked for his mother while a white Minneapolis police officer knelt on his neck for nearly eight minutes.
"All mothers were summoned when he called out to his mama," reads a piece of artwork by Xochilt Ruvalcaba, which is displayed at the top of the WOM website.
Update (07/23/20, 5:22 p.m.): A previous version of this story referred to the Wall of Moms as protesters in the Black Lives Matter movement, but they are instead witnesses and supporters of the movement. All references to the organization as protesters have been removed from the story, and the headline has been updated accordingly. This story has also been updated to include a comment from WOM Albuquerque.