America's 'Not a Dictatorship': Oregon Governor Rebukes Trump Over Portland Feds in Unmarked Vehicles
The governor of Oregon criticized President Donald Trump over his decision to allow federal agents to arrest protesters in Portland using unmarked vehicles, telling Trump that America is "not a dictatorship."
"This is a democracy, not a dictatorship," Governor Kate Brown wrote in a tweet Monday night. "We cannot have secret police abducting people in unmarked vehicles. I can't believe I have to say that to the President of the United States."
Along with her tweet, Brown shared a segment from NPR's Consider This, which details the recent presence of federal law enforcement officers in Portland.
"It is a blatant abuse of power by the federal government," Brown told NPR. "[The officers] are inappropriately trained, and frankly they're exacerbating an already challenging situation."
Federal agents from different divisions in the U.S. Department of Homeland Security (DHS) as well as Customs and Border Protection (CBP) were sent to Portland ahead of the July 4 weekend, according to an internal memo obtained by The Nation.
The agents are part of a special task force created by the DHS to respond to Trump's June 26 executive order vowing to protect statues and monuments across the country.
In a recent wave of protests meant to address police brutality and racial injustice, people have defaced or torn down statues deemed as racist in dozens of U.S. cities, including Portland.
Brown said she has asked the DHS to remove federal officers from Portland, who have been seen wearing camouflage tactical gear and using tear gas and impact munition against protesters as well as picking them up in unmarked vehicles.
But Ken Cuccinelli, DHS acting deputy secretary, told NPR that officials would not be ending the strategy anytime soon.
"This is a posture we intend to continue, not just in Portland but in any of the facilities that we're responsible for around the country," Cuccinelli said.
Charles Boyle, a spokesman for Brown, wrote in an email to Newsweek that the reports of federal officers arresting protesters without probable cause is "extraordinarily concerning and a violation of their civil liberties and constitutional rights."
"Our only line of communication with the Department of Homeland Security has been our requests for federal officers to stand down," Boyle wrote. "Federal law enforcement agencies are not communicating with us about their activities. However, the actions of federal officers fall under the jurisdiction of the federal government."
Newsweek contacted the DHS for comment but did not hear back in time for publication.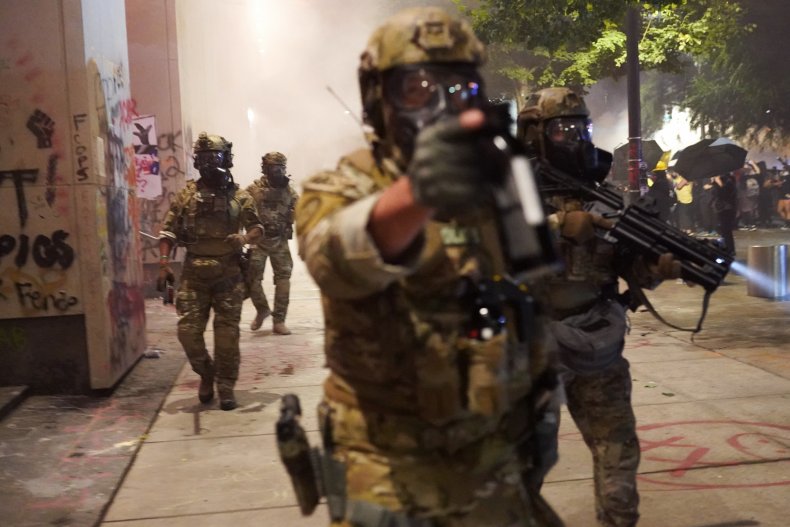 During an interview Monday, Trump described the situation in Portland as "totally out of control."
"The Democrats—the liberal Democrats running the place had no idea what they were doing," he said, adding that he would consider sending more federal law enforcement agents to Chicago, New York and other cities.
"In Portland, they've done a fantastic job," Trump said. "They've been there three days, and they really have done a fantastic job in a very short period of time, no problem."
Mark Pettibone, 29, told NPR about his experience being detained in Portland by federal officers, describing being pulled into an unmarked van as he walked home from a protest in the early hours on July 15.
"I had my beanie pulled over my face so I couldn't see, and they held my hands over my head," Pettibone said. "They patted me down and took my picture and rummaged through my belongings."
The officers placed Pettibone in a cell by himself but released him nearly an hour and a half later.
"It was clear to me that this was just a totally indiscriminate detainment," he said.
Trump described the Portland protesters as "anarchists" who "hate our country."
"The governor and the mayor and the senators out there, they're afraid of these people," he told reporters Monday, adding that the civil unrest seen throughout the country "is worse than Afghanistan by far."
Videos show federal agents using tear gas and impact munition against the protesters. One video posted on Twitter July 19 shows a camouflaged agent beating a man with a baton while another pepper sprayed him in the face.
At least one protester in Portland has been hospitalized after suffering face and skull fractures from a round of impact munition fired by federal agents.
Portland Mayor Ted Wheeler said that the federal presence is heightening tension in the city, not quelling it.
"This is an effort, a last-gas effort by a failed president with sagging polling data who's trying to look strong for his base, and so he is actually using the federal police function in support of his candidacy," Wheeler told NPR.
Update (07/21/20, 4:04 p.m.): This article has been updated to include a comment from Charles Boyle, a spokesman for Oregon Governor Kate Brown.