Portland Police Car Severely Damaged After Being Set On Fire, Authorities Say
A police vehicle was severely damaged after it was allegedly set on fire in Portland, Oregon, authorities said.
The unoccupied Portland Police patrol vehicle had been parked in a city fleet parking lot in the 800 block of North Graham Street when the blaze broke out, Portland Police said in a news release.
Officers responded to the parking lot after a report of a vehicle on fire at around 8.20 p.m. on Saturday, police said. Portland Fire and Rescue also responded and extinguished the flames.
The cause of the fire is under investigation, but arson is suspected, according to police. No arrests have been made and police said no suspect information was available.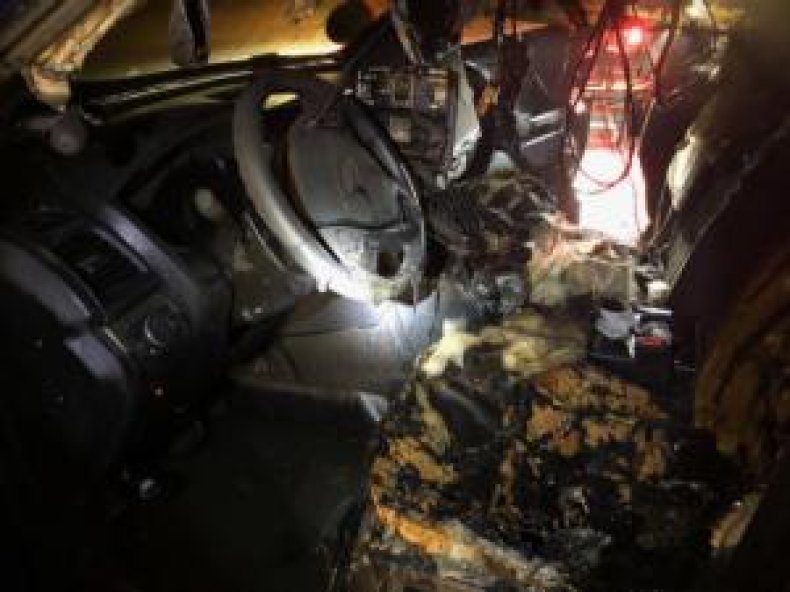 Police said the vehicle was a fully marked 2018 Portland Police Ford Interceptor Utility vehicle. It had been involved in a minor crash and had been towed to the parking lot for body damage repairs.
The incident occurred after an outdoor kitchen across from the federal courthouse in downtown Portland was robbed at gunpoint and heavily vandalized in the early hours of Saturday morning.
Police said officers were dispatched to the 1000 block of Southwest Third Avenue after a report of a disturbance involving a weapon at around 2.30 a.m. on Saturday.
Officers spoke with a man who said he was working in the kitchen when he was robbed by a group of about a dozen suspects, including one who was armed with a shotgun, police said in a news release.
"The victim said that some of his cooking equipment was stolen and other equipment was damaged," police said.
"The suspects also heavily damaged the victim's car parked next to his canopy."
Police said the suspects involved in the incident fled the scene in multiple vehicles before officers were called. No-one was injured in the incident and an investigation is ongoing.
The incident took place near the Mark O. Hatfield United States courthouse, the scene of months of protests since the May 25 killing of George Floyd.
Floyd, a Black man, died after a Minneapolis police officer knelt on his neck for more than eight minutes despite his pleas that he couldn't breathe.
Over the summer, the Trump administration deployed federal agents to Portland in a bid to quell the protests. That prompted nightly clashes that saw
federal agents stationed at the courthouse fire tear gas or less-lethal munitions at protesters on several occasions.