Portland Police Headquarters Stormed, Looted by George Floyd Protestors
Portland's police headquarters was stormed on Friday night as protesters broke windows and lit a fire in the building.
According to Portland Police officials, the city's Justice Center was attacked amid a riot against the killing of George Floyd in Minneapolis earlier this week. Five arrests have been made at the time of writing.
The Oregonian said protests took a turn shortly after 11 p.m. local time, when some taking part in the demonstration marched on the Multonomah County Justice Center and attacked an office.
Riot police were later sent into the area to disperse protesters with tear gas and stun grenades, the newspaper reported.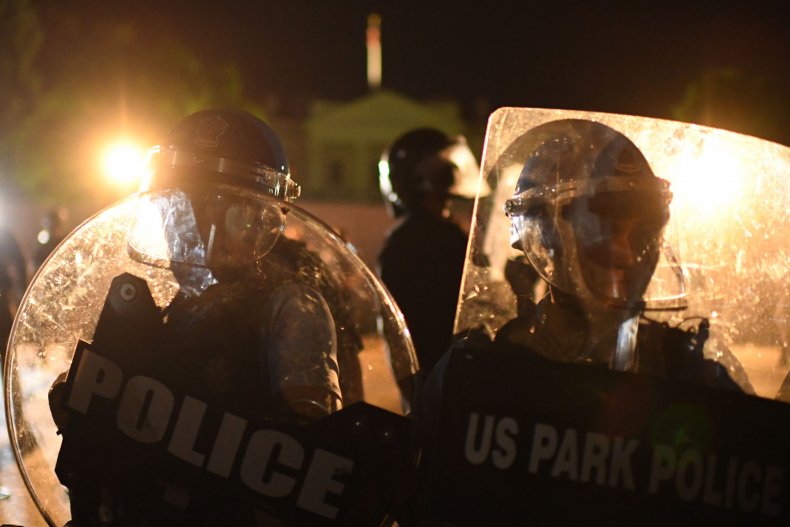 In a statement published on social media in the early hours of Saturday morning, Portland Police said: "Two arrests have been made related to this evenings riot. Another arrest was made around 3:30 p.m. yesterday afternoon related to the demonstration near the Justice Center.
"Details will be provided in a press release when more information becomes available."
Earlier in the evening, the force also said: "The Justice Center has been attacked and a fire has been lit inside. Portland Fire & Rescue is on scene."
Portland Police also repeatedly warned people in the city's downtown district to leave the area, saying the area was unsafe as rioting was taking place.
In an emailed statement, a police spokesperson said the incident was "still an active event."
"Several windows were broken at the Justice Center and a fire was started inside. The fire was extinguished and the Justice Center is not occupied by protestors," Portland Police spokesperson Officer Melissa Newhard wrote in a statement emailed to Newsweek. "Throughout the city we have seen property damage, looting, and arsons to buildings and vehicles. A riot has been declared and a dispersal order has been given. Gas has been deployed to disperse the crowd. Five arrests have been made at this time."
A video posted on YouTube by The Oregonian last night showed protesters smashing windows of the Justice Center, with one demonstrator shouting: "F*** you, you f***ing pig."
Another video showed further damage being done in the downtown area of Portland, with one protester pictured smashing the window of an unidentified building.
Similar demonstrations have broken out in cities across the nation this week as thousands have protested against the killing of Floyd while in Minneapolis police custody.
A video of the arrest showing one officer with his knee on the unarmed black man's neck sparked the widespread outrage after going viral on social media and other platforms.
Derek Chauvin, one of the three officers who restrained Floyd on Monday, has been arrested and charged with third-degree murder and second-degree manslaughter, both felonies.