Portland Protester Uses Lacrosse Stick to Throw Tear Gas Back at Federal Officers
A Portland, Oregon, protester intercepted teargassing attempts with a lacrosse stick on Wednesday night, while others used leaf blowers to clear the area of the gas.
The demonstrators' defense tactics were recorded in a video shared on Twitter early Thursday morning. It shows a group gathered outside of Portland's barricaded federal courthouse. When authorities toss tear gas canisters over a recently constructed fence surrounding the building, one protester uses the lacrosse stick to launch them back over the barrier.
The video shows additional protesters approaching the fence with masks and leaf blowers to disperse tear gas already released from the canisters. A fire burns on the opposite side of the fence. An earlier video shows demonstrators launching fireworks and throwing trash toward the building.
The Portland Police Bureau classified the courthouse protest as a riot shortly afterward and said anyone who remained in the area could face arrest or forced dispersal. A social media statement threatened the use of tear gas and impact munitions.
"A riot has been declared outside the Justice Center," the Portland police wrote on Twitter around 12:30 a.m. ET.
"Disperse immediately," the tweet continued. "Failure to adhere to this order may subject you to arrest or citation, or riot control agents, including, but not limited to, tear gas and/or impact weapons."
Wednesday night's protests followed weeks of growing tension between demonstrators and federal agents, who were deployed to the Oregon city earlier this month in response to ongoing rallies. Demonstrations against police brutality and racism have taken place in Portland for the better part of two months, sparked by George Floyd's death in Minneapolis police custody at the end of May. Residents and government officials alike have pushed back against the federal presence, condemning their violent use of force and lack of identification during the protests.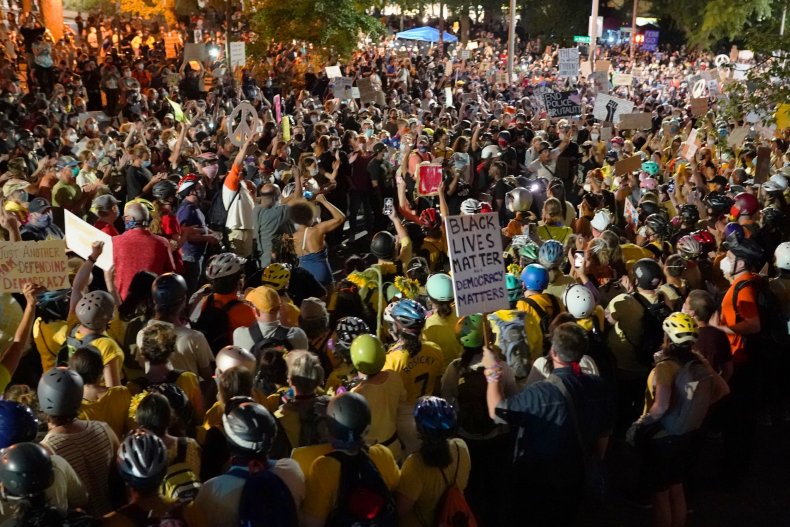 Authorities have used tear gas and impact munitions to scatter crowds in Portland on multiple occasions. Over the weekend, a protester shot in the head with an impact munition was hospitalized with critical injuries. On Wednesday, Portland Mayor Ted Wheeler was teargassed while addressing a crowd. A video showed demonstrators aiming leaf blowers in his direction.
On Wednesday, the Portland City Council unanimously passed a resolution prohibiting local police from cooperating with federal agents. City Commissioner Chloe Eudaly, who introduced the resolution, referred to the agents as "federal occupiers" in a statement about the measure's passage. Eudaly introduced a second resolution alongside it, which sought to protect journalists covering the Portland protests from police violence. The City Council unanimously voted to adopt that resolution as well.
Newsweek reached out to Wheeler's office and the Portland Police Bureau for comment but did not receive replies in time for publication.