Portland Protesters Shatter Starbucks Windows, Start Dumpster Fire
Protesters in Portland, Oregon, shattered the windows of a local Starbucks and ignited a dumpster fire on Tuesday night.
According to a press release from the Portland Police Department, as of 7:30 p.m. local time, approximately 40 people gathered at Chapman Square located at 210 Southwest Main Street in downtown Portland, but by 8:15 p.m. local time, the number of protesters grew to "approximately 100."
Police reported that as more protesters gathered, the blocked traffic in the intersection of Southwest 3rd Avenue and Southwest Main Street, and a dumpster fire was started in the area. According to police, the fire was eventually put out by a community member.
At around 9:50 p.m. local time, one person was seen breaking and spray painting the windows of a local Starbucks "near the area of Southwest 4th Avenue/Southwest Morrison Street."
Several photos and videos posted on social media showed the Starbucks with several shattered windows while others were covered in spray paint.
"Vandalism....again....to a downtown Portland Starbucks Coffee shop. Graffiti and broken windows around the city last night," Twitter user Eric Patterson of KGW News in Portland wrote.
According to police, the man who was seen allegedly vandalizing the Starbucks was identified as 24-year-old Kenneth Harold. He was taken into custody, and police discovered that he was "in possession of a glass punch tool and cans of spray paint." Harold was charged with one count of criminal mischief in the first degree and booked into the Multnomah County Detention Center.
Police then arrested a second person at around 10:07 p.m. local time "after a scuffle with officers." In a video posted to Twitter, Portland Police Sergeant Kevin Allen explained that many videos of the arrest have been posted across social media "including some that did not provide the whole context of the incident."
Allen stated that the Portland Police Department shared the "most complete" video of the arrest on their Twitter page, which "shows a Portland Police Sergeant walking his bike when a person dressed in all black steps in his path."
"The sergeant moves the person aside and another person punches the sergeant in the head," Allen said in the video. "A scuffle begins and the sergeant is knocked to the ground. The sergeant lands in a dangerous position, underneath the suspect and on his back. That's when other officers move in to stop the assault."
Allen added that during the arrest "some focused blows were used" by police and one officer used pepper spray against the suspect.
Police identified the suspect as 36-year-old Randy Gray and charged him with assaulting a public safety officer, assault in the fourth degree, harassment, disorderly conduct in the second degree and criminal mischief in the third degree.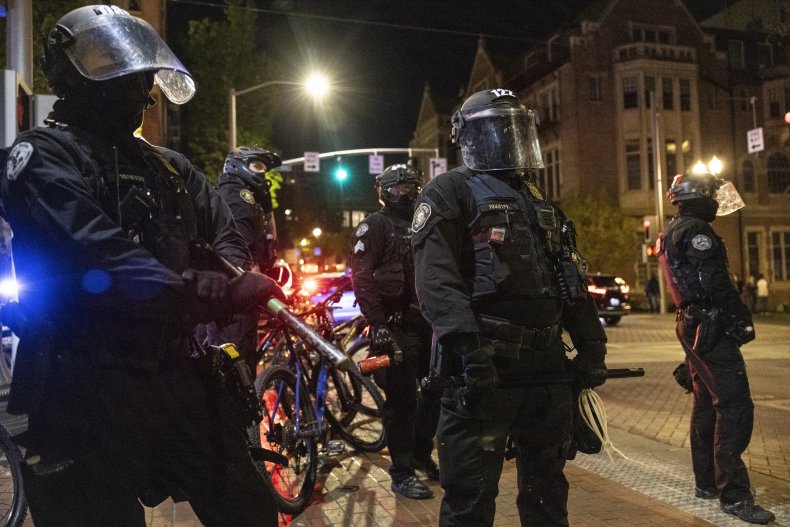 In response to the vandalism and arrests, police declared an unlawful assembly and directed protesters to leave the area over a loudspeaker. According to police, by 11 p.m. local time, the protesters began leaving the area. Tuesday marked the second consecutive night that the Portland Police Department declared an unlawful assembly as they did so in response to another protest on Monday night in northeast Portland.
The protests in Portland on Tuesday night came shortly after former Minneapolis Police officer Derek Chauvin was found guilty of second-degree unintentional murder, third-degree murder and second-degree manslaughter in George Floyd's death.
Newsweek reached out to the Portland Police Department for further comment but did not receive a response in time for publication.