Portland Protesters Take On DHS After Trump Official Warns of Sending Federal Agents Back
Protesters in Portland faced off against DHS agents outside a federal immigration building on Wednesday night. The move followed President Donald Trump's Chief of Staff Mark Meadows warning that federal agents will have to be sent back to the city to quell unrest.
More than 200 demonstrators marched to the Immigration and Customs Enforcement (ICE) building on Southwest Macadam Avenue at around 9.30 p.m., The Oregonian reported. There, people spray-painted expletives on the windows of the building, used traffic cones to block security cameras and tried to break windows.
Federal agents emerged from the building at around 10 p.m. and fired pepper balls at the crowd to push them away, according to the newspaper.
Portland Police declared the gathering a riot and ordered the crowd to disperse immediately.
"Failure to comply with this order may subject you to citation or arrest, and may subject you to the use of tear gas, crowd control agents, and/or impact weapons," the department tweeted.
According to videos posted on social media, DHS officers emerged from the building carrying shields and fired pepper bullets and impact rounds at the crowd.
Portland-based journalist Garrison Davis tweeted that DHS officers pushed people away from the ICE building and officers with the Portland Police Bureau also showed up to help push the crowd north.
"The police got very physically violent with people, and federal agents aim their guns point black at people on the sidewalk," Davis wrote alongside a video clip.
The incident came after a riot was declared on Tuesday night when a county government building was vandalized and a fire set inside.
Police said demonstrators started fires in dumpsters outside the Multnomah County Building, used rocks to smash first floor windows, sprayed lighter fluid and then tossed burning material inside.
Protests against police brutality and racial injustice have taken place in Portland for 84 straight nights since the police killing of George Floyd, a Black man, in Minneapolis in May.
Many have led to violent clashes between police and protesters, with crowd control munitions fired to disperse crowds after some vandalized property or set fires.
But the violence reached its peak in July when federal agents from several law enforcement agencies were deployed to the city by the Trump administration to protect federal buildings.
Their presence fired up protesters, prompting larger crowds to turn up to protest outside a U.S. courthouse—and saw federal agents regularly and indiscriminately fire tear gas and impact munitions at people.
The actions of federal agents also drew condemnation after videos circulated showing they were sweeping up protesters in unmarked vehicles far from federal property.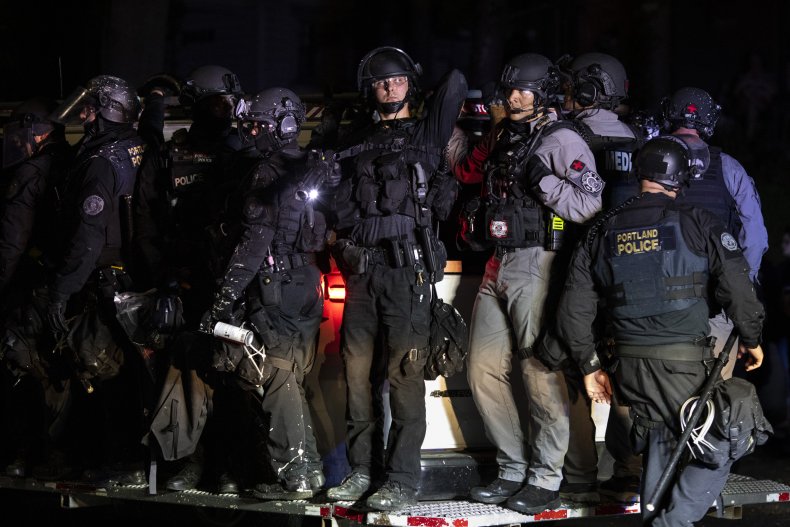 Local and state officials said the federal agents were exacerbating the situation and called for them to leave, and the Justice Department ultimately withdrew federal forces at the end of July.
Since then, Trump has repeatedly suggested the federal government could deploy agents to Portland again as well as other cities. "The Democrats have to start enforcing Law and Order in their cities and states. New York City, Chicago and Portland are a total DISASTER!" he tweeted on Tuesday.
Meanwhile, Meadows told Fox & Friends that the president spoke to Attorney General William Barr on Tuesday about the situation in Portland.
"This president—I traveled with him yesterday to Arizona as you know. Not only once, but a dozen times he says: 'We've gotta do something about it. We send in the FBI.'"
When asked if the Trump administration would again send in federal agents if protests persist, Meadows said: "Yeah, it looks like we're going to have to, they're not doing the job that they're doing."