Trump's Chief of Staff Says Federal Agents Will Have to Be Sent Back to Portland
White House Chief of Staff Mark Meadows warned that federal agents will have to be sent back to Portland, Oregon as large protests persist in the northwestern city.
"Well, it's anti-American," Meadows said of violence that has broken out amid demonstrations in Portland, during a Wednesday morning interview with Fox News morning show Fox & Friends. "And this president—I traveled with him yesterday to Arizona as you know. Not only once, but a dozen times he says: 'We've gotta do something about it. We send in the FBI.'"
Meadows explained that President Donald Trump and his administration spoke to Attorney General William Barr on Tuesday about the situation. He also attacked Democrats, arguing that "it's time they side with President Trump," inaccurately claiming that the opposition party has backed the so-called "Defund the Police" movement. While some Democratic lawmakers have voiced support for the "defund" movement, Democratic leaders and most Democratic lawmakers have distanced themselves from those calls.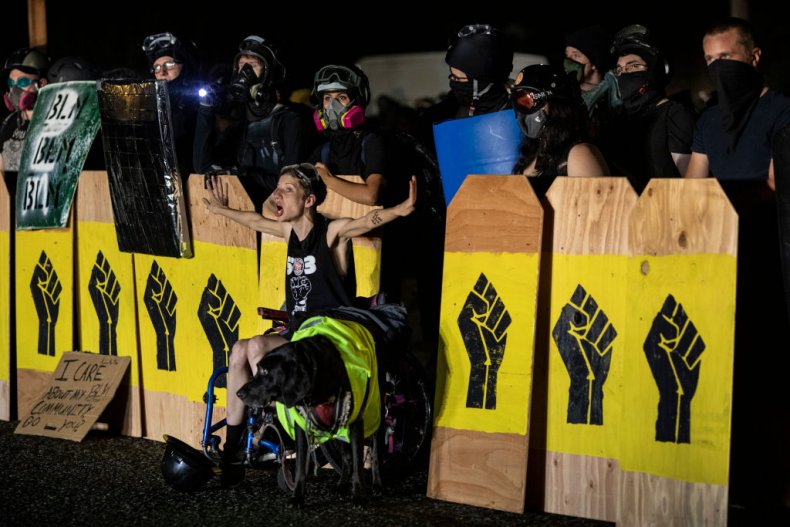 Fox & Friends co-host Brian Kilmeade then asked Meadows directly if the Trump administration would once again send federal agents to Portland as the demonstrations persist.
"Yeah, it looks like we're going to have to, they're not doing the job that they're doing," the White House official responded. "When we look at that, we want to make sure that not just Portland's safe but every city across the country is safe." He added that the administration would "work with our local police departments" to prevent acts of violence.
Newsweek reached out to the Justice Department, which is led by Barr, and the Portland Police Department for comment, but they did not respond by the time of publication.
Demonstrations have persisted in Portland for more than 80 days, beginning in the wake of the death of George Floyd, an unarmed Black man, in police custody in Minneapolis, Minnesota on May 25. Floyd's death, which occurred after a police officer was captured on video kneeling on his neck for nearly nine minutes as he repeatedly complained that he could not breathe, led to massive anti-racism demonstrations across the country and around the world.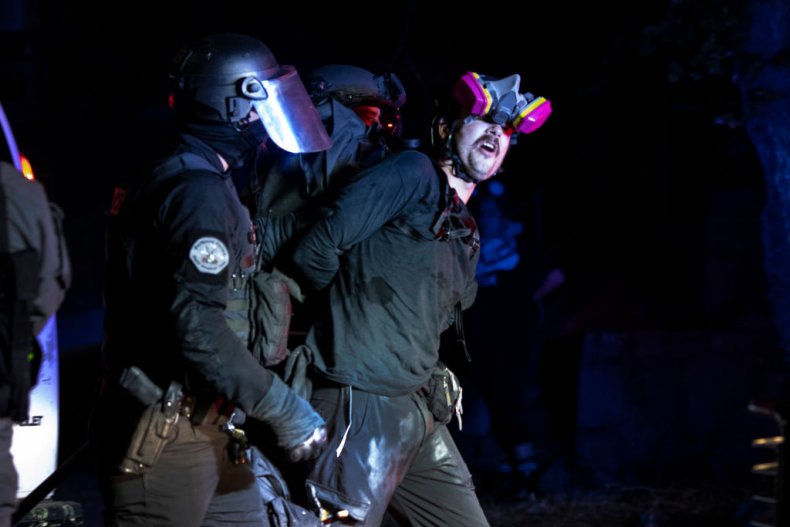 The protests in Portland have drawn national attention, as demonstrators continue to call for an end to systemic racism in the justice system and serious policing reforms. Some demonstrators have turned to violence and vandalism, which appeared to escalate after the federal agents were sent in to protect federal property in the Oregonian city. After national backlash—with videos circulating online of protesters being pulled into unmarked vehicles by agents—the Justice Department withdrew the federal forces at the end of July.
But Trump repeatedly suggested that the federal government could once again be sent to the city, as well as others across the country seeing an uptick in violence. "The Democrats have to start enforcing Law and Order in their cities and states. New York City, Chicago and Portland are a total DISASTER!" the president tweeted on Tuesday.