Police in Portland Now Required to Have ID Number Displayed on Riot Helmets
Police officers in Portland will have large three-digit numbers stencilled into their helmets so they can be more easily identified during protests.
The Portland Police Bureau (PPB) had been criticized for letting officers take off name tags during protests in June which were sparked by the police death in custody of George Floyd on May 25.
The tags were swapped for tape which had six-digit employee numbers that members of the public had complained were hard to see. Officers argued that the name tags had to be taken off because of concerns about doxxing, in which personal information is distributed.
But civil rights advocates complained that it made officers less accountable at a sensitive time in which protesters were demonstrating against police brutality and racism, The Oregonian reported.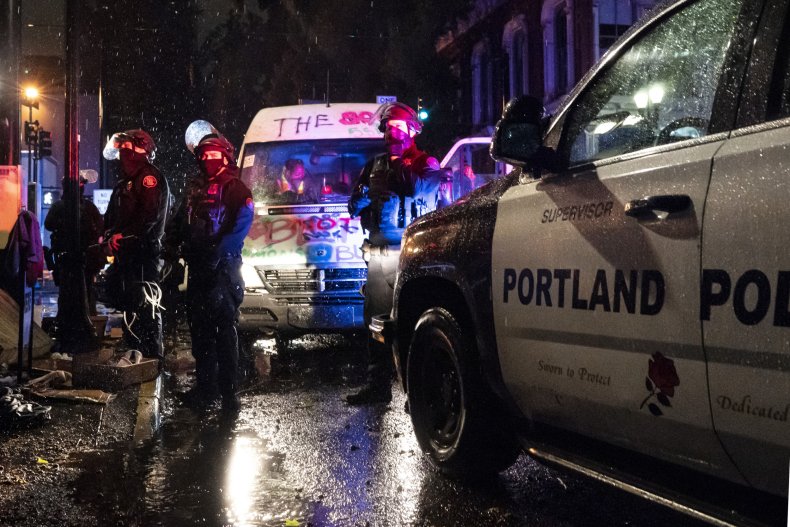 The PPB said it hopes the process of putting the numbers on the helmets, which must be on prominent display, will be completed by November 15. Officers will gradually shift to having their surnames embroidered onto their uniforms, which will be easier to read than metal name tags.
"We support peaceful protest and understand that reforms to advance racial justice are necessary and overdue," Deputy Police Chief Chris Davis said in a statement, adding, "We also want the public to be able to easily identify officers if they have concerns."
The PPB also said it had reassigned five officers following complaints by members of the public although it did not specify who or what the complaints were.
Portland mayor Ted Wheeler tweeted his support for the police plan.
"Being a police officer is hard and hazardous work on a good day, and Portland's police officers have been responding to protests, demonstrations, and other incidents for over several months.
"I want to thank each and every member of the Portland Police Bureau for the effort they put into serving this community this year.
"I also want to thank the Bureau for responding to community concerns about officer identification and use of force," he added.
Last week, the Police Bureau faced criticism for not starting a deadly force investigation into an officer caught on video striking a female protester in the head with a baton, The Oregonian reported.
Wheeler has clashed with President Donald Trump over how to handle the protests in his city.
This week, Portland, joined Oakland, California in taking legal action against the U.S. Department of Homeland Security and the Justice Department. The lawsuit alleges the agencies overstepped constitutional limits in their use of federal law enforcement officers to quell protests.