Far-Right Groups and Antifa Clash Again in Portland After Police Praise Peaceful May Day Protests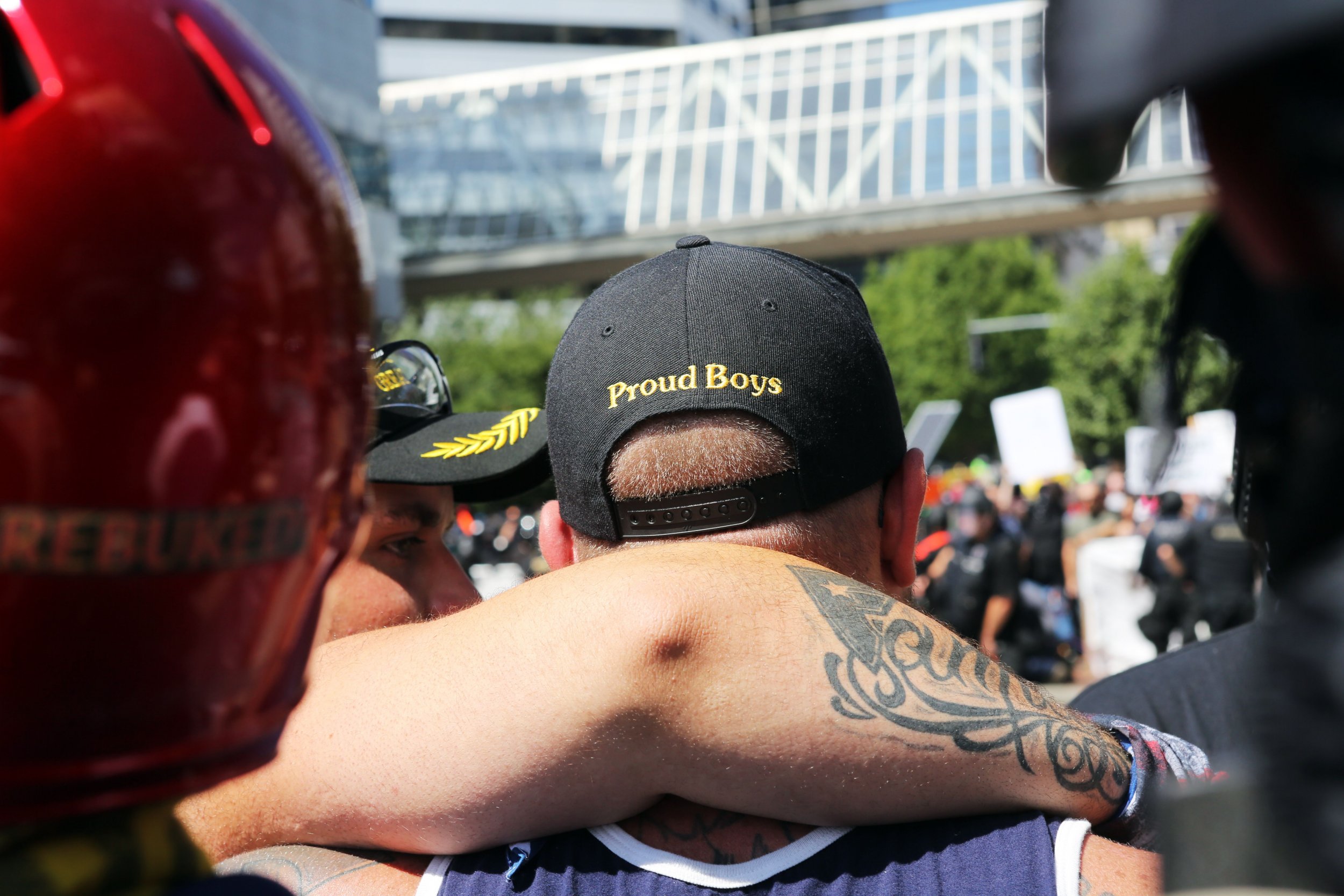 Dozens of Proud Boys and Patriot Prayer members again clashed with Antifa protesters on the streets of Portland, Oregon, just as police praised the peaceful nature of the May Day protests that took place across the city.
Officers were called following reports of fighting breaking out in the area of Northeast 8th Avenue and Northeast Couch Street just before 7:30 p.m. on May 1.
Video posted on social media shows what is believed to be members of the far-right groups Proud Boys and Patriot Prayer and far-left counter-protesters hurling bottles and other missiles at each other outside the Cider Riot bar, with mace also being used during the disorder.
Freelance journalist Mike Bivins was one of those who uploaded videos of the fighting onto social media, including a clip of a woman being pulled along the ground with the caption "OMG A GIRL GOT KNOCKED OUT CLEAN."
According to a statement from the Portland Police Bureau, officers were told that there was an unconscious person in the area when they arrived at the scene, but officers could not find the individual.
Police estimate that as many as 60 people were involved in the disturbance, although no arrests were made.
"As officers arrived, the two groups had separated. Officers contacted both groups and no one self-identified as a victim or wanted to make a police report," the statement added.
According to Oregon Live, Cider Riot was hosting a post-May Day rally event when members of the far-right groups, including Patriot Prayer leader Joey Gibson, arrived.
"Patriot Prayer and their affiliates showed up, and started pepper-spraying people on our property," said Cider Riot owner Abram Goldman-Armstrong.
Journalist and photographer Andy Ngo also claimed he was assaulted by "masked Antifa thugs" while uploading video of a person using pepper spray outside the venue.
Police said they are continuing to investigating the incident and are reviewing images and videos in an attempt to identify those seen committing a crime.
The fighting broke out just as police issued a statement praising May Day events and rallies for passing without any disorder or violence.
"We asked participants to peacefully and safely demonstrate and they did," Police Chief Danielle Outlaw said. "Those involved demonstrated the ability to exercise their rights in a peaceful manner, which we appreciate. Thanks to all those involved in the planning and collaboration on the law enforcement and partner side to make this a successful day."
In 2017, a total of 25 people were arrested after a planned peaceful demonstration in Portland erupted into violence.
Patriot Prayer and Proud Boys have held several rallies in Portland over the years, which are often met with violent counter demonstrations.
In November, it was revealed that the FBI considers Proud Boys an "extremist group with ties to white nationalism." They have also been designated a hate group by the Southern Poverty Law Center.