'I Wanted To Put A Knife Into My Baby': Moms On Their Postpartum Psychosis
Many mothers are bravely speaking out about their postpartum experiences after the tragic case of Lindsay Clancy, who is thought to have been experiencing postpartum psychosis when she allegedly killed her children last month.
The labor and delivery nurse jumped out of a second-floor window of her home in Massachusetts after allegedly strangling her 5-year-old daughter Cora and 3-year-old son Dawson. Investigators announced that her 7-month-old son, Callan, later died in hospital after also being attacked.
It has been reported that Clancy, 32, was experiencing postpartum psychosis at the time of the alleged murders, a severe mental illness that can occur in women between 24 hours and six weeks after birth. Someone suffering from postpartum psychosis can experience hallucinations, delusion, confusion and manic behavior.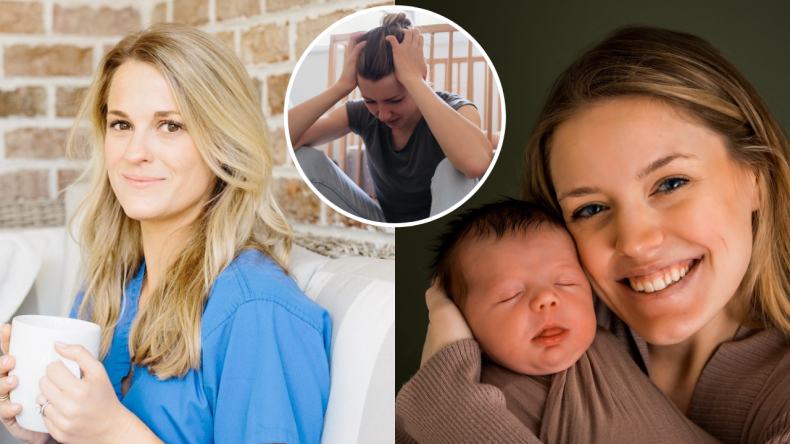 What Is Postpartum Psychosis?
Postpartum psychosis is considered a mental health emergency, so any person believed to be suffering should seek help immediately, as they are at risk of harming themselves or their children.
While it's believed that one in 10 women will experience postpartum depression after giving birth, postpartum psychosis is far more acute and is thought to affect around one to two women out of every 1,000, and unfortunately, 10 percent of postpartum psychosis cases result in suicide or infanticide.
The high-profile case has led many women to speak out about their own terrifying postpartum experiences, using the hashtag #postpartumpsychosis on social media.
Moms have been sharing some of their darkest postpartum moments, including intrusive thoughts, panic attacks, and anxiety they suffered to show solidarity and to normalize symptoms that many women struggle with in silence.
'I Constantly Thought About Putting a Knife Into My Baby's Fontanel'
Sharing her own postpartum experience following the birth of her second child in 2017, Claire O'Bryan, 38, from Nashville told Newsweek that for four months she suffered incredibly dark intrusive thoughts encouraging herself to hurt her child.
O'Bryan said: "Within days of giving birth I began having intrusive thoughts and extreme anxiety. I constantly thought about putting a knife into my baby's fontanel, the soft spot on her skull.
"What is extremely difficult for women to discern is knowing who they can speak to at the time. My husband is a physician, and the shame, embarrassment and guilt of these thoughts made me feel like I could not talk to anyone, even him about it."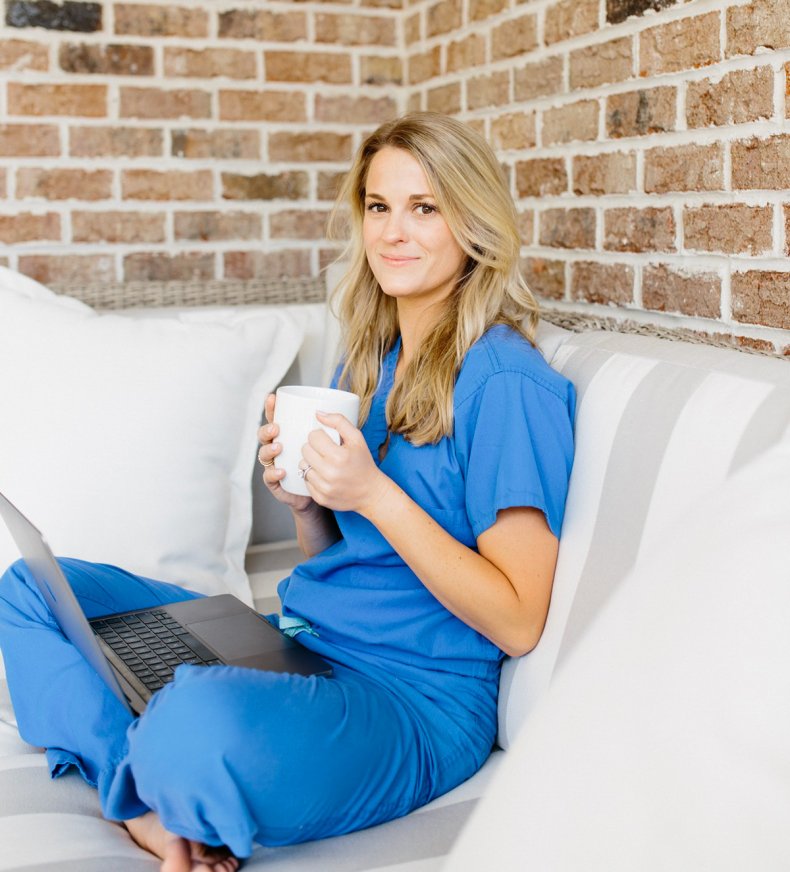 O'Bryan, says she experienced the intrusive thoughts up to six times a day, as well as daily panic attacks while postpartum. The nurse practitioner was already taking anxiety medication for generalized anxiety disorder [GAD] so the dosage was increased once she felt able to speak to her medical provider.
Since taking to TikTok to open up about the difficulties she faced, O'Bryan has been heartbroken to connect with so many other women who endured the pain in solitude, but she is glad to be shining a light on such an important matter.
"There are quite literally thousands of comments on my post from women saying they thought they were alone or they were dismissed, and it's heartbreaking. The encouragement has been to see the women who simply felt so sad and alone connect with other women who went through the same thing," O'Bryan continued.
"I also saw many commentors who didn't experience this and said they never knew anything about it, but were glad to know now so they could be supportive.
"There are so many women who suffer in silence and their children potentially suffer as well. The utter shame that comes with these thoughts is clearly so distressing to women, and I was no exception."
What O'Bryan went through is harrowing, but sadly she is not the only one with this sort of experience, as many other women come forward about similar incidents.
'I Remember Holding Him While He Refused Sleep Again, and Thinking if I Just Threw Him at the Wall Right Now, He'd Stop Crying'
Alexandria Burden, 25, from Illinois, experienced intrusive thoughts in 2021 after her second son was born, when she would consider taking her own life because she didn't feel good enough as a mother.
Burden told Newsweek: "If my baby would cry and I couldn't soothe him, my mind would tell me that I didn't deserve to live, that I should spare him growing up with a mom who couldn't make him happy. But then I also felt like I couldn't leave him behind knowing he needed me to survive."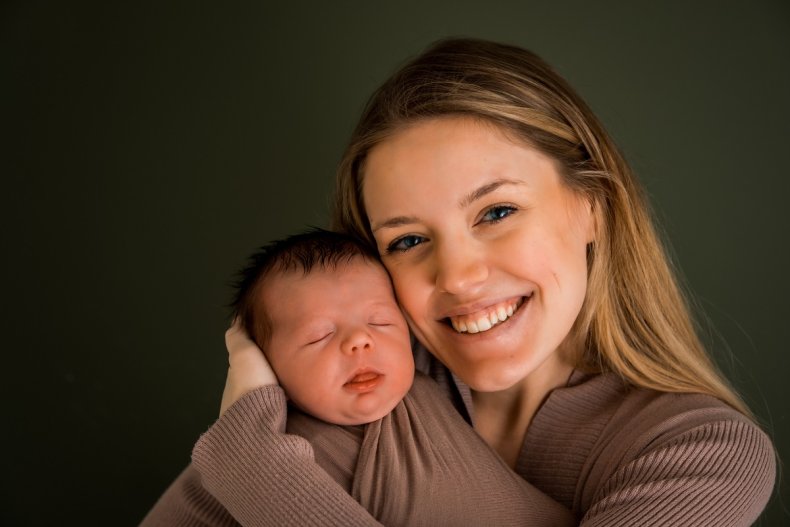 The mother-of-two admits that the "scariest and most vivid intrusive thought" was one she described on social media, stating on the video: "I distinctly remember holding him while he refused sleep AGAIN. Both of us crying hysterically and thinking if I just threw him at the wall right now, he'd stop crying." The caption also says that Burden rang her mom after to come round, but never explained why she was so distressed.
Asked how she came through her experience, Burden said communicating what she was going through with other people was a major factor. "If there's anything I've learned from my experience it's that if you need help you must ask for it. I started being more honest with those around me when I felt like I was losing my mind. I started saying the scary thoughts out loud, because that made me snap out of it and realize that's all they were—scary thoughts.
"I also reached out to my doctor and started taking medication that tremendously changed my life for the better."
Through sharing what she went through in 2021, Burden hopes to "break those stigmas and help empower" other women to not feel ashamed or alone.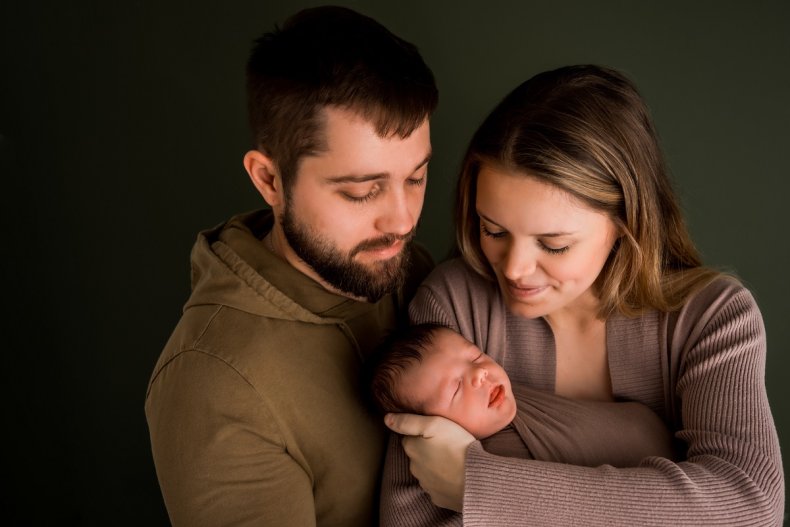 Is There a Treatment for Postpartum Psychosis?
Newsweek spoke to medical director Alexa Hall, from New England, who has a keen interest in outpatient psychiatry. Explaining what postpartum psychosis is, Hall said it's a "severe and rare form of postpartum mood disorder".
"It may involve symptoms such as audio and or visual hallucinations, delusions, and abnormal thoughts or actions. It can also lead to rapid shifts in mood and behavior, disorientation, worry, anger and severe difficulty sleeping."
There are treatments available for this debilitating condition, including antipsychotics and psychotherapy, or hospitalization in severe cases, but Hall added that "timely detection and treatment are crucial for a positive outcome".
'Postpartum Psychosis Is a Medical Emergency'
With such a vast number of women speaking out about their personal experiences, Dr Katrina Furey, a board-certified adult and reproductive psychiatrist from the Yale School of Medicine, says that this is an important issue which shouldn't be overlooked.
Furey spoke to Newsweek about the medical emergency that is postpartum psychosis: "What makes postpartum psychosis so scary is that the woman's suicidal and infanticidal thoughts and actions are often in line with their delusional beliefs. For example, a common delusion in women suffering postpartum psychosis is believing that their baby is possessed and the only way to save them is to kill the baby or themselves.
"Unwanted, intrusive thoughts about potentially harming your infant are incredibly common. If these intrusive thoughts feel scary to the mother because they are not something she wants to act on, they are usually a sign of postpartum depression or anxiety.
"If these intrusive thoughts are not alarming to the mother because they are consistent with a delusional belief system, they are usually a sign of postpartum psychosis."
After the alleged murder-suicide attempt in January, Clancy remains in Boston Hospital, and though her husband Patrick Clancy hasn't commented on her condition publicly, he said he has forgiven her. An arrest warrant was issued for Lindsay Clancy on January 25 for homicide, three counts of strangulation, as well as assault and battery with a deadly weapon. However, an arraignment is yet to be scheduled while she recovers from her injuries.
Since the tragic events unfolded, a GoFundMe page has been set up to raise money for the medical bills, funeral costs, and legal aid, and at the time of writing, the donations total over $1 million, with more than 15,000 donations.
If you or someone you know is considering suicide, please contact the 988 Suicide and Crisis Lifeline by dialing 988, text "988" to the Crisis Text Line at 741741 or go to 988lifeline.org.