ERCOT Power Outage Map, Updates As Texas Winter Storm Leaves 1.8 Million Without Power
More than 1.8 million energy customers in Texas are without power, with The Electric Reliability Council of Texas (ERCOT) initiating rotating outages.
Power Outage US reports that nearly two million Texans are without power as numerous energy providers implement controlled outages to control the flow of power. Texas is being hit by a winter storm and facing freezing temperatures and heavy snowfall.
ERCOT entered emergency conditions and began the rotating outages at 1.25 a.m. CT on Monday as the extreme weather conditions facing Texas caused generating units to "trip offline and become unavailable."
ERCOT says that the rotating outages will likely last through the morning and could continue until the weather emergency is over. ERCOT President and CEO Bill Magness said: "Every grid operator and every electric company is fighting to restore power right now."
Oncor
Around 675,000 customers are without power at the time of writing. Oncor says the power outages are taking place in mostly residential neighborhoods and business areas.
The energy provider is rotating electric outages to protect the electric grid and because the supply of electricity is lower than demand, which means customers may experience outages lasting between 15 to 45 minutes.
American Electric Power Texas
AEP Texas is causing temporary outages to reduce the demand for electricity and says it expects the outages to last from 30 minutes to an hour, although they may last longer. Approximately 237,000 customers are without power.
Austin Energy
Austin Energy is rotating power outages, with customers expected to be without electricity for more than the previously expected 40 minutes. The energy provider is asking customers to continue conserving energy. Around 178,000 customers are facing outages.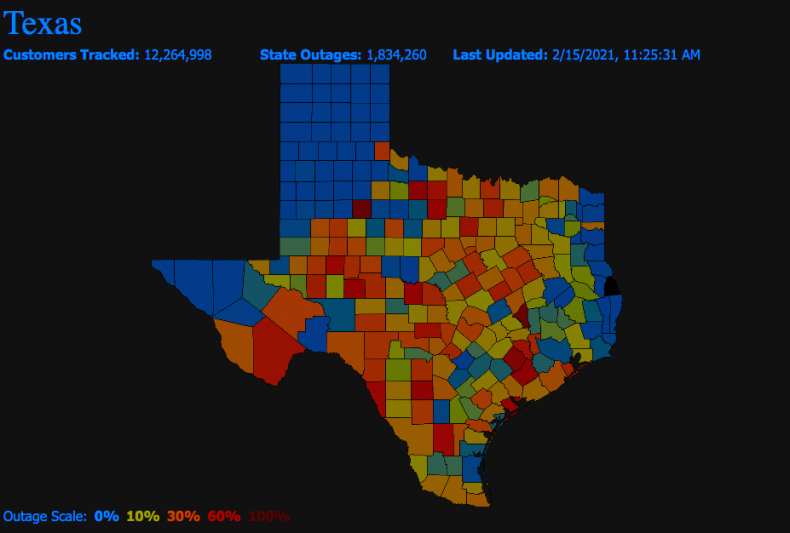 CPS Energy
Around 174,000 CPS Energy customers are facing power outages and the company says that outages should be limited to 10-15 minutes.
CenterPoint Energy
CenterPoint Energy is also rotating outages and says most of its customers will experience an outage, likely lasting from 15 minutes to more than an hour. There are currently around 96,000 customers impacted.
Texas-New Mexico Power
Texas-New Mexico Power says that its customers may face outages of up to 45 minutes per rotation and that customers will not be able to find out whether their home or business will be affected by calling. Around 77,000 Texas-New Mexico customers are without power.
Pedernales Electric Cooperative
The Pedernales Electric Cooperative outages are affecting around 75,000 customers. Pedernales Electric Cooperative is encouraging its customers to turn off electrical appliances affected by the disruption and to wait 15 minutes before turning them back on once power is restored.
Tri-County Electric Cooperative
Around 57,000 Tri-County Electric Cooperative customers are without electricity. The energy company says that the rotating outages will primarily affect residential neighborhoods and small businesses and will typically last from 10 to 45 minutes.
Denton Municipal Electric
Denton Municipal Electric has reported outages around the Villages of Carmel and The Preserve that are not related to the rolling outages and said it will notify its customers of any unrelated outages on Twitter. The company says that rotated outages should not last longer than 30 minutes. Around 19,000 customers have been impacted.
Bluebonnet Electric Cooperative
Around 18,000 Bluebonnet Electric Cooperative customers are without power as the energy company says that customers may experience multiple outages of around 20 minutes each.
Farmers Electric Cooperative
Farmers Electric Cooperative is also rotating power outages—around 15,000 customers are without power.
Other energy companies that are experiencing power outages impacting thousands of customers include Bryan Texas Utilities, Central Texas Electric Cooperative, Entergy, Kerrville Public Utility, Magic Valley Electric Cooperative, Medina Electric Cooperative, New Braunfels Utilities, Trinity Valley Electric Cooperative, and United Cooperative Services.