Texas Preacher Jonathan Shelley Says He Won't Stop Using Gay Slurs
A controversial Baptist pastor in Texas says he'll continue using homophobic slurs, insisting he refuses to "negotiate with terrorists."
Stedfast Baptist Church Pastor Jonathan Shelley made the announcement during a sermon, which is in a video posted to Twitter Wednesday by blogger and activist Hemant Mehta. Shelley's comments are the latest in a string of inflammatory sermons given by pastors at Stedfast, which has previously been labeled a hate group.
The video appears to come from a sermon given Sunday titled "Don't Negotiate With Terrorists."
"I mean, at what point is America gonna say, 'You know what, maybe it is stupid negotiating with these terrorists; maybe this makes absolutely no sense,'" Shelley says in the video. "And I'm going to start with the word f*g. And I'm going to stay there."
Shelley said that people "get mad at me" over the use of the "f-word" and ask him if he'll stop using it.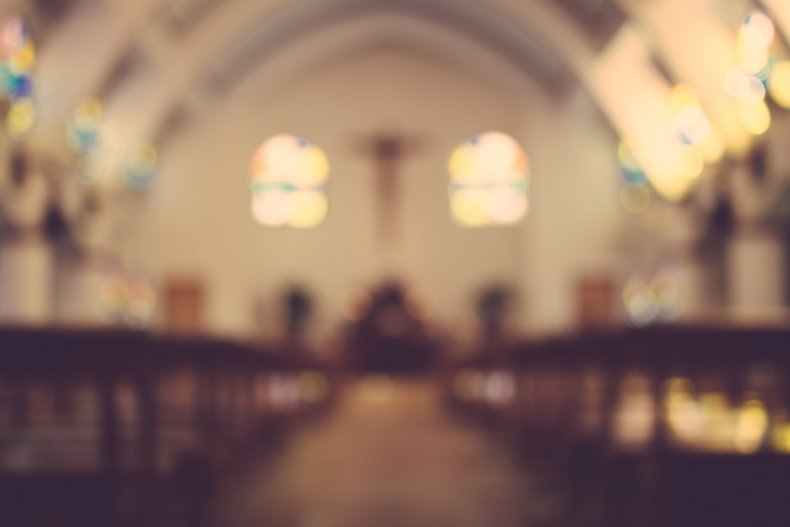 "Oh, yeah, I'm definitely using that," he said to laughter. "Because I don't negotiate with terrorists. And what man has a problem with me using the word f*g? You must be a f*g then. There's only two kinds of people, people that hate f*gs and people that hate the word f*g. I know which one I am."
During the sermon, Shelley said he would not relent to pressure to "stop preaching these hateful messages."
Shelley told Newsweek that he was not aware the clip had been posted to Twitter and has not received any attention from it.
Labeled an anti-LGBTQ hate group by the Southern Poverty Law Center, the church came to notoriety in 2016 when then-Pastor Donnie Romero praised the gunman who killed 49 people at a gay nightclub in Orlando, Florida, calling the victims "perverts and pedophiles."
"They're the scum of the earth, and the earth is a better place now, and I'll take it a step further," Romero said, in remarks that were widely condemned.
Romero in 2019 resigned as pastor amid allegations he cheated on his wife with a prostitute.
After being brought in as the church's new pastor, Shelley drew scrutiny for saying disobedient or lazy young adults could be dealt with by stoning them to death, citing Deuteronomy 21.
The church describes itself on its website as an "independent fundamental King James Only Baptist church" that also has a branch in Oklahoma.
Earlier this year, the church was evicted from its building in Hurst, Texas, for Shelley's sermons attacking the LGBTQ community, reports ChurchLeaders.com. Shelley has used sermons to celebrate the death of a person killed when a truck crashed into a "Pride" parade in Florida.
Shelley responded to the eviction with a video posted on YouTube, saying the church's First Amendment rights had been violated.
"Today, you're not allowed to preach what the Bible says without receiving a lot of harassment, a lot of persecution," he said in the video. He added that the church is a "Bible-believing church."
Despite the eviction, Shelley said Stedfast is thriving, with hundreds coming to the church.
Newsweek has reached out to Mehta for comment.