Pregnant Woman With Coronavirus Gives Birth to Healthy Baby in China, Now in Quarantine, Officials Say
A woman with the mysterious new coronavirus that has killed hundreds of people has given birth to a healthy baby, according to Chinese authorities.
The unnamed woman who had the bug known as 2019-nCoV gave birth to a baby weighing around 3 kg (6.6 lbs) in Heilongjiang Province, northeast China, the country's official state-run Xinhua News Agency reported citing a health official.
Na Hui, vice president of the No. 6 hospital in Harbin, the capital of Heilongjiang, told a press conference on Monday that the expectant mother was 38 weeks pregnant when her temperature hit 37.3 degrees Celsius (99.14 degrees Fahrenheit). On Thursday, she was diagnosed with the new member of the coronavirus family of pathogens, which has killed 362 people—all but one in mainland China—in 17,405 cases. Over 20 countries have confirmed cases of the virus since it emerged in the city of Wuhan late last year, including the U.S. as shown in the infographic by Statista below.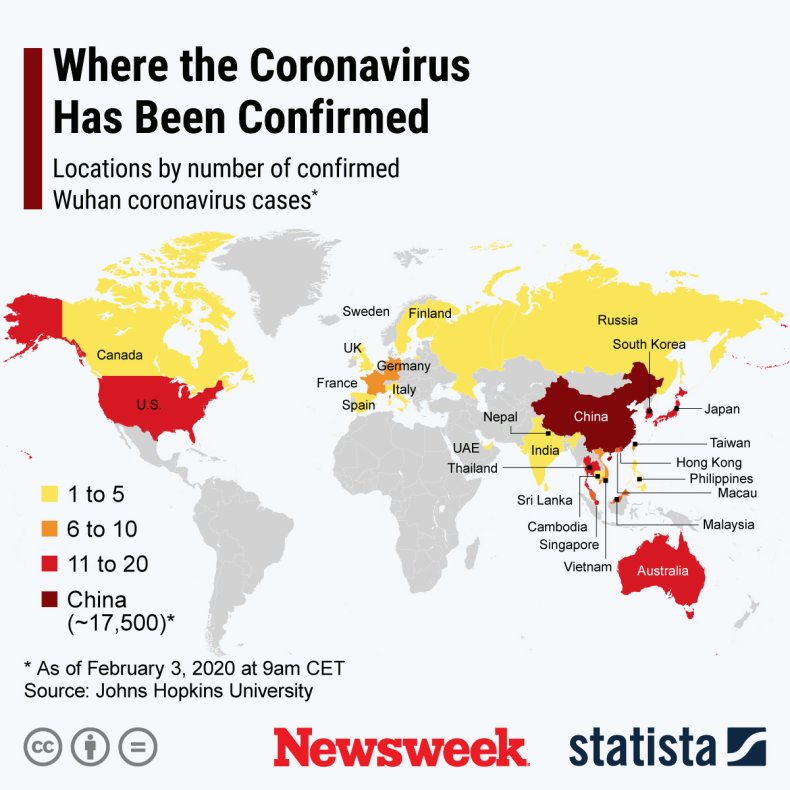 Doctors performed a cesarean section on the woman. By Sunday, her fever had gone, according to Hui. The baby was tested for coronavirus on Friday and Sunday, and was given the all-clear each time.
The pair have been quarantined, and assigned two medical teams to monitor their progress, Hui said.
Referring to a test given to new born babies, the state-run China News Service reported citing the Harbin Municipal Health Commission that the baby had an Apgar score of 10—the highest possible score, with 7 considered a show of good health.
Last week, a doctor in the effectively locked-down city of Wuhan at the epicentre of theoutbreak detailed how he delivered a baby at Wuhan Union Hospital, Reuters reported citing state television.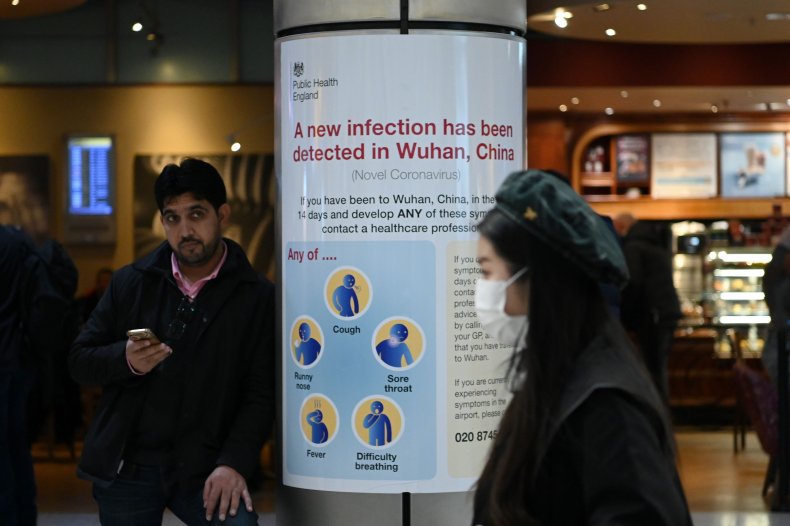 The 27-year-old woman, identified only as Xiaoyan, was thought to have been infected with the new coronavirus when she was 37 weeks pregnant. At the time, it not clear whether she had coronavirus. Doctors decided to deliver the baby via c-section as she could not be treated for her illness while pregnant, they said. There are currently no drugs available for the disease, meaning patients must simply have their symptoms managed until the virus passes. Healthcare workers also feared the pregnancy would be too taxing for her body while she was sick. The woman was reportedly coughing throughout the procedure, and had a fever.
Zhao Yin, deputy director in obstetrics and gynaecology at Wuhan Union Hospital said he wore two protective suits, goggles and a facemask during the surgery to prevent him from catching 2019-nCoV. The little-understood bug is thought to be spread through respiratory droplets which are released when a person coughs or sneezes.
Zhao told the outlet: "I could barely see or hear anything. And I was soaked with sweat."
Xiaoyan told state TV: "I just want my baby to be healthy."
The baby weighed 3.1 kg (6.8 lb), and was rushed home in order to avoid catching the virus at the hospital, according to Reuters.
Writing for Australia's The Canberra Times newspaper, Steve Robson, professor of obstetrics at the ANU Medical School and secretary of the Australian Medical Association, said: "It is likely that most pregnant women will be safe from the virus—based on the information we have at the moment—but the same precautions they should take to avoid the 'flu apply to this new and worrisome virus.
"If you have any worries at all—see your doctor as soon as possible."
This article has been updated to include a graphic.