'People Are Afraid': Eerie Footage Shows How Coronavirus Outbreak Has Left Wuhan Streets Deserted
Drone footage of Wuhan, which is effectively in lockdown following the emergence of a deadly new virus, shows the empty streets of the densely populated city which has become a ghost town.
Roads and pavements in the aerial images released by Agence France-Presse on Tuesday are almost entirely free of cars and pedestrians in the city with a population of 11 million, which is at the epicenter of the new coronavirus outbreak. The footage was shot on Tuesday between 1:45 and 2:00 p.m., a spokesperson for AFP told Newsweek.
Late last year, the virus began sickening people working at a now-shut wholesale food market in the central Chinese city, where dead and live animals were sold. It has so far killed 132 people, and sickened over 6,000. Over a dozen countries are dealing with cases of what is known as 2019-nCoV, including the U.S., Canada, Japan, Australia, and South Korea, as this infographic from Statista shows.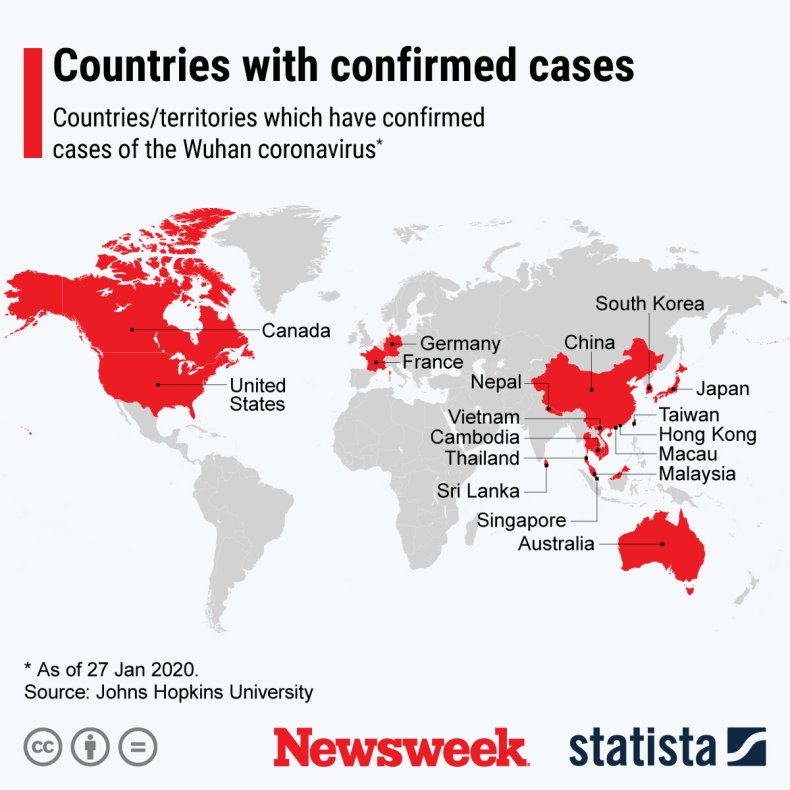 In response to the outbreak, and amid fears people travelling for the Lunar New Year would cause the virus to spread faster, Wuhan city officials last week advised people to avoid leaving their homes unless necessary. Those who do venture outside are advised to frequently wash their hands, and wear a face mask—although it is unclear how effective the coverings are.
A Wuhan resident identified only as David told the South China Morning Post: "There used to be a lot of people on the streets, many people, but now there are few.
"Every family stays at home, instead of going out. Everyone tries to have as little interaction as possible," he said, adding,"People are afraid of the spread of the epidemic."
Travel restrictions have also been put in place in a number of other Chinese cities, with precautionary measures such as screenings at airports in place in countries including the U.S.
On Tuesday, China's president Xi Jinping described the outbreak as a "demon" during a meeting with the World Health Organization (WHO) in Beijing, AFP reported.
"Chinese people are currently engaged in a serious struggle against an epidemic of a new type of coronavirus infection," Xi said.
A member of the large coronavirus family, which includes a range of infections including the common cold to more severe infections like Severe Acute Respiratory Syndrome (SARS) and Middle-East Respiratory Syndrome (MERS), 2019-nCoV can cause pneumonia-like symptoms. These include a fever, a dry cough, shortness of breath and breathing problems. Like SARS and MERS, the virus is thought to have initially passed from animals to humans, with human-to-human transmission recently confirmed, according to the WHO.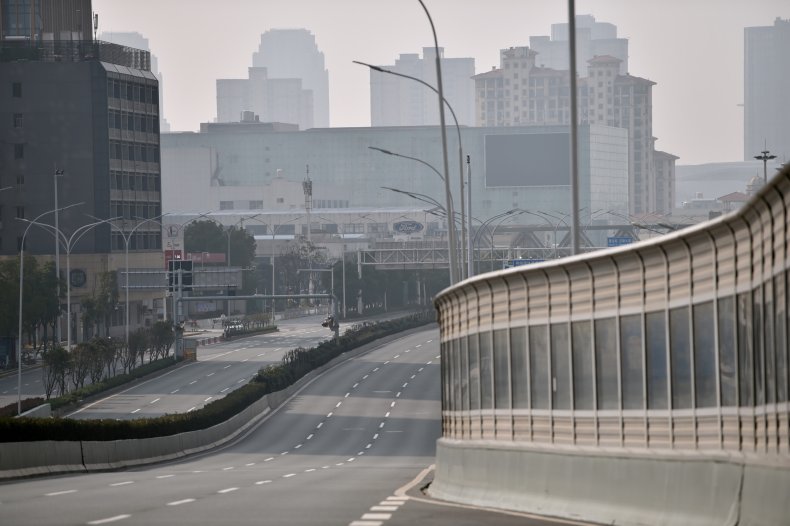 As scientists learn more about the nature of the bug day by day, it is not yet clear how it is spread. But the WHO says it is likely similar to how MERS and SARS were passed on.
As such, the basic steps for preventing the spread of an acute respiratory infection should be followed, the body advised. These include avoiding close contact with people suffering from such conditions, washing hands often— particularly after coming into contact with sick people or their environment—and staying away from farm or wild animals.
Those who are sick should maintain a distance from others, cover coughs and sneezes with disposable tissues or clothing, and wash their hands.
This article has been updated with the time the drone footage was shot.