Pregnant Woman Shot and Killed as She Leaves Her Own Baby Shower: Police
Police in Philadelphia said they are investigating the fatal shooting of a pregnant woman on Saturday evening.
The woman, 32, appeared to be targeted and was shot in the head and stomach, Philadelphia news station WPVI reported.
The victim was reportedly leaving her baby shower when she was shot. Her car was full of presents at the time of the incident
Following the shooting, the woman, who has not been identified, was taken to a hospital where she and the fetus were pronounced dead.
"I mean, the person that did this couldn't be more cowardly," said Christine Coulter, the deputy commissioner of the Philadelphia Police Department, per WPVI.
Authorities reported that they found 11 shell casings at the scene of the killing but did not recover any weapons.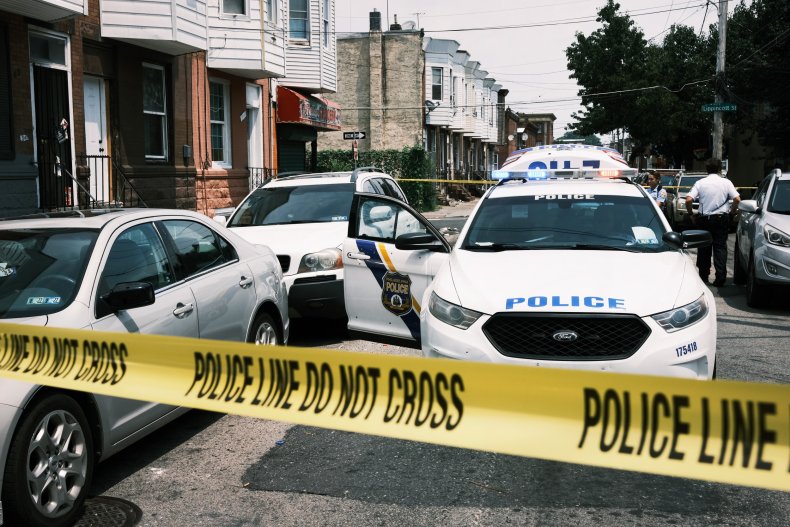 Philadelphia is on the cusp of breaking its record for the highest number homicides in a single year. After a man was shot and pronounced dead early Saturday morning, CBS Philadelphia reported that the city had seen 492 killings in 2021 so far. The city's record is 500 in a single year.
"The city is nearing 500 homicides," Coulter said following the killing of the pregnant woman on Saturday.
"Children are getting shot, unborn children getting shot, what is the city doing about this?" Coulter asked.
"The city as a whole is doing what we can. We can't stop people who are intent on shooting somebody. When I look at this situation, it looks like someone was targeting her and looking for her," she added.
Newsweek reached out to police in Philadelphia for details and updates regarding the investigation but did not hear back in time for publication on Sunday.
In September, when Philadelphia surpassed 400 homicides this year, the city's district attorney, Larry Krasner, released a statement.
"We should all be outraged that senseless, preventable violence continues to claim and break lives here in Philadelphia and in communities across the country that are also experiencing alarming increases in gun violence. We have seen cycles of increased homicides before, and we have more research and data than ever on which to formulate solutions," he said, per CBS Philadelphia.
In December, the city plans to open three new "curfew centers" to offer a safe place with activities for young people and help curb gun violence, WPVI reported.
"We continue to work with partners to explore ways to help keep our communities safe from gun violence," Philadelphia Mayor Jim Kenney wrote on Twitter Saturday.
"These new curfew centers will provide youth with a safe place and structured activities."