Pregnant Woman's Reason for 'Going Nuclear' and Kicking Husband out Cheered
A viral Reddit post saw a wife ask if she is in the wrong for "going nuclear" and kicking her husband out of their home.
User This_Squash_2035 explained she was advised against pregnancy by medics as she suffers from migraines and type 1 diabetes. However, she "accidentally" fell pregnant and wants her husband to pull his weight ahead of the baby's arrival.
In 2020, Pew Research Center conducted a study to better understand how 9,834 U.S. adults who are married or cohabiting assess their relationship. The results found 59 percent of women in relationships with people of the opposite sex said they did more household chores than their other half.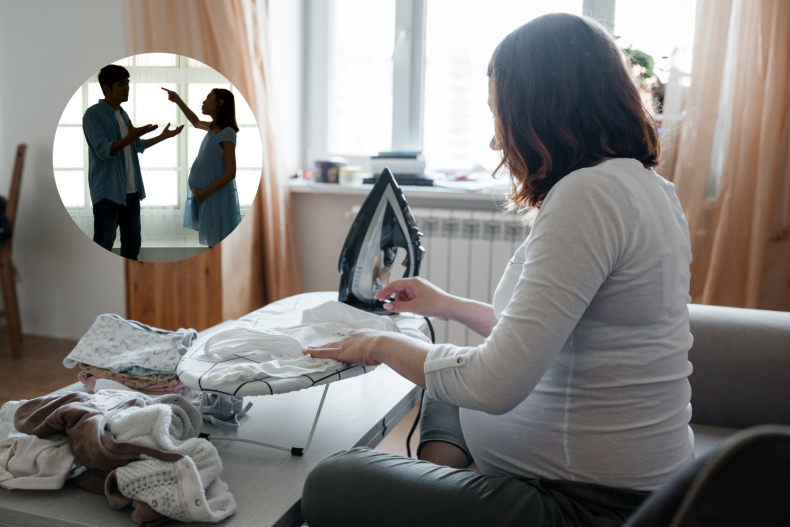 The wife explained her husband wears two or three tops per day and she irons a minimum of ten tops per week. She "constantly" asked him to turn the sleeves of his top the right way but he failed to do, so which is "annoying."
She added: "I ask him once a week to unload the dishwasher and get rid of the rubbish, I do it the rest of the time."
On February 5, she discovered the bins weren't empty. Plates then fell out of the cupboard and onto her. Following this, she went to bed but her husband "insisted on playing loud music and turning the lights on" while she had a migraine.
She wrote: "I just lost it, I'm so uncomfortable and it's like I feel like I ask the minimum?
"So I told him I wouldn't be having two children and asked him to leave, he wouldn't so I texted my brothers and they came and made him leave. He's texting me, [I've] since calmed down, and saying I'm the a****** because I overreacted, went nuclear, and can't do that when I have the baby - he's insisting I apologize."
'The Situation Will Become More Unfair Once Their Baby Arrives'
Disputes over chores are common for couples, according to London-based senior therapist Sally Baker.
Baker told Newsweek: "Many women recognize the widening disparities in domestic workload in their marriage when their first child is born. It is then they discover that their partner frequently expects them to do most of the juggling of childcare, professional career, and running the home, while their life barely changes."
In the aforementioned PEW study, the results also found mothers see themselves as "carrying a heavier burden than their spouses or partners, while men are more likely than women to say responsibilities are evenly shared."
Some 74 percent of mothers said they do more to manage their children's schedules and activities than their spouse or partner—only 3 percent say their husband or partner does more of this.
Exclusively speaking to Newsweek about the Reddit post, Baker said: "In this situation, it is clear that this man has no intention of fairly sharing the domestic chores between him and his wife. He is mostly content to sit back and be waited on hand and foot. I imagine the situation will become more unfair once their baby arrives.
"When men show us who they are, women need to believe what they see. Women often think they can change a man's behavior or that he won't behave badly with them, even if he has behaved poorly in the past.
"I think this woman needs to be realistic in her appraisal of how life with this man will unfold. Unless he has an epiphany and chooses to change of his own volition her life with him will be one of drudgery and frustration."
It seems thousands of Redditors feel the same, as more than 2,000 users have commented on the post.
The top comment racked up 22,200 upvotes. It said: "NTA. STOP IRONING HIS SHIRTS GIRL!!!!!! You are pregnant with a serious, life-threatening, medical condition. He isn't even doing the bare minimum to be a decent partner. Do you have family close by that you could stay with for a bit to get a mental break? (If he insists on coming home and being so rude). I'm sorry you're going through this."
"You should leave him. He absolutely CAN iron," said another person.
Another person said: "He baby trapped you too. Great. You need to leave this person immediately and never go back. None of this is even slightly ok."
Newsweek reached out to u/This_Squash_2035 for comment. We could not verify the details of the case.
If you have a personal dilemma, let us know via life@newsweek.com. We can ask experts for advice on relationships, family, friends, money and work and your story could be featured on Newsweek's "What Should I Do? section.