'I Trained My 2 Year Old To Clean': Mom Says All Kids Should Help at Home
At two years old, toddlers begin to reach new milestones like walking and talking but one little boy was learning how to dust and vacuum.
Now three years on, Dashiell Hsu has a skill set like no other as he regularly helps his mom Agnes, 47, tidy up. But it isn't just the odd job here and there. The pre-schooler knows how to load the washing machine, vacuum the floor, clean the toilet and even bake cakes.
These practices have created good habits for Dashiell as his mom describes him as a "highly organized and clean" little boy. However, the idea of children pulling their sleeves up may be frowned upon by some parents.
Newsweek spoke to Agnes and experts about children doing chores and it seems the positives outweigh the negatives—if implemented correctly.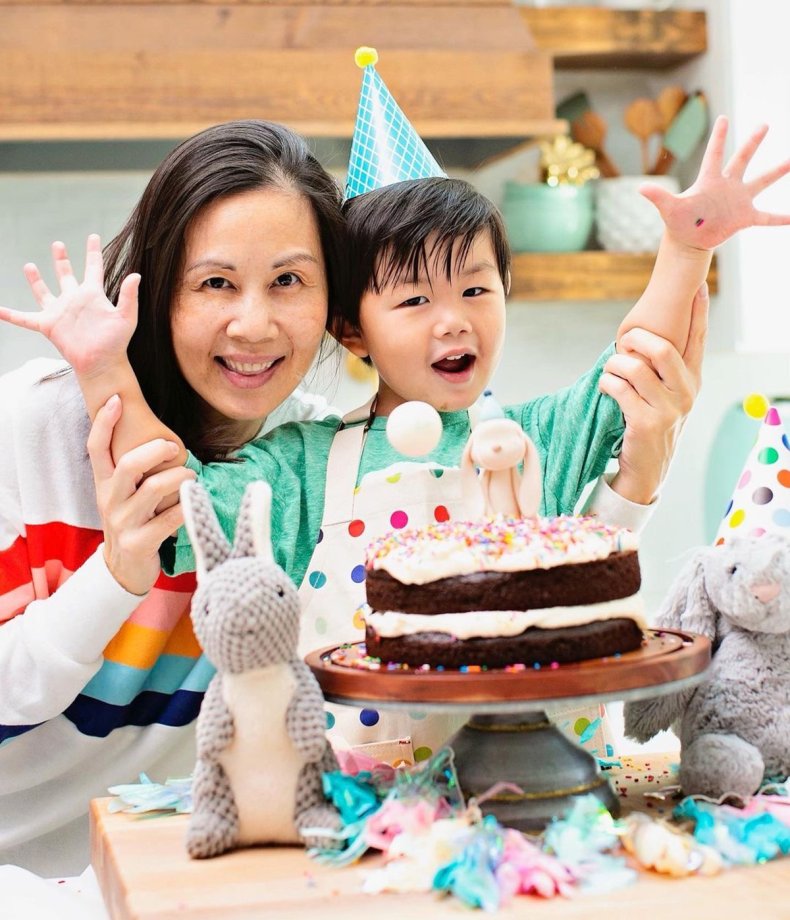 Agnes, from California, told Newsweek: "Dashiell is responsible for cleaning up his toys and keeping his meal area tidy.
"He was taught to clean aged 2 but doesn't have a set schedule day to day.
"Initially, it was simple tasks like dusting and vacuuming but now he is a little older and helps me do a lot of sorting jobs like pairing socks and organizing his toys."
Previously, Agnes, the founder of Hello Wonderful, a creative website for kids and teens, shared a video on social media illustrating Dashiell's cleaning skills.
Using the handle @hellowonderful_co, the mom captioned the video: "What my 4 [year] old can do."
Dashiell can be seen scrubbing the toilet, washing dishes, mopping the floor, doing laundry, and more. The popular video has had 387,000 views and racked up 17,600 likes.
Hundreds of TikTok users have commented, one saying: "That's [how] you know you raised him right amazing parenting right there."
But another said: "Can they just be 4 y/o? They will have a lifetime of chores and responsibilities when they get older."
Agnes told Newsweek: "The response has been overwhelmingly positive with parents telling me they wished their kids had started earlier.
"With my older kids Alia, 14, and Kian, 12, I taught them from a young age like Dashiell but it's play, learn and engage about cleaning at his age."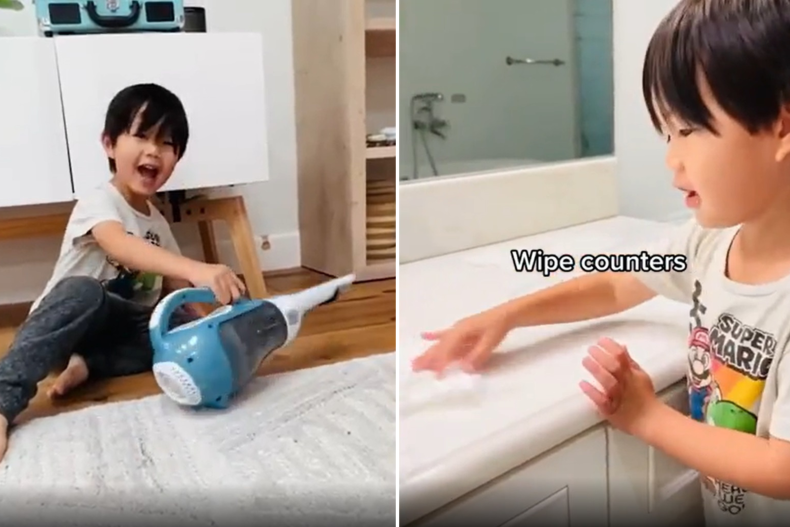 Agnes said her older children were doing their own laundry, including folding items and putting them away, at age 8. They are responsible for cleaning their bathrooms and rooms entirely by themselves.
"I feel their ability to do chores easily is because they were exposed to it at a young age, as I am exposing my youngest son to do right now," Agnes said.
"I believe in instilling the helpful habits of pitching in [with] the household chores at a young age. However, since [Dashiell] is quite young still, I do not enforce a rigid chore schedule as I do [for] my older kids."
In March 2020, kitchen appliance company Whirlpool surveyed 1,065 Americans with a child aged 2-18. The results found 70 percent of parents said their children regularly do chores but 15 percent said that it's not important to them that their children do chores.
How To Get Your Kids To Do Chores
Newsweek reached out to parenting expert Caroline Rowett, who encourages parents to know exactly why they want their children to contribute to housework.
London-based Rowett said: "Parents gain from examining what is driving them. When the drive comes from the parent feeling resentful or underappreciated for doing the tasks themselves, the outcome and method will be less positive than if the focus is on empowering the child."
The Pros of Chores
Rowett states there are "many positive results from encouraging children to help in the home, but as with most aspects of parenting, parents will benefit from thinking holistically first."
A paper in Australian Occupational Therapy suggests that doing chores may improve working memory and stop children from procrastination.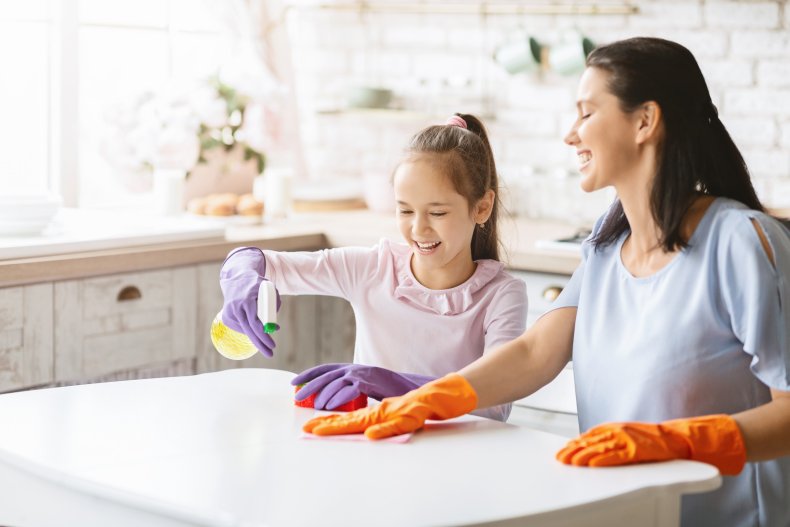 Rowett has listed five advantages of chores:
Mastery of challenging tasks helps children thrive. Mastery comes from being taught age-appropriate skills, allowed to make mistakes, and supported to keep trying.
When a child contributes, and their efforts are noticed and appreciated by their parent, they feel a sense of achievement. If their parent taps into that feeling, they are building the blocks for self-motivation.
Children can get bored and disruptive when their caregiver has to get on with household jobs. They are engaged and learning skills by getting small jobs to help out with.
Done with the right focus, helping out becomes an opportunity for the parent and child to bond, play, and have fun together. Children can learn that an upbeat attitude can improve even mundane tasks.
With their parents' guidance, children can discover the valuable part they play in supporting others in the family, helping them to develop a sense of self-worth.
The Cons of Chores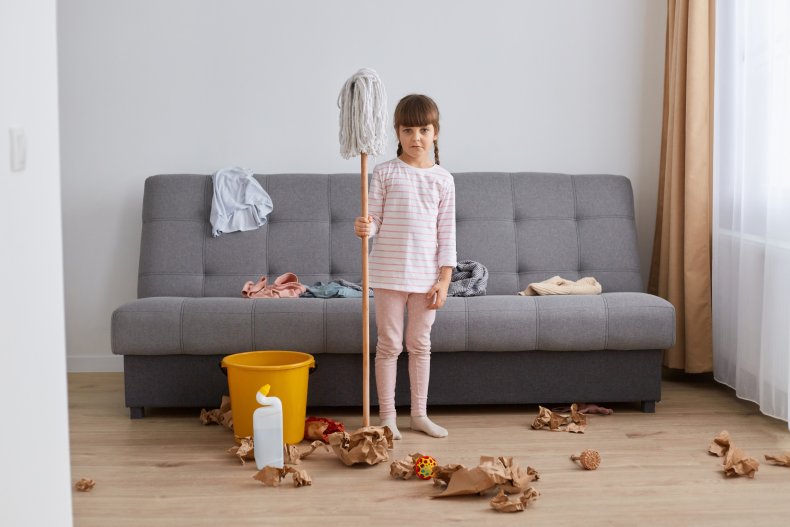 It is important for parents to avoid making chores tiring and negative, according to Agnes.
"The cons come from how the tasks are enforced rather than the activities themselves," said Rowett, who has listed five disadvantages of chores.
If a child is expected to perform above their capability or feels their parents' criticism or disappointment for inept attempts, it knocks their self-esteem.
If a parent expects a child to do the same task daily without appreciation or thanks and gives only harsh words or punishments if it isn't done, resentment and rebellion may build.
Children learn best through play. Play enables them to work out the complexities and emotions in their world. Playtime must be highly valued and fiercely guarded for children to grow, learn and develop. Too many chores may mean a child lacks adequate playtime.
A parent may find themselves yelling or nagging, which ruptures the child-parent bond. A damaged bond leads to a child who is less willing to cooperate. It doesn't mean a parent needs to ditch chores, but their approach needs to change.
How To Teach Your Child To Clean Up
Children must be applauded for their good behavior to ensure it continues. Agnes urges parents to avoid "rigorous chore schedules but instead make it about being open and exciting."
Newsweek reached out to Penny Moyses, who is the founder of the Clean & Tidy Home Show, a yearly exhibition in London that focuses on helping people become more organized and comfortable in their space.
Moyses has shared five tips to encourage children to help you and themselves around the house.
Clean together—don't get children to play with toys while you tend to your home, make it a family activity—washing up and washing clothes are key activities that children can join in with from a young age and my toddlers love filling and emptying the washing machine!
Organize with your children in mind—make their items accessible so they can be more independent, like getting their own bowl for cereal.
Group books by colors—this makes it easier for them to find the ones they like and know where to put them back.
Label boxes or shelves using text, as well as images for younger children, so they know where they should be tidied too.
Make tidying up fun and part of your routine—find a good time that works for you and your family and repeat each day so that children then know it's expected and will start to do it on their own.
Declutter as a family—explain the benefits of donating toys to those in need or selling some to save up for a new toy they would like.
Clear and clean as you go—rather than let things build up, teach children the next step e.g. putting plates in the washing-up bowl or dishwasher rather than leaving them on the table.
Ask children to put rubbish in the bin and you can challenge them to put it in the right bin as you teach them what can be recycled.
If you have a family dilemma, let us know via life@newsweek.com. We can ask experts for advice, and your story could be featured on Newsweek.