Premier League: What's at Stake in the Final Week of the Season?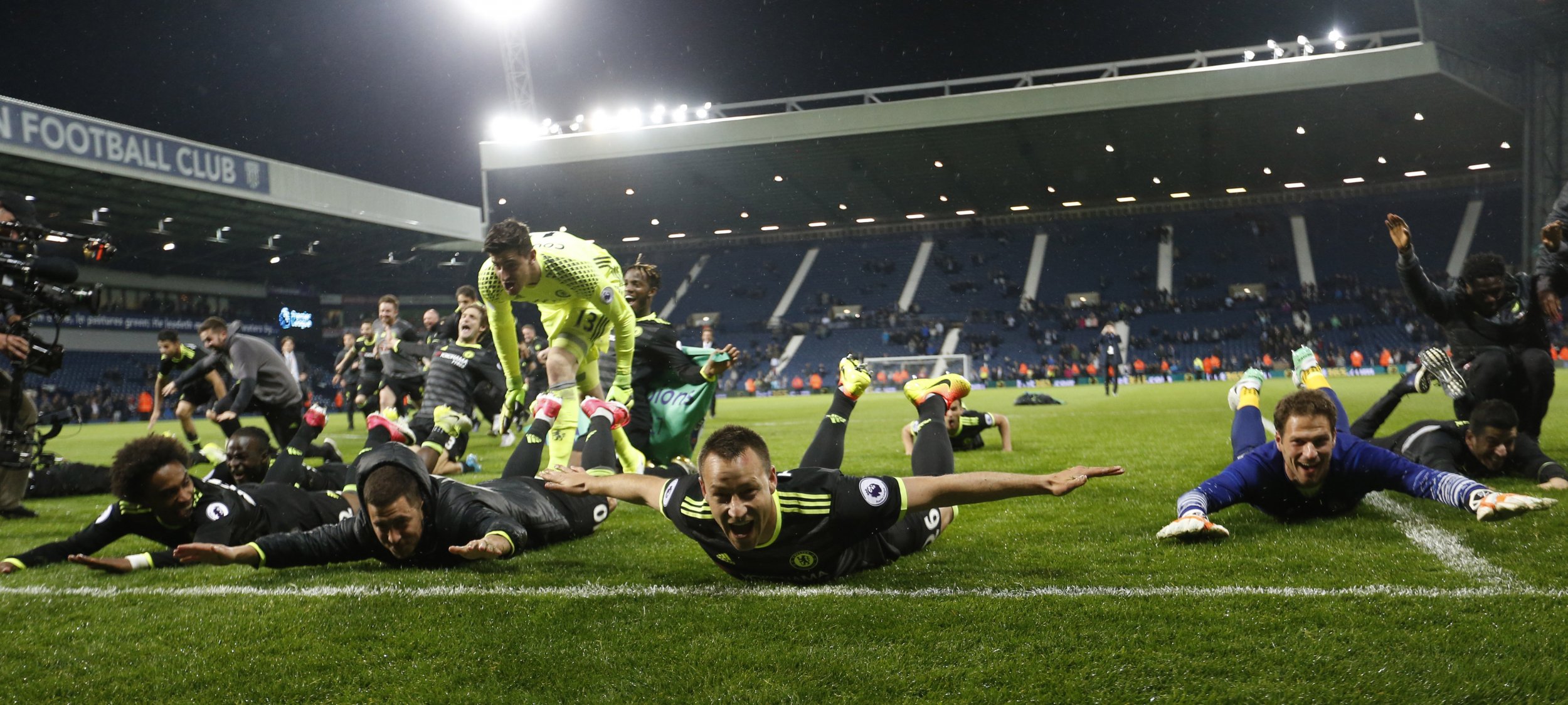 And now, the end is near. The Premier League will stagger through the final curtain this week, somewhat inelegantly.
Scheduling pile-ups mean there are games this week on Monday, Tuesday, Wednesday and Thursday before Sunday's final bow, when all 20 teams will kick off simultaneously and their positions will be decided in a dramatic finale. Or at least that's the idea.
Disappointingly for broadcasters, both the top and bottom of the league are pretty much sewn up. There remain questions, however, in the race to qualify for the Champions League and in the final order, which carries financial implications. Here, Newsweek previews the final week of a marathon season.
Title race
Already decided. Tottenham clung doggedly onto Chelsea's trouser leg for several weeks in the spring, before Antonio Conte's big playground bully gallumphed over the line.
The result of Chelsea's 1-0 victory over West Bromwich Albion on Friday — and the general ineptitude of the other putative "title chasers" not named Tottenham —i s that for the third year in a row, the title is decided before the final day of the season. That's bad news for Sky and BT, the two broadcast rights owners in the U.K., which will have to look elsewhere for excitement.
Relegation
If the television cameras aren't focused on the title race, they are usually at the other end — zooming in on crying players, soon-to-be-sacked managers or the Holy Grail, a tearful child.
Well, there will be none of that this week, or weekend. Swansea City hauled itself to 38 points, and safety, with a 2-0 victory away at Sunderland. Sunderland was down more than two weeks ago and is making a late, valiant charge to be considered one of the worst Premier League teams of all time. Middlesbrough, which followed it into the Championship last Monday with defeat to Chelsea, may be the least ambitious.
In the weekend's big game at the bottom, Hull City had a chance to take Crystal Palace into the final day. Instead Hull, which has improved significantly under the Portuguese Marco Silva, crumpled at Selhurst Park to a 4-0 defeat. Sunderland, with two games remaining against Arsenal and Chelsea, could theoretically pull off a miracle in catching Middlesbrough to not finish rock bottom. That's about as exciting as this section of the table gets.
Fourth place
Ah, some interest if the idea of missing out on Champions League prize money makes your heart flutter. Arsenal looked to be buried in the scrabble for fourth, until it did that thing it does to just about save Arsene Wenger's bacon, winning six out of seven to pull it three points behind Manchester City and four behind Liverpool.
City, with games against West Bromwich Albion on Tuesday at home and Watford away on Sunday—two teams on the tanning beds before their summer holidays—would require an almighty hiccup if not a full-blown belch to miss out on the top-four finish that brings entry into the Champions League for next season.
Liverpool could be at risk - it has one game remaining, on Sunday at Anfield, only it's against Middlesbrough. Slip up there, though, with a draw or a defeat and Arsenal can overtake it by beating Sunderland and then Everton on Sunday to finish on 75 points.
Prize money
Jostling for positions around mid-table may not sound all that thrilling but it is of (relative) importance in terms of Premier League prize money. The latest Premier League television deal worth £5.14 billion in the U.K. market, according to the BBC, and £8.5 billion for worldwide rights, is divvied up over three seasons and split into three revenue streams. The 20 Premier League clubs each receive an equal share of commercial rights and television money. Then they get paid for how many times they have appeared on television during the season, plus—and this is the important part at least for the season finale—a sum dependent on their finishing position in the league.
Chelsea, according to City A.M. , will bank around £40 million for finishing first, alongside the other two revenue streams that should bring its total television income this season to around £150 million.
Last season, according to official Premier League records, Leicester City scooped £24,818,100 in a "merit payment" for winning the title. Aston Villa, the club that finished dead last in 20th, received just £1,242,405.
This time around Leicester could be one of the biggest movers—currently 11th, with two games of its season remaining it could finish anywhere from 8th to 15th. The difference in prize money, according to Sky Sports, could be as much as £13.3 million.
Sure, it's not the biggest concern given the vastness of the television deal. And it's hardly a ratings-drawer. But there is intrigue in the final week of the Premier League. You just have to look closely.