Can Arsenal Afford to Miss Out on Champions League Football?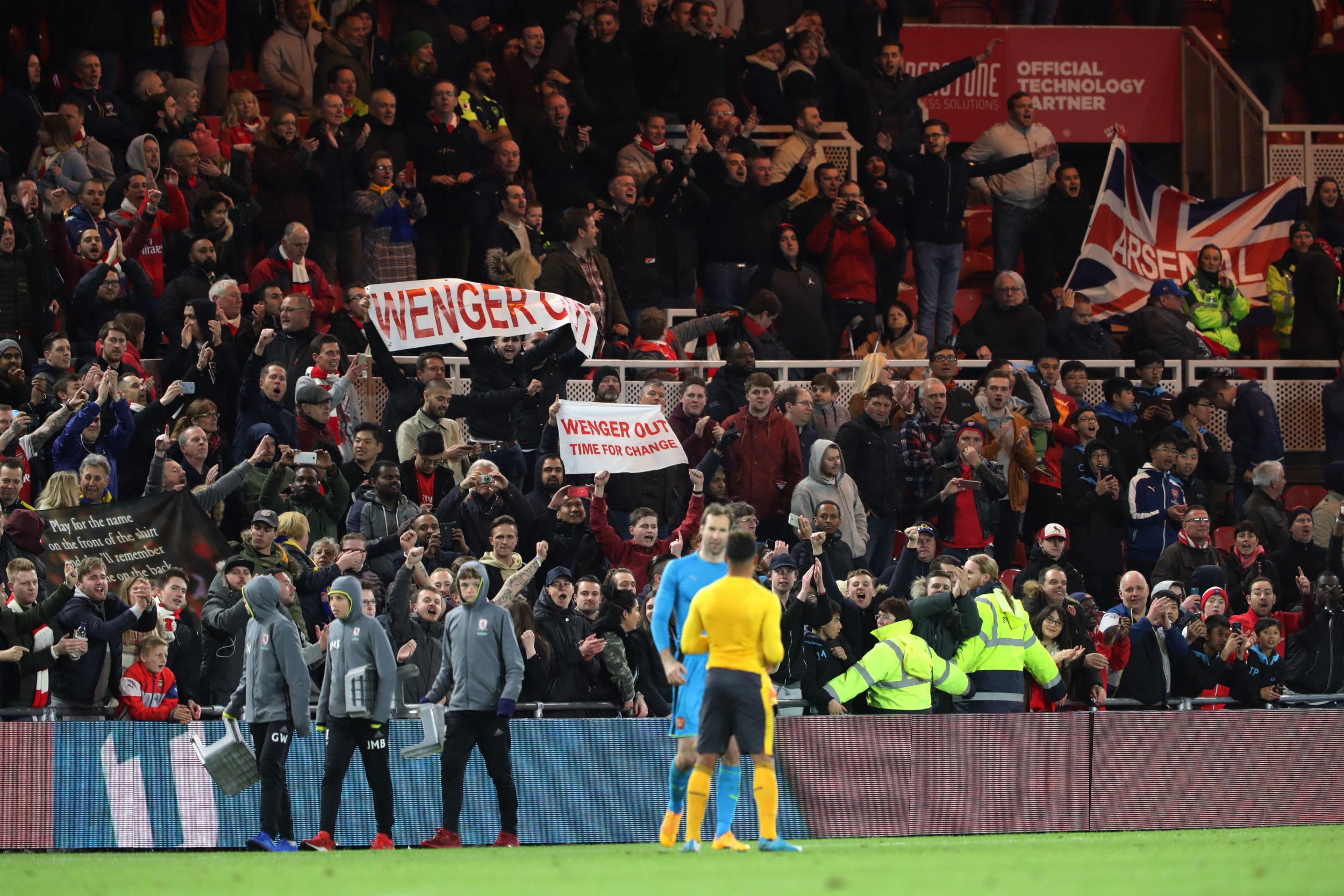 Sir Chips Keswick, Arsenal chairman, can hardly be blamed for his jaunty tone in the introduction to the club's set of accounts to close out 2016.
"It looks like the closing months of the 2016/17 campaign will be very competitive when we all, as supporters, can really back the team and make a difference."
Sure, Arsenal had just lost 5-1 away at Bayern Munich in the first leg of the UEFA Champions League last 16. Keswick spoke of "disappointment" at the defeat but promised "professionalism and a desire to reclaim pride" in a second leg that Arsenal also lost 5-1.
But when Keswick wrote his summary, Arsenal was in fourth place, still on course to qualify for the Champions League again for 2017-18 as it had done for the previous 16 seasons.
Now, with seven games of its league season remaining, only an extreme turnaround in form will allow it to make it into next season's competition. A battling victory over Middlesbrough on Monday just about kept it in sight of Manchester City, but Arsenal must win its game in hand and then hope for Pep Guardiola's team to slip up twice in the remainder of the season.
Champions League qualification is often spoken of as a kind of footballing "holy grail." It is a source of pride for manager Arsene Wenger that Arsenal has been in the competition for so long and failure to qualify may yet cost him his job at the end of the season after more than two decades as manager in north London.
But how much would missing out on the Champions League hurt Arsenal financially? Newsweek spoke to football finance expert Rob Wilson from Sheffield Hallam University to find out.
So let's get straight to the nub. How would Arsenal be affected financially by missing the Champions League?
If it were to happen this year and it were a one-off it would be an inconvenience for them. Arsenal tend to get to the last 16 [of the Champions League]. We would never ever advise clubs' budgets for Champions League prize money or European prize money, but you would be forgiven if you were Arsenal and you factored in about £50 million pounds' worth of prize money and market share and TV pool money from the Champions League on an annual basis.
It's a costly exercise, not qualifying. If you assume then that they [Arsenal] drop into the Europa League, obviously the revenues on offer in the Europa League are not as much. If we assume they went through the group stages of the Europa League you're talking about a net loss in revenue terms — and that's important to say, it's lost revenue as opposed to a net loss in terms of profit — of about £30 million. Just for an average kind of run in each competition.
Does the fact that Arsenal is "cash-rich" not protect it?
Arsenal's cash reserves are pretty high and of course Arsene Wenger has got this reputation of being quite frugal when it comes to player investment. What people forget is of all the costs associated with running a football club like Arsenal. They have to budget for around £30 million worth of debt servicing. That comes out of those cash balances. So when people talk about a £100 million war chest, you're immediately saying well that's £100 million minus £30 [million]. But that doesn't get reported enough, basically. [In Arsenal's Annual Report from 2015-16, Keswick noted cash reserves of £226.5 million, reduced to £149 million. Arsenal's debt service reserve balance, the cash it stores to ensure it will not default on interest payments of around £15 million per season for Emirates Stadium until 2031, stood at £35.4 million].
Arsenal have still got £232.6 million worth of debt on their balance sheet [according to 2015-16 accounts]. Again that comes out of cash reserves and it influences your transfer policy. So to go back to your original question, does missing Champions League have an impact on Arsenal? Yes it absolutely will do. And it will sharpen their focus when it comes to things like transfer spend, when it comes to renegotiation of player contracts and indeed renegotiation of Arsene Wenger's contract if he were to stay. Or if they were to replace him, what the cost would be for that. So I think it's inconvenient for a year.
So what happens if the failure is sustained?
The other side of the argument is that if Arsenal miss out it means somebody else is going in. If someone else is going in that doesn't have the financial commitments like Arsenal do for debt financing, for example, then they will naturally be able to strengthen their playing squad over the summer to a higher degree. Then you would associate that improved spending power on an improved finishing position. We might then be looking at something that happens for the next two, three, four or five or six years. And that's when it becomes much more of an issue for Arsenal.
Could Arsenal be lucky, then, with Tottenham now facing the prospect of paying back loans on a new stadium itself?
It will be [a problem]. It's something they will have to contend with. Spurs are a good example, Manchester United too with the debt financing they have to do. That limits some of the things they are able to do. Anybody that has a proportion of debt on their balance sheet, anybody that borrows money to do a big capital project like build a new stadium, is naturally going to have to service that money before they do anything else. And what we do know is that by doing stadium expansions in the nature of what Arsenal have done and what Spurs are suggesting to do, that matchday revenue is becoming quite important. And of course, matchday revenue becomes even more important when you add European competition because you have an additional matchday with many many more fans paying money. That of course means your sponsors and commercial partners are more likely to be involved as well. It's not a double-edged sword: you have to spend money to make money sometimes. Certainly Spurs will have to service that stadium over the next few years which of course will drain their own cash balances as well.
You mention United, which has spent two of the past four seasons out of the Champions League. How has it been able to keep making money?
I think that global history and success they had under (Sir Alex) Ferguson has enabled them to continue their big commercial machine. They continue to find deals pretty much weekly. The really interesting thing about Manchester United is they trailblazed commercial leverage of professional football. Years ago, you might have one drinks supplier for your team and that drinks supplier would pay you £5 or £6 million per year to be your drinks supplier. Manchester United ripped that up and thought, we don't want one drinks partner we want lots. So we will have a beer partner, we have a spirits partner, we have a wine partner, we have a soft drinks partner. We have a water partner. They then multiply those out across lots of different territories. By doing that, they have been able to make sure the whole is greater than the sum of its parts. A lot of the other teams are perhaps not as well set up as Manchester United were. And they tend to follow. So we are starting to see the big six follow the Manchester United model of commercial and sponsorship activity.
The Manchester United case is fascinating because anybody would naturally assume their revenues would start to drop off and they just haven't yet. But we don't know what we don't know with them. Had they been in the Champions League throughout the last four years, we might have been talking about much bigger sums of money going into their commercial revenues. But they have certainly done pretty well not being in the Champions League.
I think their biggest challenge now is if they miss out on the Champions League this year then their Adidas deal reduces in value by around 30 percent [reported in The Guardian in May 2016]. The sums of money they are going to miss out on from Champions League broadcasting, some additional revenue coming from the commercial side of things and then a reduction of around £25 to £30 million on their Adidas deal... add all those revenues up and you are getting into £80 to £90 million. Which is really debilitating to any club whether you are Manchester United or otherwise.
If Premier League TV contracts keep rising, does making the Champions League become less vital?
I think the danger with professional sports teams is they are gifted this money through broadcasting rights deals. But we have seen it before that that money can stop. Think back to the collapse of ITV Digital back in 2000. [That] pretty much bankrupted probably 20 lower-league teams because they budgeted to have that revenue. Some of them survived and some of them went into administration, some of them are still struggling with the lack of payments even now.
If the TV deal were to increase again that flows money back into the football clubs and it will absolutely protect them against any financial losses they might make. My personal view is you should budget against earned income, and anything else is a bit of a cherry on the top. Some teams do that, other teams don't.
Your financial performance is also inextricably linked to your sporting performance. If you perform well off the pitch and balance your books and make a bit of profit, you're more likely to do well on the pitch over a sustained period of time. Which is why we have this establishment of a top six or top eight teams. Because they are all now running themselves pretty well off the field. Some are making profits, they are all servicing the debt they have. And then that allows them to be much more stable in their reinvestment into the playing squad and things like that. So if you pulled money out of them it's an inconvenience in the short term because they are well protected on and off the field.
If Arsenal went out and spent £200 million in the summer, having not qualified for the Champions League, then there is a bit of a gamble there for them. Were they to miss out again or were the playing performances not to be great and they drop out of top five, top six next season, fans perhaps start not going because the quality of football is not there. They very quickly become susceptible to, I wouldn't say financial collapse in the case of Arsenal, but certainly they will have to look a little bit more sharply at their budgets and perhaps make some harsh decisions about what players to keep hold of.