Exclusive: Jérôme Boateng on Pep Guardiola, Facing Cristiano Ronaldo and Bayern Munich's Champions League Hopes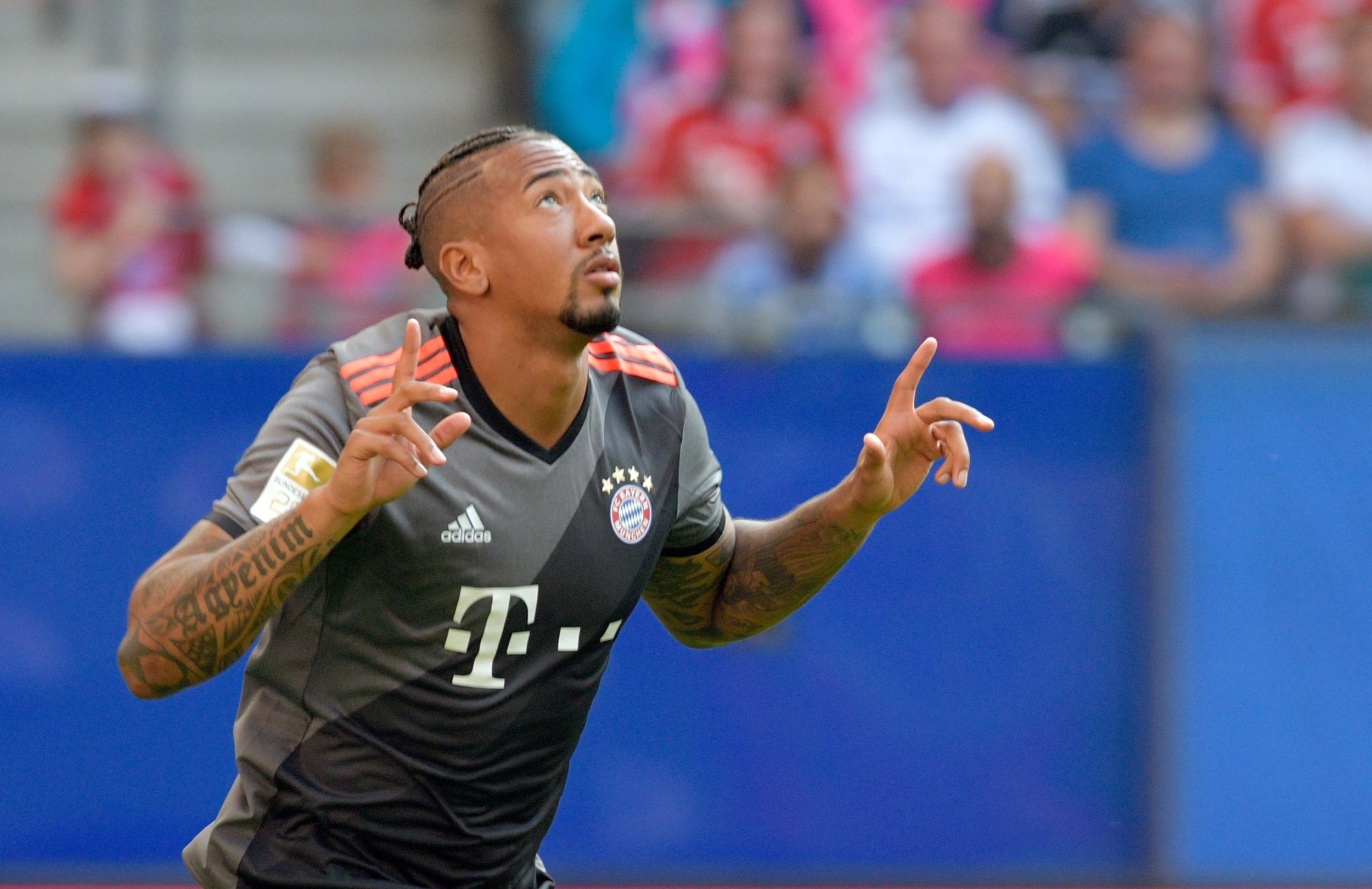 Jérôme Boateng finds himself in an unfamiliar position. Bayern Munich, the German giant he's played for over the past six years, is on the way to its fifth consecutive Bundesliga title, is in the semifinal of the German Cup for the ninth year running and, on Wednesday, it will look to take a step toward the Champions League semifinal for a sixth successive year.
Bayern hosts holder Real Madrid at the Allianz Arena in Munich for the first leg of the quarterfinal, and Boateng is expected to be at the heart of the home team's defense. But the 28-year-old has spent much of this season as a frustrated spectator.
After becoming the first defender in 20 years to be named German footballer of the year, injuries have blighted Boateng's campaign this season, sidelining him for the opening month of the season with a muscle injury and, then, enduring a prolonged winter break after an operation on his chest. "It has been hard for me," Boateng tells Newsweek. "I've had three injuries and one took from 2016 to 2017 for me to recover, three months I was out because I wasn't perfect and I lost a lot of games for this injury."
Boateng made a full comeback on April 1 in a 6-0 win over Augsburg, and on Saturday he brought a steeliness to Bayern's defense in a 4-1 win over Thomas Tuchel's Borussia Dortmund. The win helped Bayern take a 10-point lead at the top of the Bundesliga into the final six games of the season. "I'm back now, I'm happy and I feel good," he says. "I just need games to be back where I was, so that's why I couldn't play straight after Augsburg, it was just too risky. It was important for the next few games that I'm in good shape."
Boateng has worked closely with new Bayern boss Carlo Ancelotti in easing him back. The Italian coach, who succeeded Pep Guardiola in the summer, would ask Boateng what he needed from him and studied his progress. "Carlo was really supportive," the 2016 German footballer of the year says. "He's really relaxed and he gives us a lot of freedom. But when the games start and we are in training, he wants us to be very concentrated on the details. I think he's a good coach and he's made a great impression on us."
Ancelotti is the third manager Boateng has worked under at Bayern. He was signed by Jupp Heynckes in 2011, winning the Champions League in 2013 under his management, and then spent the next three years being coached by Guardiola, modern football's revolutionary.
When Guardiola arrived at Bayern's Säbener Straße training ground for the first time in the summer of 2013, fresh from a year's sabbatical, he was quick to take Boateng to one side.
The new manager saw in Boateng the same potential he had with Gerard Pique, the Spanish center-back who Guardiola moulded into one of the world's best defenders in four trophy-filled years at the Camp Nou, from 2008 through 2012. "He explained what he wanted from a central defender and what he doesn't want," Boateng says. "He told me what he would be working on with me and how I could get better; there were a lot of things."
Guardiola explained to Boateng, then 24, that he saw him as the starting point of each attack Bayern would make. He guided him through how he wanted him to defend, lunging in less, and expressed his disapproval of playing the ball long. Guardiola only preaches Michelin-star football.
In three years at the Allianz Arena, Guardiola won the Bundesliga title each season, two German Cups, the UEFA Super Cup and FIFA Club World Cup. For Boateng, working with the Spaniard saw the him climb into Europe's elite and Germany's finest.
Boateng humbly heaps credit on his former boss. "He had a very big impact on me," the Germany international says, "one of the biggest in my career, especially with the ball. I am more comfortable and confident to open the game and start the game." But, in the end, he was not able to give back as much as he and the rest of his teammates wanted.
Critics of Guardiola point out his failure to deliver the Champions League to Bayern, falling at the semifinal stage on each occasion. This, Boateng says, is an unfair assessment, but he believes high standards are set at Germany's biggest club. "At Bayern, if you don't win the Champions League it's always a criticism because we have a great team, but most of the people forget that there are other great teams and it's not that we aren't special. Like last year, it was really unlucky that we went out against Atletico Madrid because we were the better team and we really deserved to go through."
But four months before the end of the season, in January 2016, Bayern discovered it would be losing its manager to Manchester City; Guardiola would end his contract at the Allianz Arena and take his dominating football to England as Manuel Pellegrini's successor. "I knew before some people but then, when it was finally out, I was a little bit sad, of course," Boateng says. "Because we built something up for three years but I also understood his decision and I was looking forward to the new coach, and from summer on we all did our best for the last couple of months. We won the German Cup and Bundesliga so it was a good end. The Champions League was unlucky. We would have liked to have ended his time at Bayern with the title and the Champions League, but that's life."
So, how do the two managers compare? "Pep is more energetic. There was more video working and analyzing, and it was a different type of style: more pressing, a little bit more intense, now we choose how we play a bit more. Sometime we press and sometimes we sit back more."
Boateng had a keen eye on Guardiola's start to life in English football, having spent a year playing for Manchester City in 2010. It wasn't the best year of his career, Boateng says, after then-manager Roberto Mancini played him out of position. "I went there really young and it was promised to me that I can play central defender [but] then I start playing right back and left back so I was not happy with that," he says. "But I was a young player, I'm not this person to make a drama.
"For me, it was good to learn at a great team, great players. I learned from Patrick Vieira, [Carlos] Tevez, [Emmanuel] Adebayor, [Vincent] Kompany, and then, in March, I got injured again for eight weeks and had an operation. Then an offer from Bayern came in; I'm a German player so this is the biggest thing for me and that's why I made this move."
Boateng and Guardiola are still in contact, texting and speaking over the phone about how life in England has gone. "I see it's not easy from my time in the Premier league, it has tough teams, especially the first six or seven teams, so it's a new chapter for him and he has a lot of changes [to make], of course.
"But from now right through next season he will have what he wants from his players and they will understand his system better because we also had one year and after the second year everybody knew what should happen, how we play when the ball is here and there, and I think the same will happen at City. Of course, he doesn't have the time he needs but he has the quality and I'm sure he will make another step forward with the team."
Guardiola may have moved on but Boateng is settled in Munich. Last year, he signed a new contract to keep him at the club until 2021, when he will be 32 years old. But Boateng isn't sure whether Bayern is his final destination. "I can't say that at the moment. Today, I'm happy but you never know in football what will happen."
For now, Boateng is concentrating on what's in front of him, and on Wednesday that will be Cristiano Ronaldo, Gareth Bale and Karim Benzema, one of the most lethal striking trios in European football. "These are the games I like," Boateng says, "against one of the best players in the world. It's tough for a defender but it's what we need and what every footballer loves."