President Barack Obama Appears on Episode of 'Running Wild With Bear Grylls'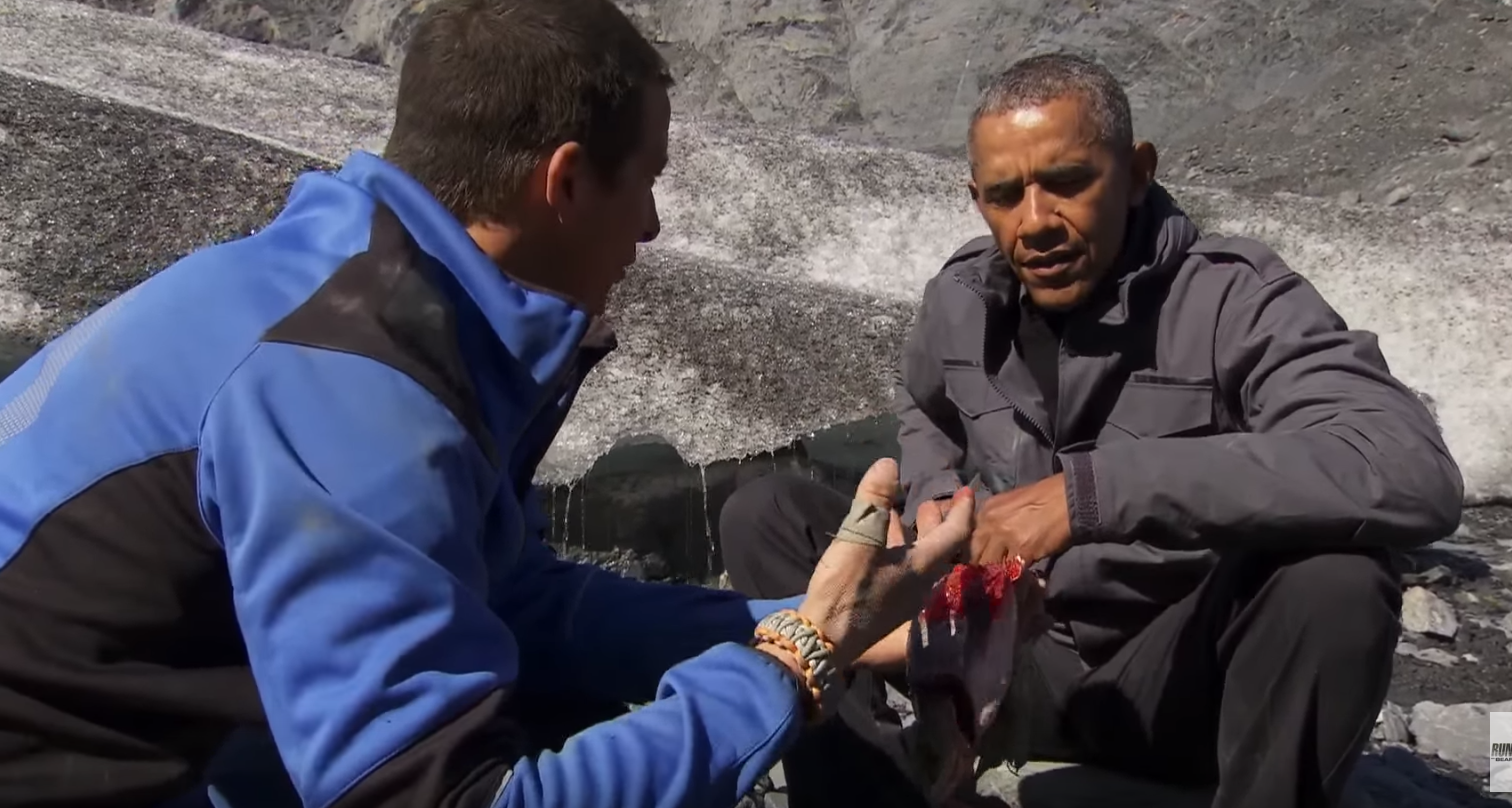 It's not every day one can say the president of the United States is "running wild." Well, unless the GOP is lambasting Barack Obama. But in this case, the phrase is not a political criticism. Rather, Obama is the guest on a special edition of Running Wild With Bear Grylls, which airs Thursday at 10 p.m. ET on NBC.
"President Obama will meet with Grylls while visiting Alaska to observe the effects of climate change on the area," NBC said in a statement dated August 31, announcing the special edition of the show just as Obama was headed to Alaska to tape it.
Obama, the network said, would become "the first U.S. president to receive a crash course in survival techniques" from British adventurer Bear Grylls, who has previously hosted celebrities like Kate Hudson, Zac Efron and Channing Tatum on the series. At the time, NBC said only that the episode would air "later this year." Now that day has come.
"This has got to be one of the best days of my presidency," Obama said in one of two preview clips posted to YouTube in early September. "First of all, I'm not in the office. Second of all, I'm not wearing a suit."
On a more serious note, he told Grylls that "one of the main purposes of our trip is to highlight the effects of climate change and what's happening on the planet." The unlikely duo spent a day trekking to Kenai Fjords National Park's Exit Glacier, which has melted and retreated 187 feet in just the past year, to see the impact firsthand.
"I've got two daughters, and I don't want grandkids too soon, but eventually I hope to have some," Obama said, turning to scan the majestic backdrop of mountains and blue skies. "I want to make sure that this is there for them, not just for us."
The clip of Obama's arrival via helicopter to meet Grylls (with a few dozen Secret Service agents and other personnel in tow) and another of the two feasting on salmon half eaten by a bear have together garnered more than 1.5 million views since they were posted September 8.
"There were times along the route I had to pinch myself and think, This is the president of America, you know?" Grylls told Parade. "My overriding impression was he's really a humble, family-centered, lovely guy."
In another preview clip released Wednesday, Grylls asks Obama how he handles being president and dad at the same time. As the president answers, water drips down in streams from a sheet of dirty ice behind him.
"You can't slam on the brakes," Obama said of the need for global action on climate change, Grylls recalled in his Parade interview. "When you're getting near a cliff, you've got to start tapping the brakes early."