As President Biden Promotes His Agenda, Joe Manchin 'Comfortable With Zero'
Senators Joe Manchin (D-W.Va.) and Bernie Sanders (D-Vt.) sparred behind closed doors Wednesday over the details of President Joe Biden's $3.5 trillion Build Back Better reconciliation package.
A new report from Axios says that after Sanders stated he was comfortable with the $3.5 trillion price tag, Manchin reportedly said that he was "comfortable with zero" and telling Sanders that he'd be OK with the Senate not passing the bill at all.
The disagreement was described to Axios by a witness, Senator Jon Tester (D-Mont.), who called the encounter a "disagreement in opinion" between Manchin and Sanders.
Another congressman who saw the encounter, Senator Chris Coons (D-Del.), told Axios that Sanders had originally wanted a $6 trillion price tag, to which Manchin replied that they "shouldn't [pass the spending plan] at all."
"We've already passed the American Rescue Plan," Manchin continued. "We should just pass the infrastructure bill and, you know, pause for six months."
The strife between the two senators could potentially point towards negotiations stalling once again, as Manchin has stated that he does not believe Democrats will be able to come to an agreement.
The news comes just days after Sanders said that they were "making progress."
Manchin, along with Senator Kyrsten Sinema (D-Ariz.) represent two key votes needed if the president wants to get his budget plan passed. Both of the senators, however, are against the $3.5 trillion number.
Manchin, who represents coal-rich West Virginia, also objected to a provision in the plan that would direct $150 billion towards eliminating the use of fossil fuels. The senator was highly opposed to the plan, and the president is reportedly working to remove the provision from the budget.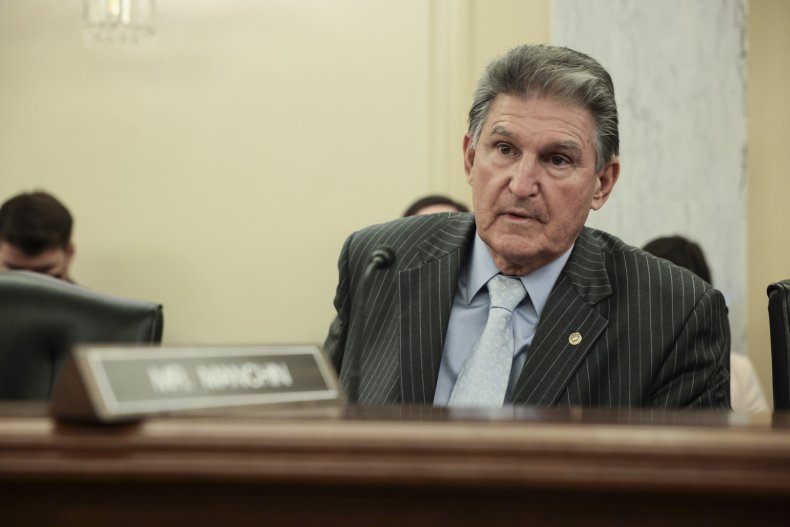 Many left-of-center Democrats in Congress have reportedly become angered by the holdouts by Manchin and Sinema.
Sanders, one of the most progressive senators, wrote an op-ed in West Virginia's largest newspaper, the Charleston Gazette-Mail, criticizing Manchin and his opposition to the plan.
"This legislation begins the process of cutting carbon emissions and transforming our energy systems away from fossil fuel," Sanders wrote. "Yet, the political problem we face is that in a 50-50 Senate we need every Democratic senator to vote 'yes.' We now have only 48. Two Democratic senators remain in opposition, including Sen. Joe Manchin."
Manchin shot back on Twitter, saying that "this isn't the first time that an out-of-stater has tried to tell West Virginians what is best for them despite having no relationship to our state."
Democrats continue to lambast Manchin for his support of the coal industry. Many have accused him of trying to protect his own interests given that he reportedly owns a $5 million share of a self-founded coal company.
Mother Jones reported that Manchin even told Democrats he would leave the party if the president did not agree to his demands. However, he later told Fox News that this was untrue, and had only offered to become an independent if Democrats decided he was an "embarrassment."
Additionally, Manchin clarified that even if he were to leave the party, he would still be caucusing as a Democrat.
Meanwhile, President Biden continues to heavily push his agenda. He's hosting a Town Hall on CNN Thursday in Baltimore. Airing at 8 p.m., the passing of the reconciliation bill will surely be among key topics.
Newsweek has reached out to Senator Manchin's office for comment.