President Biden's Faith is Being Distorted and Politicized | Opinion
Much has been made of the fact that Joe Biden is only the second Catholic to become the president of the United States, and the first since John F. Kennedy. In a recent profile of his faith, The New York Times says Biden is "perhaps the most religiously observant commander in chief in half a century."
This profile clashes with Biden's decision last week to commit U.S. foreign aid to funding abortions overseas—a reversal of the ban on using taxpayer funds for that purpose enacted by Donald Trump and every Republican president before him, starting with Ronald Reagan.
Asked on Inauguration Day if Biden would lift the ban, White House Press Secretary Jen Psaki said to stay tuned but reminded reporters that Biden is a "devout Catholic" and regular churchgoer who started the first day of his presidency by attending mass.
Why invoke the president's faith before announcing a pro-abortion policy? Psaki may have meant to pacify voters who oppose abortion by alluding to Biden's personal opposition to it. But the remark also aimed to legitimize the president's political support of abortion as nevertheless respectful of Catholicism—suggesting that Biden could pursue this policy without compromising his moral integrity.
In other words, touting Biden's Catholicism was about rendering this policy less radioactive rather than making a principled case for it.
If there is any moral teaching of the Catholic Church that is well known to the general public, it is likely the Church's teaching on abortion. The Church has, since the first century, "affirmed the moral evil of every procured abortion." While a Catholic can choose which parish he attends or how much he puts in the collection basket, the teaching that human life is inviolable from the moment it begins at conception is non-negotiable. There is no wiggle room.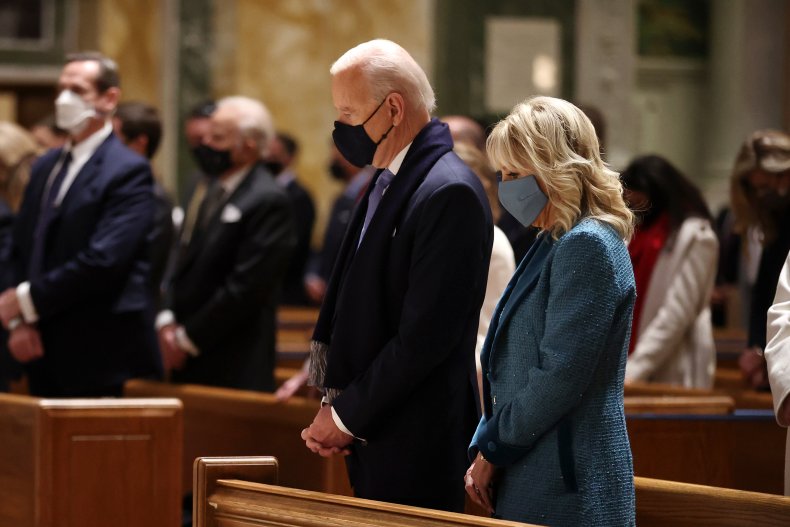 To be sure, Biden's faith has profoundly influenced his approach to public service. It also provided him comfort amid tragedies such as the death of his first wife and daughter in a car accident and the loss of his son Beau to cancer. In a statement released on Inauguration Day, the U.S. Conference of Catholic Bishops recognized Biden's "piety and personal story, his moving witness to how his faith has brought him solace in times of darkness and tragedy" and "his longstanding commitment to the Gospel's priority for the poor." Biden's openness to faith playing a substantive role in the public square is to be commended.
But no politician should use their faith as a tool to gain political cover, avoid tough questions or hide from hard truths about what they are doing with the power they wield. Biden is not unique in this regard; other politicians in the U.S. and beyond have invoked their faith to soften the ground on abortion and other controversial issues. If politicians make choices that conflict with the moral precepts of the faith they profess, they should own those choices for what they are and not pretend otherwise. At the very least, they could keep their faith out of the conversation when defending these choices.
It is unseemly to invoke a faith to dignify legislative or policy decisions which contradict it. It is all the worse when, as in the case of abortion and Catholicism, politicians use the faith as cover for a decision it deems "gravely contrary to the moral law."
Sadly, more of this approach may be still to come. In the same order that pledges foreign aid to abortions abroad, Biden called for a review of the policy that bars U.S. abortion providers from accessing certain federal funds at home. Biden also recently released a statement celebrating the anniversary of Roe v. Wade, the U.S. Supreme Court ruling that affirmed a constitutional right to abortion. In the statement, Biden promised to codify the ruling in Roe. If and when that day comes, the White House may be tempted to remind us again of Biden's fidelity to Rome.
Biden routinely decried the casual relationship between his predecessor and the truth, as well as Trump's fondness for "alternative facts." If the new president is serious about breaking with the harmful ways of his predecessor, putting an immediate end to distorting and politicizing the faith he follows would be a major step in the right direction.
Brian Bird is an Assistant Professor at the Peter A. Allard School of Law, University of British Columbia.
The views expressed in this article are the writer's own.