President Donald Trump 'Treasonous' in Helsinki, Says Half of America in New Poll
President Donald Trump's Helsinki summit with Russian President Vladimir Putin earlier this week sparked widespread debate between Trump's critics and supporters on whether he acted in the best interests of the United States.
Trump hit back at his "haters" Wednesday and defended his performance by promising "big results" and better U.S.-Russia relations. "So many people at the higher ends of intelligence loved my press conference performance in Helsinki," the president wrote on Twitter. "Putin and I discussed many important subjects at our earlier meeting. We got along well which truly bothered many haters who wanted to see a boxing match. Big results will come!"
However, U.S. citizens do not appear to be convinced. According to a new Ipsos poll, 49 percent of Americans said Trump was "treasonous" during the summit and ensuing press conference, with only 27 percent disagreeing.
Naturally, there was a partisan divide, with 80 percent of Democrats who voted agreeing and only 21 percent of Republicans agreeing. Around 43 percent of independents agreed.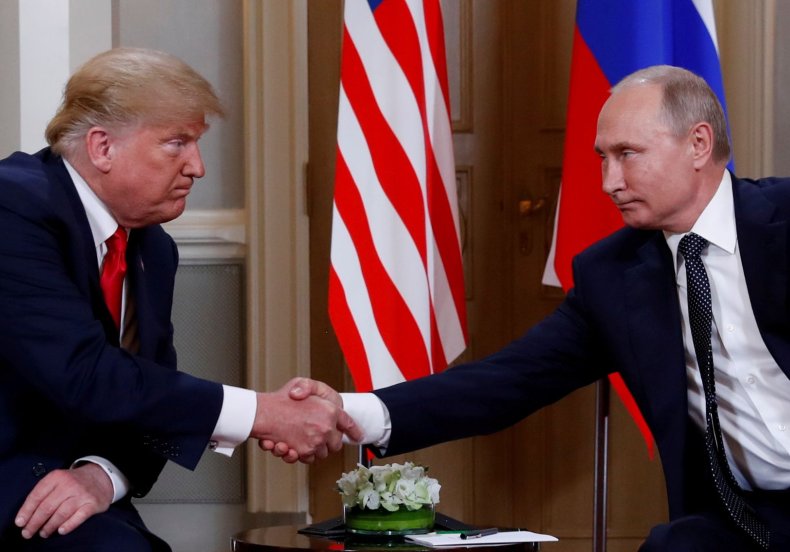 Of those who participated in the poll, only 5 percent believe that the U.S. benefited more from the summit than Russia, while 34 percent thought the event was more beneficial to Russia. Another 31 percent were unsure which country came out on top, while 14 percent thought the summit was beneficial to both countries.
The Ipsos poll—which was conducted between July 18 and 19—surveyed around 1,005 Americans over the age of 18. The participants were interviewed in English and, of those, 329 were Republicans, 338 were Democrats and 224 were independents.
After Trump and Putin's one-on-one meeting on Monday, the U.S. president repeatedly defended Moscow over accusations of interference in the 2016 election during a press conference while also undermining special counsel Robert Mueller's investigation.
"They said they think it's Russia. I have President Putin; he just said it's not Russia," Trump said while standing next to the Russian president. "I will say this: I don't see any reason why it would be. So I have great confidence in my intelligence people, but I will tell you that President Putin was extremely strong and powerful in his denial today."
After facing enormous backlash not only from his usual critics but also some pro-Trump media outlets, the president backtracked on his speech and claimed he mistakenly said "the word 'would' instead of 'wouldn't.'"
Concerns about the upcoming midterm elections have been mounting among Americans, with 51 percent of the country believing that Russia will meddle with the results, while only 26 percent agree that Trump will be able to prevent the threat.
The White House did not immediately respond to Newsweek's request for comment.